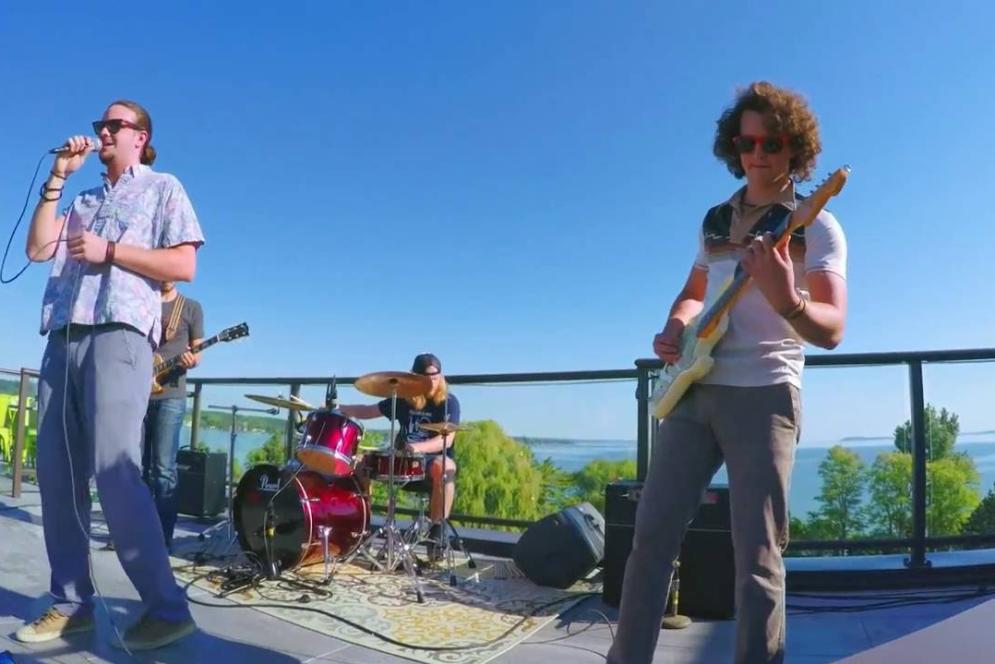 The "From the Top" series features performances by eleven popular local musicians, set against the blue water of West Grand Traverse Bay. Featured artists include the Hacky Turtles (the band that previously recorded Take Me There, Traverse City's Theme Song), Rob & Jessica Bolin, Nik Carmen, Jetty Rae, The Accidentals, O Brother Big Sister, Kellerville, Levi Britton, the Jimmy Olson Trio, Benjaman James, and Chloe Kime. 
Coryn Briggs, Traverse City Tourism's Digital Marketing and Design Specialist, said she was inspired to undertake the project by National Public Radio's "Tiny Desk" concert series. "I thought it would be really cool to do something similar in Traverse City to showcase the beauty of the area and how it influences our local musicians," she said.
The concept was a simple one: to have a series of performances by different musicians, each recording a single song. Briggs and her colleagues were able to tape the series at the rooftop bar of the newly-opened Hotel Indigo Traverse City, which features a spectacular view of the town's signature landscape of water, sky and distant hills – and an occasional appearance by the stately tall ship Manitou. Everything fell into place and the series was born!
The videos are hosted on our website in our Media Gallery and on our YouTube Channel. Take a look and enjoy the view from the top!