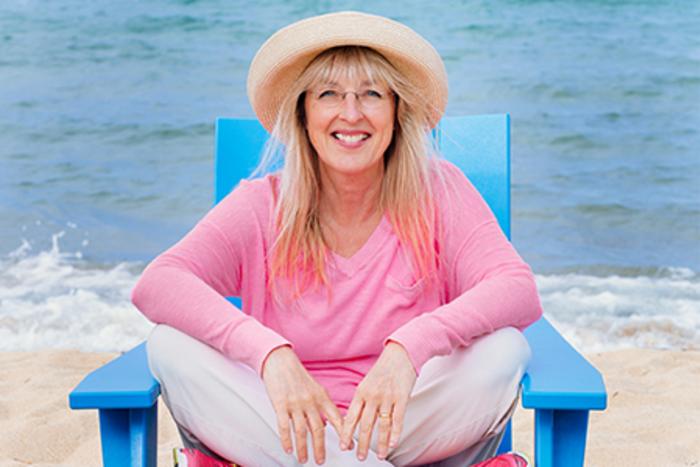 Tell us a little about what a Visitor Center Assistant does at Traverse City Tourism. 
I assist the Visitor Center Manager in keeping the Center stocked with up-to-date information about the area, work alongside our amazing volunteers as they answer questions and provide suggestions to visitors from all over the world, and pitch in with other tasks ranging from filling brochure racks to helping guests find hotel accommodations. I also assist with setting up the rotating educational displays at the Center including this summer's tribute to the 90th Anniversary of the Cherry Festival.
What did you do before Traverse City Tourism? 
I grew up near Ludington and earned a bachelor's degree in journalism from MSU before moving to Traverse City and working for over 20 years in a variety of roles at Third Level Crisis Center. I provided administrative support services for the entire agency as well as coordinating both the Free Legal Aid Clinic and the Conflict Resolution Service community mediation program. More recently, my husband and I have taken an active role in helping our elderly parents live independently. Also, we've taken the opportunity to travel extensively through the United States, visiting historical and literary attractions and natural and man-made wonders including everything from Yellowstone National Park to the World's Largest Ball of String.
What do you love the most about working for Traverse City Tourism? 
I love having the ability to provide information and suggestions to our guests that will make their time in our area more enjoyable, but it's even more rewarding to imagine that I've been influential in helping them create memories that will last their lifetimes. When I see a young family happily leaving the Visitor Center with hands full of brochures and heads full of plans for the day ahead, if I've been able to steer a couple in the right direction in their search for the location of the house their ancestors built in Traverse City during the lumbering era, if I've kindled someone's interest in exploring the natural beauty of the Sleeping Bear Dunes for the first time, I feel like I've made a difference.
I'm also deeply appreciative of the opportunity to work with the wonderful volunteers and staff at Traverse City Tourism. Their energy and enthusiasm, knowledge and experience and welcoming kindness are truly exceptional.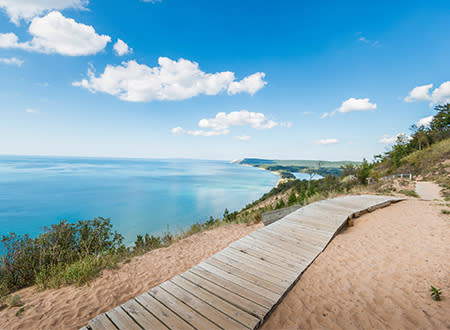 What attractions, destinations, restaurants, etc. do you favor in Traverse City? 
You can often find me browsing at Horizon and Brilliant Books, treasure hunting in resale stores and antique shops, and going to see classic films at the State Theatre. I recently rediscovered the Beacon Lounge at the top of the Park Place Hotel and its heart-stopping view. My husband and I are big Sleder's Tavern fans, too; not only is the food consistently good but it's heartwarming to be so well-remembered by the staff that they have an ice cold beer hitting our table before our bottoms even hit our seats. I also love that Traverse City is the perfect launching-off spot for day trips to Leland and Glen Arbor (with stops at Fischer's Happy Hour or Art's, most certainly!) or for a longer journey further north. 
What's your favorite downtown lunch spot and why? 
You can't beat the soups at Green House Café! And at least once a summer I like to throw healthy eating to the wind, buy a slab of chocolate cherry fudge from Doug Murdick's, slice deliciously wicked little bites and eat them, one after another, right off the end of the little white plastic knife that come inside the box.
How you would you describe Traverse City to a first time visitor? 
I'd tell them that it's a place that is very likely to hold part of them captive forever.
What is your perfect day in Traverse City? 
A perfect day for me is when I have the grace or the common sense or whatever you want to call it to realize the point of it all is found in the simplest, most ordinary experiences: waking up to the color of my husband's eyes and a good cup of coffee; opening the window during a long, dry spell and knowing from a change in the scent of the wind coming over West Bay that it will rain before evening; standing on the bluff at Pyramid Point and actually feeling the Earth turn under my feet for a split second just as the sun dips below the horizon; walking along a Traverse City sidewalk on any not-too-particular August evening, greeting neighbors on their porches and calling them by name the way people have greeted people on these same porches and called them by name for 100 years; just being safe among the people I love best in the place on the planet I love the best. It isn't always easy to see those kinds of things as the gifts that they are, but when I can do it, it makes for a perfect day. And if my hair cooperates and if I find a really spectacular pair of shoes on sale downtown, well – that's good, too!
If you could wish for a celebrity sighting on the streets of downtown Traverse City who would you want to see? 
I think it would be great to have John Irving or John Crowley here for the National Writers Series and to have the opportunity to express my admiration and gratitude for their work and for the way they think.
What is your favorite season in Northern Michigan? 
It's always a little sad to see the summer end, but autumn is my favorite season. About the time the first red leaf appears on the backyard maple I experience an annual feeling of anticipation, of possibility, a sense that something new is on the way. And an internal stirring starts, too, one that encourages me to take stock, to store up what I want to keep and – to try at least – to let the rest go. Then the show begins: the technicolor russet and gold leaves against azure sky, beach grass bleached blonde next to slate blue water, evergreens outlined sharply against it all – there's just simply nothing like it. And the other great thing about autumn, of course, is the school supplies. Nothing – nothing – says "possibility" to me like a handful of brand-new, freshly-sharpened, bright yellow pencils.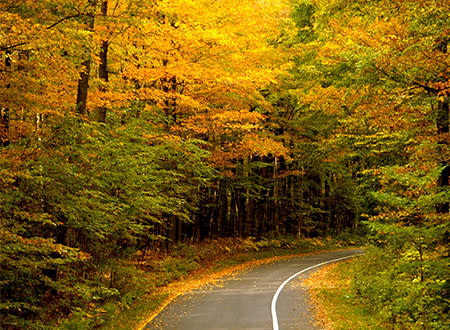 Describe a memorable Traverse City moment/experience…
In 1965, when I was six years old, my parents took my sister and brother and me to Clinch Park for the first time. We took a ride on the zoo train, threw pennies in the wishing well and stood spellbound before the Miniature City that was still in place at Clinch Park at that time – the lovely display of Traverse City buildings and landmarks, all meticulously modeled in miniature. My brother and sister and I were so captivated by that little city that we went home and built a facsimile of it out of cardboard boxes in our backyard. We even used dad's trowel to carve out a little channel in the ground, positioned the running garden hose at one end of it and created our own Boardman River. We had just begun to excavate a giant hole to represent Grand Traverse Bay and had plans to fill that up with hose water, too, when we were told by our mother in no uncertain terms to stop digging up the yard, please. I still remember how keenly disappointed I was when I realized I couldn't finish the project and fulfill my dream of spending the afternoon sitting contentedly beside my Bay and enjoying my little Traverse City.
But, as you can see, the dream at last came true.