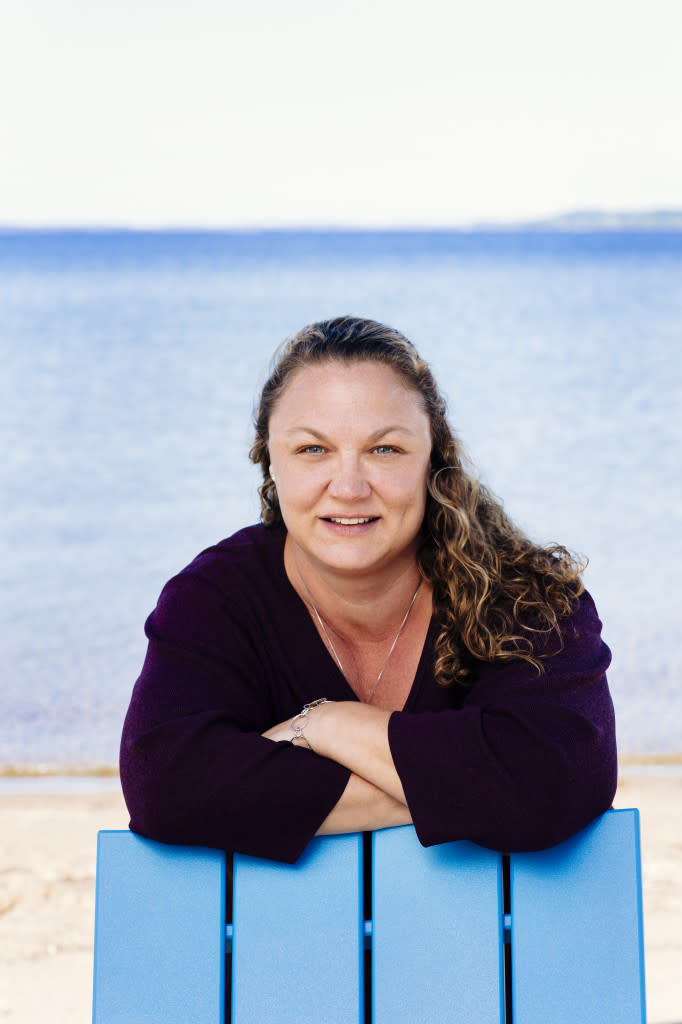 Tell us a little about what a "Sports & Group Account Executive" does at Traverse City Tourism.
I love the versatility of my job. On any given day I can be found researching area venues for events, completing Requests for Proposals (RFPs) to host future sporting events, creating itineraries for visiting motor coaches or spreading the word about Traverse City as a perfect destination at trade shows. My main market is sports, but I also work to bring in the tour and travel and fraternal and social groups (such as Car Clubs) to the area.
What did you do before Traverse City Tourism?
I worked at the Park Place Hotel in Traverse City for seven years holding many different positions.  Just prior to coming to work for Traverse City Tourism in November of 1997 I was the Front Office Manager.
What do you love the most about working for Traverse City Tourism?
I would definitely say the people. Over the course of my 17 years, I've made some life-long friendships with great people who either started out as co-workers, clients, industry partners or even competitors. Being in sales is all about relationship building and I'm grateful for the partnerships I've built with our members, customers, and partners.
What attractions, destinations, restaurants, etc. do you favor in Traverse City?
Wow! I could go on and on but I'll try and refrain; here are a few of my favorites. Attractions - wineries, breweries, distilleries; Destinations - Downtown Traverse City, Sleeping Bear Dunes, and the Village at Grand Traverse Commons; Restaurants - Sorellina, Amical, and Apache Trout Grill.
What's your favorite downtown lunch spot and why?
That's a hard one to answer because I have so many favorites. North Peak, their Cherry Chicken salad is the best, except I get it with the balsamic dressing. Bubba's because of their super yummy burgers and sandwiches, plus their sweet potato tater tots are delicious! The Dish because it's fast, fresh, and healthy.
How you would you describe Traverse City to a first-time visitor?
I recall my first visit to Traverse City in 1990. It was an easy decision when I decided to make Traverse City my home.  It has all the luxuries of a city with the bonus of a year-round vacation destination. We have skiing, hiking, beaches, boating, great shops, amazing restaurants, and snowmobiling. An added bonus is that the people are friendly and welcoming. I'm always thankful to live where other people vacation!
What is your perfect day in Traverse City?
My perfect day would start with a cup of coffee and time spent with my daughter. We would then load up the kayak and tube, pack a lunch, and meet up with some friends to float down the lower Platte River.  After our two-and-a-half hour (depending on how many times we stop to swim) trip across Loon Lake and down the river, we'd have a picnic in the park and play on the beach at Lake Michigan.  We would make a pit stop at home to clean up and then head downtown to attend a festival or take in a concert at Interlochen Center for the Arts.  If it is a quiet night for entertainment in Traverse City, it's always fun to have a cookout and bonfire with friends.
If you could wish for a celebrity sighting on the streets of downtown Traverse City who would you want to see?
Channing Tatum or Dolvett Quince. No need to explain.
What is your favorite season in Northern Michigan?
Traverse City is a four-season destination. I enjoy them all, and that's why I made this my home town almost 25 years ago. I will have to say though, after all of the days of negative temperatures we've had this winter, I may have to escape to someplace warmer for spring break. I'm definitely looking forward to some warmer weather. 
Describe a memorable Traverse City moment/experience.
This past year my father and siblings decided to have our destination family reunion in Traverse City.  It was an action-packed week! We took a cruise through Sleeping Bear Dunes, hiked up the Dune Climb, visited Glen Arbor for lunch, stopped at Cherry Republic for a pit spit contest, did a little wine tasting, spent a day canoeing and tubing down the Platte River and also went shopping in downtown Traverse City for TC swag and to fill up on fudge, more Cherry Republic cherry salsa and chocolate covered cherries.  We also spent a day at the beach and took a spin on some jet skis out on East Grand Traverse Bay.  Of course, you can't forget the trips to Moomers for ice cream, evening bonfires, pizza from Incredible Moe's and the many card games that go hand-in-hand with any of my family reunions. We also enjoyed an evening out with just the adults with a visit to Left Foot Charley and TASTES of Black Star Farms.   After an amazing dinner at Firefly, we took a stroll downtown and enjoyed coffee and a dessert at Amical. The house my dad rented through Visit Up North Vacation Rentals was on Long Lake with a dock and hoist for my boat.  Not a day went by where I wasn't out on the lake pulling my daughter and nieces around behind the boat on "Big Mable."  Of all the great things we did on this vacation that was my favorite.  I loved the smiles on their faces, hearing their laughter and the stories of how "fast" we were going or how much "air" they got.