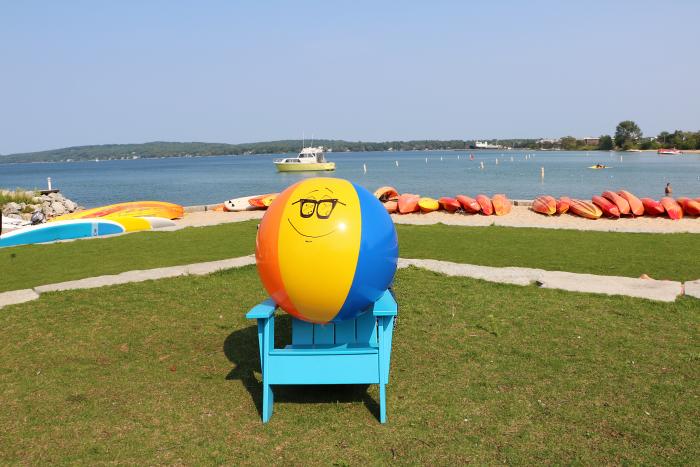 Tell us a little about what you do here at Traverse City Tourism (TCT).
I've been modeling for Traverse City Tourism for about 9 months now. It's been a really great experience as I get to explore first hand all there is to see and do in Northern Michigan! 
What did you do before Traverse City Tourism?
To be honest, I bounced around a bit before I settled in at TCT. I worked the stadium circuit for a short time, but that gig can really wear on you after a while. I also spent some time on the beaches in Florida and California, but nothing can compare to the sugar-sand beaches of the Traverse City area! They're the best!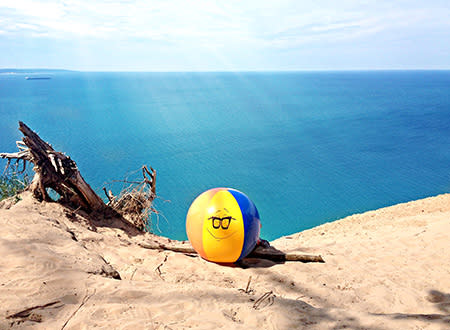 What do you love the most about working for Traverse City Tourism?
Where do I start?? I've had the chance to go wine tasting, sail a Tall Ship, climb the Sleeping Bear Dunes, catch a film at the historic State Theatre, ski at Shanty Creek Resorts … It's really non-stop fun around here!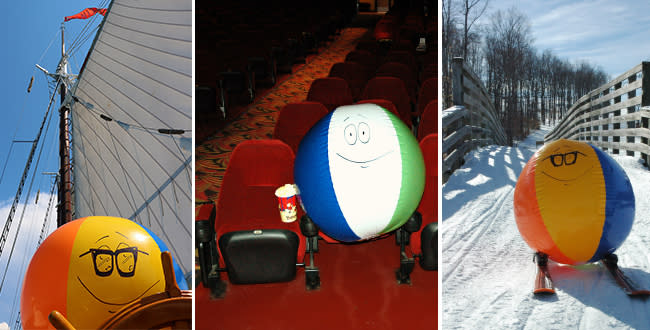 What attractions, destinations, restaurants, etc. do you favor in Traverse City?
Wow, that's a tough one. I guess if I had to narrow it down I'd say you just can't top a day at the beach. (I guess it's just in my genes!) You can spend a day at "The Big Lake" (Lake Michigan), lounge on East or West Grand Traverse Bay, or beach it at one of our many inland lakes. They're all different, and they are all beautiful.
What's your favorite downtown lunch spot and why?
Again, it's hard to single out just one. I'd say for sushi I like Red Ginger. (I tend to sit on one of the stools in the front window – it makes for great people watching!) The broccoli cheddar soup and giant homemade muffins are always good at The Greenhouse Café, and Cherry Republic's new café has an excellent cherry-themed menu. And just west of downtown is the oldest restaurant in Michigan – Sleder's Tavern. Don't forget to kiss the moose!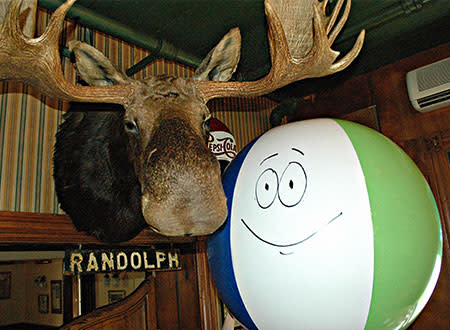 How would you describe Traverse City to a first time visitor?
It's a magical place! There are miles and miles of sugar-sand beaches, beautiful crystal-clear lakes and rivers, tons of hiking and biking trails, wineries, breweries, great restaurants and an awesome downtown for shopping. There is really something for everyone.
What is your perfect day in Traverse City?
I'd roll out of bed early to catch the sunrise over Grand Traverse Bay. After grabbing breakfast at the Grand Traverse Pie Company, I'd meet up with some friends for a game of beach volleyball and then head to Clinch Park to cool off! I'd follow that with some biking along the TART and kayaking on Boardman River and West Bay. (Did I mention I'm a real outdoors enthusiast?) Evening would be spent back on the beach roasting marshmallows in front of a campfire … although I prefer a long stick (for obvious reasons).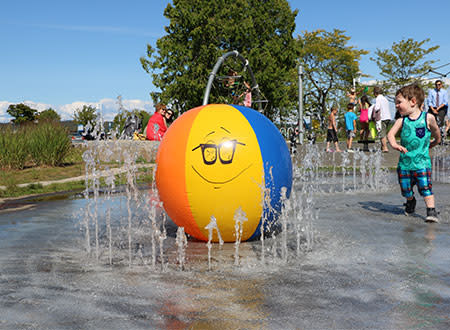 If you could wish for a celebrity sighting on the streets of downtown Traverse City who would you want to see?
Wilson, from Cast Away. I really admire his work.
What is your favorite season in Northern Michigan?
Summer is my favorite, of course, but I love all four seasons to tell you the truth!
Describe a memorable Traverse City moment/experience…
Ever since I was a young inflatable, I've dreamed of competing in the Pie Eating Contest at the National Cherry Festival – and this year I got to do it!! I can't tell you how exciting it was. I didn't win the overall contest, but I did come in first for my category! Well, I guess I was the only beach ball contestant that day, but it was still a real honor.