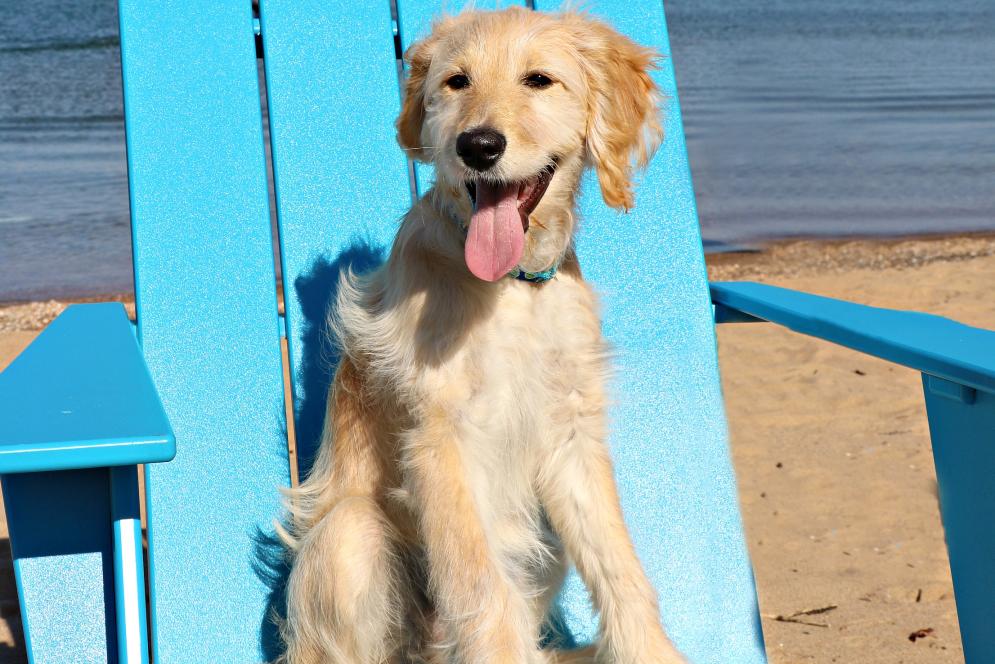 Tell us a little about what you do at Traverse City Tourism. 
Since being adopted as the unofficial mascot of the TCT office, my number one job is to greet people with a happy demeanor and a wagging tail. 
What did you do before Traverse City Tourism? 
Well, I'm only four months old so my experience is limited. I was born in Fife Lake and recently relocated to Traverse City. 
What do you love the most about working for Traverse City Tourism?
Besides all of the affection, I love checking out the fun events and attractions being promoted on Traversecity.com. Sniffing out dog-friendly venues and activities is my specialty.
What attractions, destinations, restaurants, etc. do you favor in Traverse City? 
Downtown Traverse City loves dogs!  Every time I walk through town I get a ton of doggy treats.  Many of the stores have doggy bowls outside with cool, refreshing water as well.
What's your favorite downtown lunch spot and why?
The Shed in Old Town Traverse City has a yummy doggy menu. I really like the salmon.
How would you describe Traverse City to a first-time visitor?
It's like finding the fire hydrant at the end of the rainbow!  You can swim in fresh water, take long walks on the amazing trails and chase squirrels all day long.
What is your perfect day in Traverse City?
My perfect day includes going for a scenic drive with my head out of the window on the Leelanau Peninsula, taking a long walk on the Heritage Trail through the Sleeping Bear Dunes National Lakeshore, and finishing the day with a dog-friendly ice cream treat at Moomer's Ice Cream. 
If you could wish for a celebrity sighting on the streets of downtown Traverse City who would you want to see? 
Lassie
What is your favorite season in Northern Michigan?
Autumn is my favorite time of year. I love stretching out on the lawn in the cool autumn breeze. And, of course chasing the colorful leaves falling from the trees is a favorite pastime of mine, too!
Describe a memorable Traverse City moment/experience....
Being interviewed on TV in Traverse City during national dog day when I was two months old. I was really nervous, but everyone was super kind and helpful. That's really my favorite part about this city, everyone's genuinely nice.