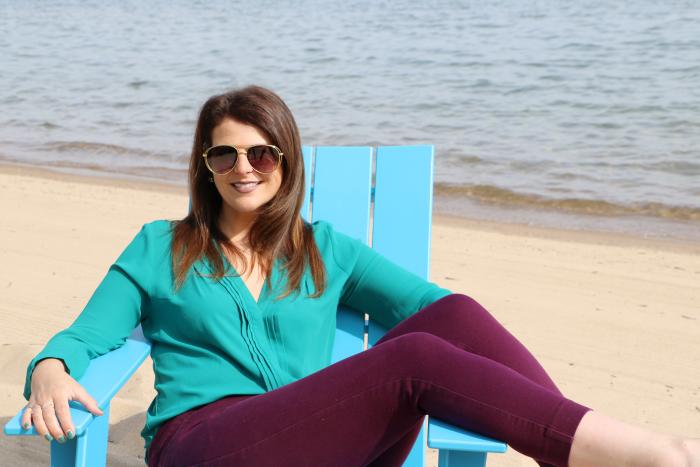 Tell us a little about what a Business Development Manager does at Traverse City Tourism?
The Business Development Manager position is new to TC Tourism, so I feel
like it will be ever changing. I am in charge of advertising for the Annual
Visitor Guide, our Affiliate Memberships, and other promotional pieces. I am also working closely with both the group sales and marketing departments at
TCT and am a face for the organization out in the community, helping to
promote different projects that TCT supports.
What did you do before Traverse City Tourism?
Prior to working for TC Tourism, I was a Media Consultant for the Traverse
City Business News, Northern Express, and Traverse Ticker.

What do you love the most about working for Traverse City Tourism?
The thing I love most about working for Traverse City Tourism is getting to
promote and brag about a city and region that I love on a daily basis. There
truly are not many places more beautiful to live. I was raised in TC and like
most teens thought I would move to New York or another metropolitan area
after college. I ended up moving back to TC instead, and it was the best
decision I have ever made!

What attractions, destinations, restaurants, etc. do you favor in Traverse City?
Traverse City has many great attractions! I love all of the opportunities for
outdoor recreation in the area. We have wonderful beaches and hiking trails.
The Grand Traverse Commons is one of my favorite destinations. At the
Commons you can hike, shop, drink wine, enjoy a cup of coffee and eat a
phenomenal meal all in one place. I also love how pet-friendly it is. I also
enjoy summer bonfires on some of our Lake Michigan beaches with my
friends in the summertime!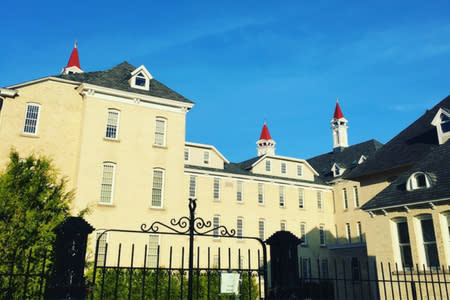 What's your favorite downtown lunch spot and why?
My favorite downtown lunch spot is Mary's Kitchen Port. The six weeks or so
that they are closed in the winter is one of the worst times of year for me!
Their Greek Salad and Gobbler are amazing!
How you would you describe Traverse City to a first-time visitor?
I would describe Traverse City as a hidden gem to a first time visitor. Many
people only think of Detroit, Lansing, or Grand Rapids when they think of
Michigan. They do not realize that a town as naturally beautiful but also so
rich in culture actually exists. There are not many other places where you can
enjoy a beautiful view like the Sleeping Bear Dunes, catch a film at a
nationally recognized theatre like the State, and taste great wine from
numerous wineries, all within a 30-minute drive. I would encourage people
to think outside of the box with their travel. In my opinion, TC is on the same
level with many other beach towns all over the world. You do not need to
visit the Caribbean to spend your time on sapphire blue waters!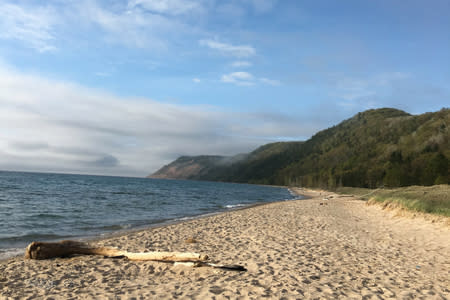 What is your perfect day in Traverse City?
My perfect day in TC would be taking my dog for a morning hike on the trails at the Grand Traverse Commons with a pit stop at Higher Grounds for cold
brewed coffee on their patio. I would then pick up a lunch from Mary's
Kitchen Port and head to the beach for the afternoon with a good book. The
evening would consist of meeting friends at Little Fleet for a drink and dinner
from one of the food trucks. If it is wintertime, I enjoy eating dinner at Towne
Plaza followed by a drink at Low Bar. I also love taking in a matinee at The State Theatre or Bijou on rainy weekend afternoons.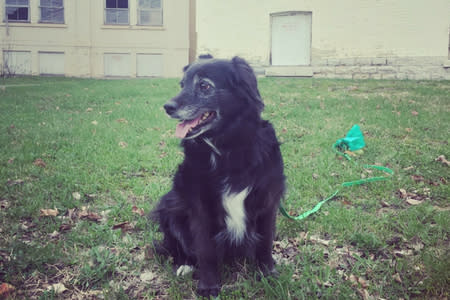 If you could wish for a celebrity sighting on the streets of downtown Traverse City who would you want to see?
My ultimate celebrity sitting in TC would be Billy Joel. I have always dreamed
that he would come to Interlochen someday! 

What is your favorite season in Northern Michigan?
My favorite season in northern Michigan is early fall. I LOVE the days after the color change has begun where we still have almost summer temps! It is
by far my favorite time of year to visit the area wineries.
Describe a memorable Traverse City moment/experience
A memorable Traverse City experience for me occurred just a couple weeks
ago. A friend of mine hosted a bonfire on Lake Michigan. It was a little chilly
outside but absolutely beautiful. I took some amazing pictures of the dunes
prior to the sun setting. There is nothing like gathering with a great group of
people on the beach!