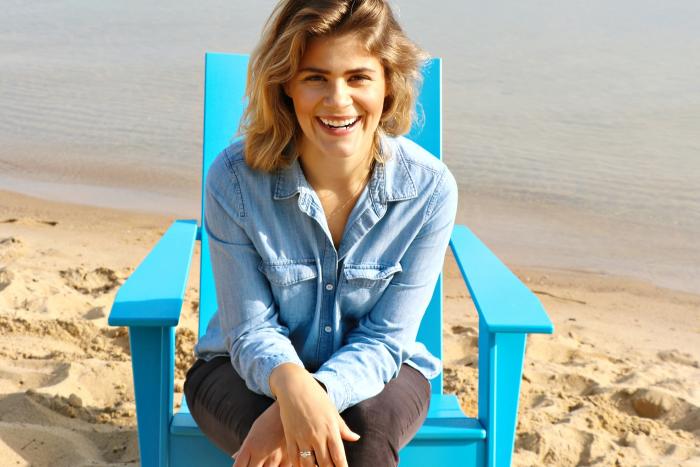 Tell us a little about what an PR/Media Manager does at Traverse City Tourism.  
Oh, still figuring that one out! #newjobprobs. In short, I get to play storyteller of Traverse City. Sometimes storyteller means offering travel tips and news to the general public (locals and prospective visitors alike), and sometimes it means pitching stories to the press. THEN there are times when I get to play tour guide and allow the Traverse City experience to speak for itself. Hard sell, right? If hospitality and media had a lovechild, this gig is it.
What did you do before Traverse City Tourism? 
My storytelling days run kinda thick. Before TCT, I was a television news reporter at 9&10 News/Fox 32. In my final two years there I woke up "dark and early" as a live morning show personality, traveling all over the state at 3 am bringing Michigan adventures to the air. Skydiving in Charlevoix, climbing the towers of the Mackinac Bridge and previewing Traverse City Restaurant Week (uh, dreamy) …They're all experiences stamped on my heart forever.
What do you love the most about working for Traverse City Tourism? 
I love that it matters. Healthy, thriving tourism translates to healthy, thriving community…And you see signs of that vitality everywhere here.  I didn't grow up in TC, but here I am living in a quirky-crunchy little town on Lake Michigan with 12 breweries, 40-something wineries and kind, creative, innovative people who invest in their neighbors. Tourism accounts for over 30 percent of employment in this town. It's not just about the hotels. It's about the barista at your favorite coffee shop, and the cool handmade finds in the specialty stores downtown. It's our culture. It's our people. Tourism dollars make it all possible.
What attractions, destinations, restaurants, etc. do you favor in Traverse City? 
Hm. How about I just show you?  😉

What's your favorite downtown lunch spot and why? 
Transparency: I eat my feelings. That said, my favorite spot totally depends on that day's mood. Also true with emotional eaters, I'm kinda obsessed with meal time. Generally I love Little Fleet because there are endless options with the food trucks. These guys are small, individual kitchens that specialize in something delicious and niche. When you bring eight of those awesomely unique menus together with a trendy open-air bar---in my opinion, it makes for the best hang out in town.
How you would you describe Traverse City to a first-time visitor? 
Dude. Just come visit...

What is your perfect day in Traverse City?
Walk downtown with my best friend (we got married last spring 😉), grab a coffee, peruse the farmers market, grab lunch at the food trucks, bike to the beach (nap in the sun), bike home and get creative with farmers market finds for dinner. The evening would include live music at a brewpub and catching the sunset from the marina. Seriously, how do we have it all?
If you could wish for a celebrity sighting on the streets of downtown Traverse City who would you want to see?
Kristen Wiig. She doesn't even have to say a word. I'd literally LOL just passing her on Front…
What is your favorite season in Northern Michigan? 
Fall. Hands down. I'm actually squealing inside right now just thinking about it. Don't judge me. Truly, fall in Traverse City is unmatchable. The colors here are unreal and add a nostalgic touch to our already ambient downtown and neighborhoods. Bright oranges, yellows and reds next to this cobalt blue water? It's almost too aesthetically pleasing….almost. And for the record, yes I'll drink a pumpkin spice latte. Now I know you're judging me.

Describe a memorable Traverse City moment/experience…
My husband and I just purchased our first home in town, individually and as a couple. Coming back to that little nook every day is such a privilege. We watch families walk to the ice cream shop, see cyclists whizzing back and forth, and occasionally (okay, daily) run outside to pet dogs on their evening walks. We know our neighbors by name, and they know ours. It's very neat to leave work and still be so intimately integrated into the community. It's home.