By: Nick Viox, Special Projects Coordinator for Downtown Traverse City DDA & DTCA. 
Thanks to the bulky sweaters and the general acceptance of wearing layers, winter tends to be a great time of the year to indulge in comfort foods in this foodie town that I call home. When I'm not bunkered down in my house making a Cheese Lady grilled cheese on Pleasanton bread, with a smear of American Spoon Foods jam, I venture to our wonderful downtown eateries to taste the innovative concoctions this area's chefs have mustered up to combat the weather. What I usually discover is too good not to share so I would like to take you on a "Full Day of Comfort" through my eyes. (Please note that this is a meat-free tour, so I do apologize to all of my carnivore friends.)
A full day of comfort can't properly start without a kick of caffeine. One of my favorite lattes in town is a traditional honey latte at
Morsels
. Although they continuously wow my tastebuds with their creative seasonal drinks, the honey latte's smooth and wholesome flavor always makes me come back for more. I'm sure I've stamped my way to a complimentary drink with fifteen honey lattes alone!
Once I've gotten my "caffeine fix," my day of comfort continues at The Towne Plaza for breakfast. Breakfast here is nothing short of divine. Although they are known for their delicious cuts of pork, this vegetarian has his hands (and belly) full with their wide variety of vegetable dishes like their scrumptious Root Vegetable Gratin and their Grilled Romaine smothered in their amazing homemade hollandaise. However, the dish that I rave about, and, frankly dream about, are their pancakes.
The pancakes here are heavenly; slightly crisped on the edges, perfectly light and fluffy in the middle. What really gets me are the local Saskatoon berries that are found inside of these delightful saucers of melt-in-your-mouth goodness. Known as the "poor man's blueberry," these berries are rich in flavor and take these already remarkable pancakes to another level. I dare anyone to try these without either gushing about them non-stop or not talking at all for the five minutes they're devouring them.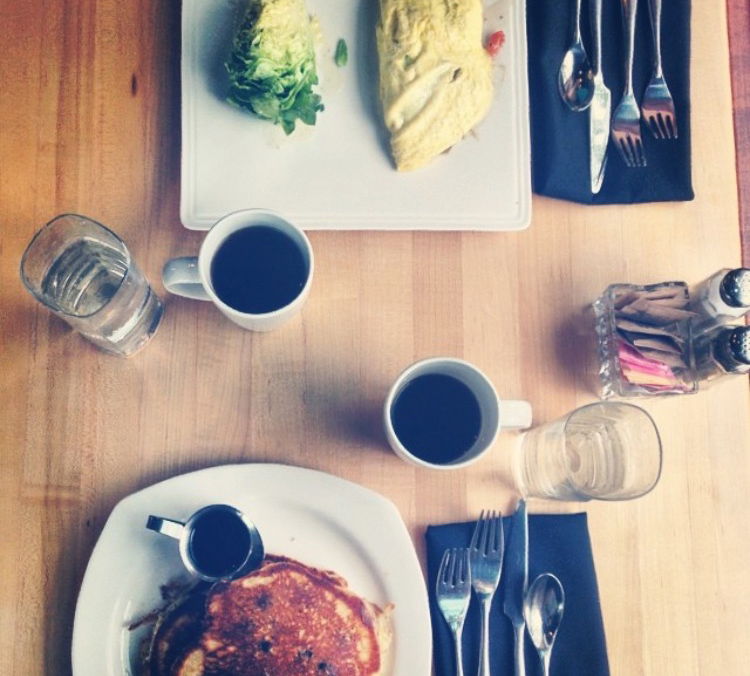 To allow these pancakes the proper time to digest, a stroll around downtown is necessary. Stopping in all of the wonderful shops our downtown has to offer is a perfect way to stock up for the winter, see some friendly faces of local merchants, and, of course, shop. I mean, is anything more comforting than a day of shopping and eating? I think not.
After completing some shopping, lunch is at top of mind. A tasty, warm lunch after a cool walk can always be found at
Harvest
. A new addition to downtown, Harvest has grown from their food truck at The Little Fleet into their own brick and mortar with a wide selection of delectable dishes. This winter, I have been loving their "Here Today, Gone Tomorrow" Samosas. Harvest makes their own delicate and flaky dough that is used as a pocket to hold delicious chutneys and other local ingredients. Seasoned to perfection, these middle eastern pastries invigorate the palate and definitely bring comfort. I am always eager to see what new ingredients will be in these downright mouthwatering samosas.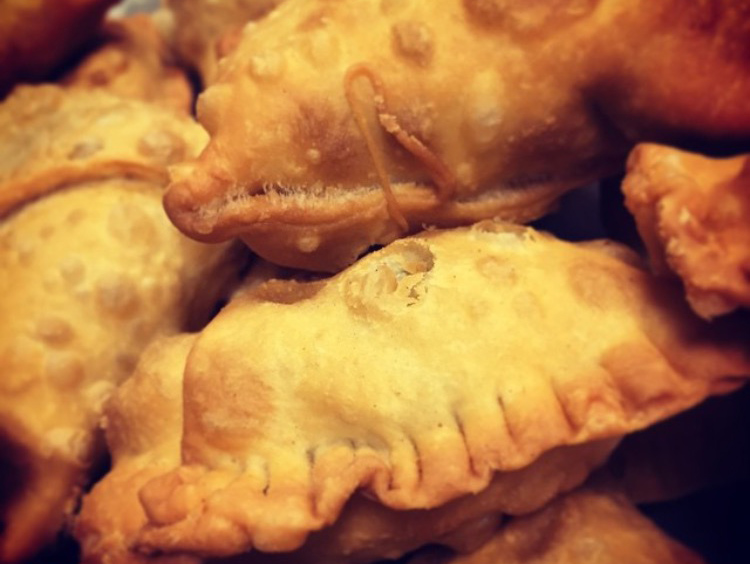 A day of comfort continues with dinner at a downtown staple, Poppycock's. A great menu for vegetarians and meat eaters alike, Poppycock's is always a favorite of mine. Of course it's nearly a sin not to start off with their famous Pita Chips that have salsa, hummus and their "rich, bubbling Jarlsberg cheese." For a main course in comfort, however, I would recommend the Root Vegetable Pot Pie. Carbs really are the quintessential component of comfort, and this dish has a remarkable parmesan herb puff pastry that takes your breath away. Filled with caramelized fennel, sweet potatoes, parsnips, spinach, onion, double cream brie and a marsala shiitake cream sauce, this entrée is a mouthful, both literally and figuratively.
Per usual, there's always room for dessert. Without exaggeration, the dessert case at
Amical
is a small window to heaven. Between the cobblers, cookies, and tarts, to make one decision is nearly impossible! However, when it comes to comfort, I go with the age old standard of their decadent carrot cake. A cup of coffee and this carrot cake is the perfect combination to end any evening. The texture to this cake is nothing short of amazing and the flavors muster up memories of warmer days.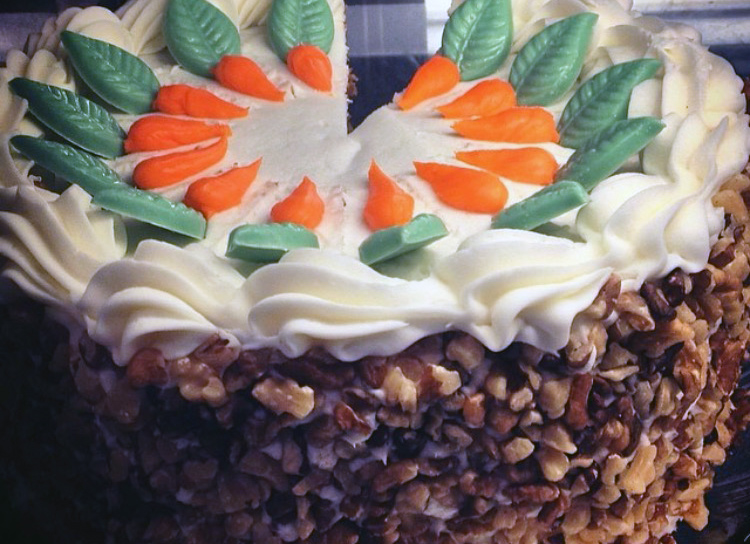 A whole "Day of Comfort" is easy to find downtown. We have a variety of wonderful restaurants that cater to every craving and desire one may have. These are my personal favorites and my recommendations for 2015. However, with the
5th Annual Traverse City Restaurant Week
(TCRW) at the end of February, my favorites just may change! Hopefully I've given you some great recommendations and you find some of your own downtown and during TCRW.