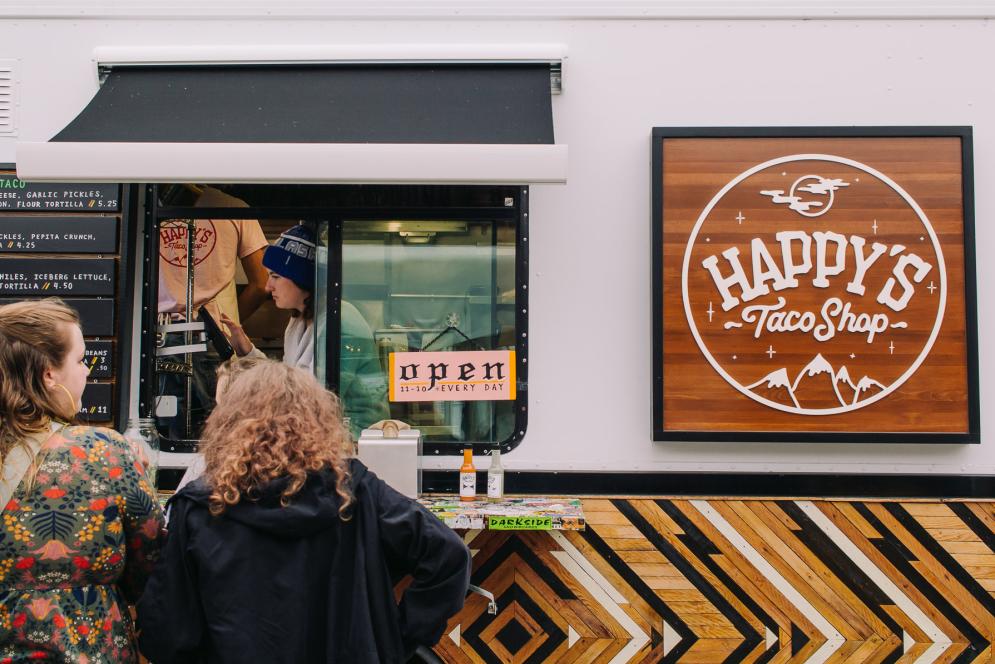 Now that it's officially summertime in Traverse City, may we suggest one of the best ways to spend the afternoon? One of our favorite spots to eat, drink and hang out is the Little Fleet! It's popular amongst locals and tourists, and for good reason. Grab a drink, a bite to eat and check out some live music. With a variety of food trucks to choose from, an indoor bar with seating, and an outdoor patio space, there is plenty of room for your whole group to kick back and enjoy, rain or shine. You can even bring your dog along! Read about a few of our favorite food trucks you can find at the Little Fleet, as well as some of our favorite libations at the bar.

Glendale Ave
Glendale Ave is the go to place when you need an amazing burger, fried chicken sandwich or some delicious fries. They've been doing pop-ups around Traverse City for some time and now have a mainstay at The Little Fleet! Their photogenic, craving inducing selections are loved by all. From their mouthwatering 989 Burger (named affectionately after their hometown Saginaw area code) to their Parm Fries, this husband and wife team will prepare for you some of the best food you've ever had - and we mean that!
Happy's Taco Truck

Happy is the exact feeling you get when you see and experience the menu at Happy's Taco Truck. The service counter is decked out with a million cool stickers and the tacos are decked out with high quality, local ingredients and combinations you may not have considered but will absolutely love. The Lamb Cheeseburger, Crispy Shrimp, and the Chilaquiles tacos are just some of the amazing items you can get at this food truck. With ingredients like green curry mayo, garlic pickles, and homemade kimchi, you and your party are guaranteed to be satisfied when you arrive here!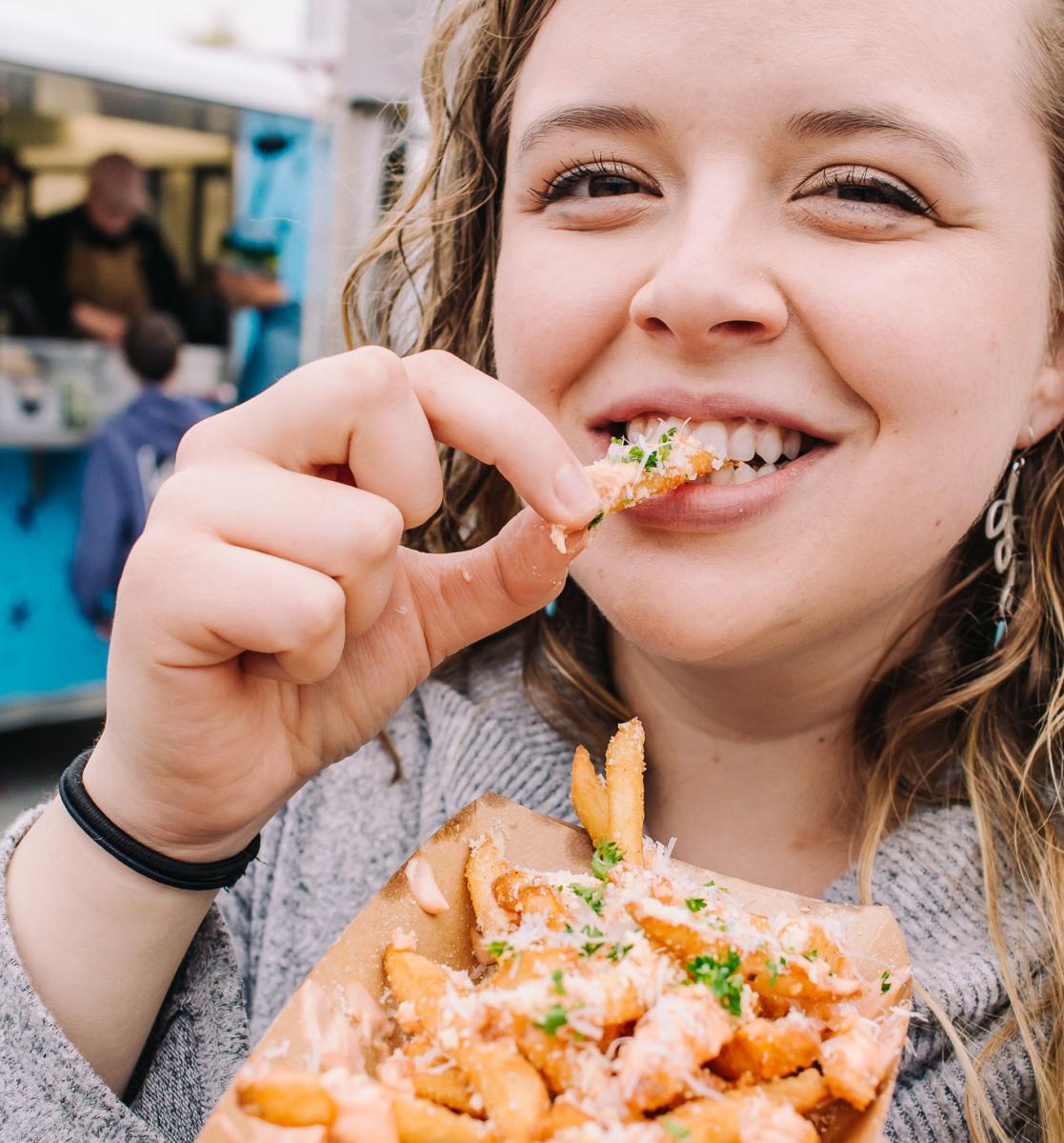 Rockwich
Rock out with some of Rockwich's grilled sandwiches! Sandwiches, smoothies, and Moomers Ice Cream made this truck one of our favorites in the whole fleet. We tried a couple smoothies and The Slow Ride. Complete with pastrami, giardiniera, cheddar, arugula and aioli, this impressive sandwich is just one of the stellar options you can get here.
Drinks and The Bar
The Little Fleet has a large and bustling indoor seating area with beautiful wood interior to hang out in. Grab a drink from the bar, and bring your food inside. There are tons of local beers and wines to choose from, as well as an extensive cocktail list, and even mocktails. Every week, farm fresh ingredients are sourced from the Sara Hardy Farmers Market to create beautiful craft cocktails. 
You can also grab drinks from the Big Squeeze, a limited menu bar located in the middle of the patio. This way you won't have to stray too far if your group is stationed outside. Specialty cocktails are only served out of the large indoor bar, but you can get a fresh squeezed margarita, beer, and wine at the Big Squeeze.
In addition to the food trucks mentioned, there are a couple more great options. In the mood for BBQ? Cordwood BBQ is the destination for you. If you're craving sushi, bao or Japanese curry, be sure to stop by White on Rice. If you can't stand another minute without falafel or a braised beef quesadilla, don't pass up the Roaming Harvest! We didn't get a chance to try it this time around, but The Little Fleet's neighbors from the Cooks' House recently opened up Milkweed inside of the Little Fleet, serving their street food creations seven days a week at dinner time.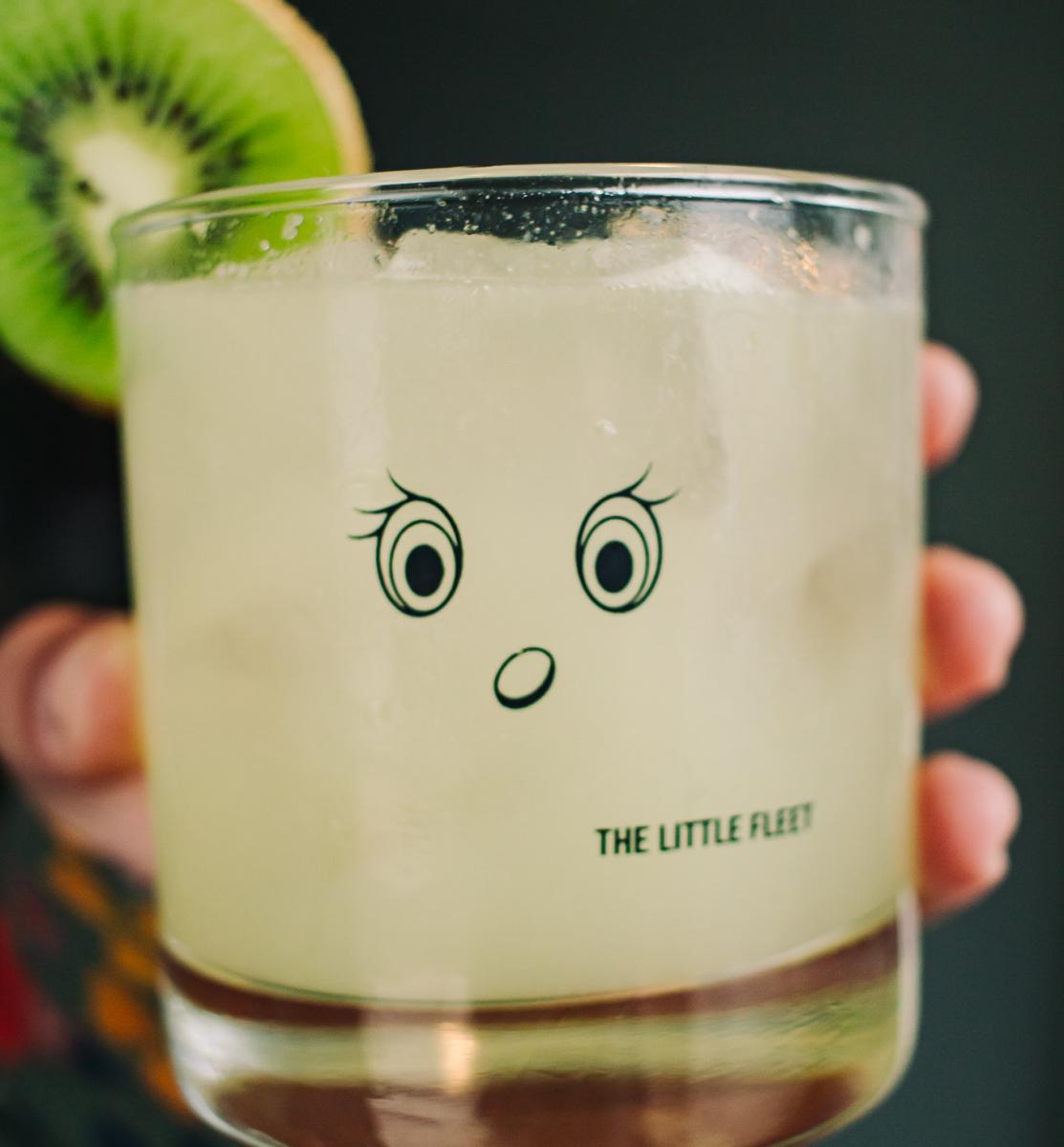 If you leave this place any less than stuffed and happy, we'd say you did something wrong! Bring your whole group, as there are options for everyone here. Be sure to check out the Little Fleet's website for an updated list of events and live music taking place. Come hungry and stay awhile!