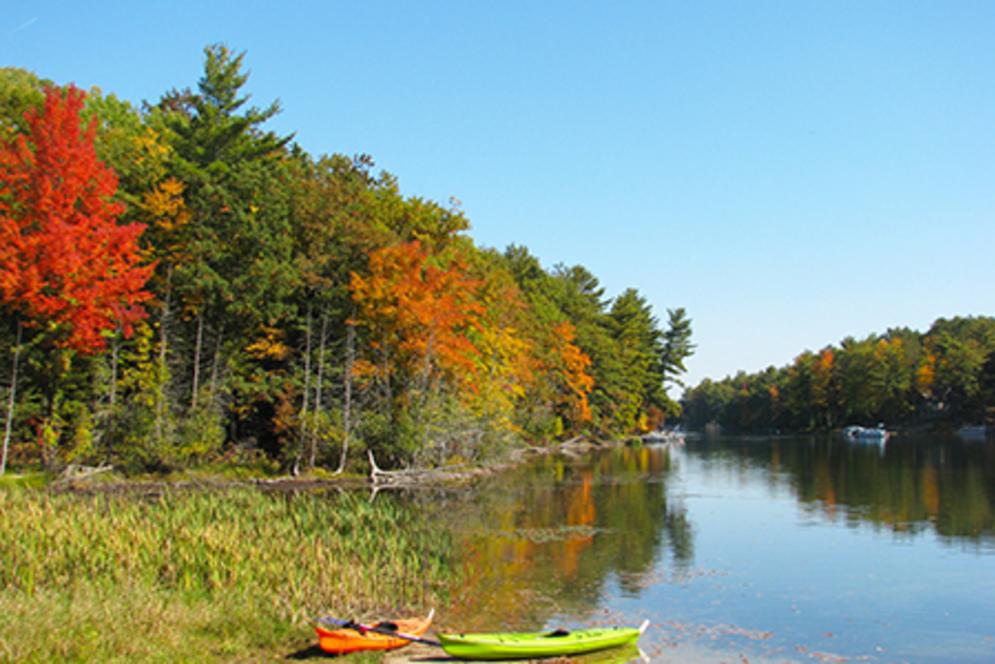 There are lots of ways to experience fall color in the Traverse City area: driving, hiking, cycling, or simply staring out your hotel window. One of the most rewarding is to combine a color tour with a paddling adventure by canoe or kayak.
Paddling down one of the local streams or rivers can give you a close-up view of changing colors among trees and plants you may never have seen in their fall finery before – as well as some personal encounters with wildlife. Getting out on one of the area's many inland lakes, or even the wide waters of Grand Traverse Bay, will give you a different perspective on the sweeping vistas of color that can only be appreciated properly when seen from a distance.
Here are some of the best fall paddling areas around Traverse City:
The many streams and rivers that surround Traverse City provide a charming introduction to fall paddling, especially on windy days when open water is just too difficult. Gentle streams like the Platte, the Betsie, and the Crystal – as well as the winding, hushed sanctuary of Victoria Creek near Cedar – are a relaxing way to glide through the autumn stillness.
There are only a few places where you can enjoy the weather protection of a river while looking up at long sweeping views of colorful, distant tree lines. One of them is on the upper reaches of the Boardman River, at the Brown Bridge Quiet Area, where the removal of an aging hydroelectric dam and the draining of a large forest pond have left the river running back and forth through a wide flat valley surrounded by high wooded bluffs. Best of all, it's not even very far from town.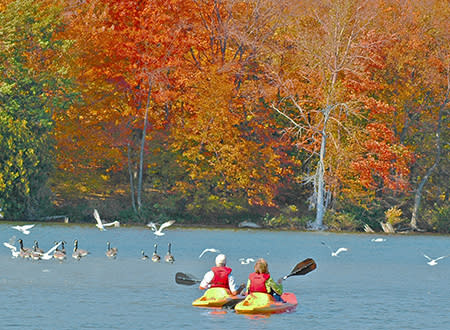 Boardman Lake
The Traverse City area is blessed with wonderful glacial lakes that are perfect for fall color trips – Lake Leelanau, Long Lake, and Glen Lake all come to mind. As long as we're discussing the Boardman River, it's also the site of one of the area's nicest and most convenient paddling lakes for fall color: Boardman Lake, just a couple of blocks from downtown Traverse City
The lake can be easily accessed by kayakers, too. There's a launch site at Hull Park, at its north end, another along the Boardman Trail on its west side, and a third at Medalie Park at the south edge, just off South Airport Road. Another great thing about this lake is that it is a resting stop for lots of migratory waterfowl, and local birds hang out there all year.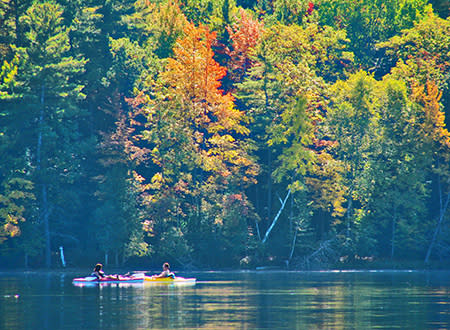 Spider and Arbutus Lakes
The Forest Lakes are cradled in the wooded hills of East Bay Township, just southeast of town, tucked away so neatly that many visitors never guess they're up there. (Fishermen know, though, and so do many boaters.) Two of them – Arbutus and Spider – are awesome spots for fall paddling, full of long winding coves and little islands, dotted with homes and cottages. You can explore either one in a leisurely way and still make it back for dinner.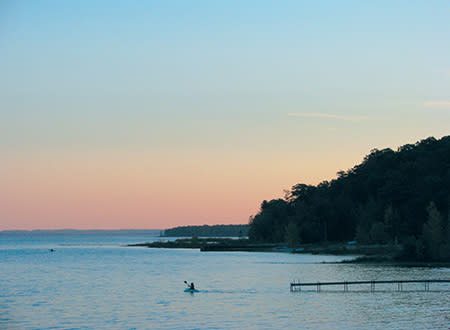 Grand Traverse Bay
Truthfully, though, there's no experience like paddling out onto the Bay, watching those steep hills of fall color slide past as you dip your paddle into the water. The two arms of the Bay are over 20 miles in length and rarely more than four or five miles wide, providing dozens of different routes for coastal kayakers. However the weather here can be fierce during those sudden fall squalls, so you want to be sure you're paddling in a protected spot.
One of these is on West Bay, in the sheltered waters of Bowers Harbor on the Old Mission Peninsula (there's a state boat launch just past the Bowers Harbor marina). If the weather is behaving itself, you might use this as a base for a three-mile paddle to Power Island, an uninhabited 200-acre island that's now a county park. It's all forest and is beautiful in fall, but so is the view of the peninsula when you turn around and head back.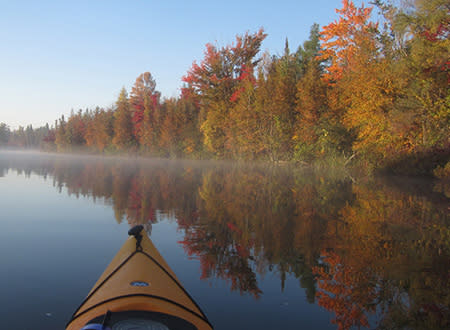 The Chain of Lakes
Can't decide if you prefer rivers to lakes? Relax – you can do both in one trip on the Chain of Lakes, a series of 14 connected lakes and rivers that wind for over 50 miles through the rolling farmlands of Antrim County. They include several large lakes that are major paddling destinations in their own right, especially lovely Torch Lake, which is 18 miles long.
Since these sheltered waterways have been vacation destinations since the 19th century, it's relatively easy for kayakers to create paddling itineraries that reflect their own tastes and aptitudes – whether that means ending the day at a backcountry campground, an elegant beach resort or a cozy small-town bed & breakfast. There's a wonderful organization called Paddle Antrim dedicated to enhancing the paddling experience in this area, and they offer advice, maps and helpful lists of outfitters, guides and other local services along the Chain of Lakes.