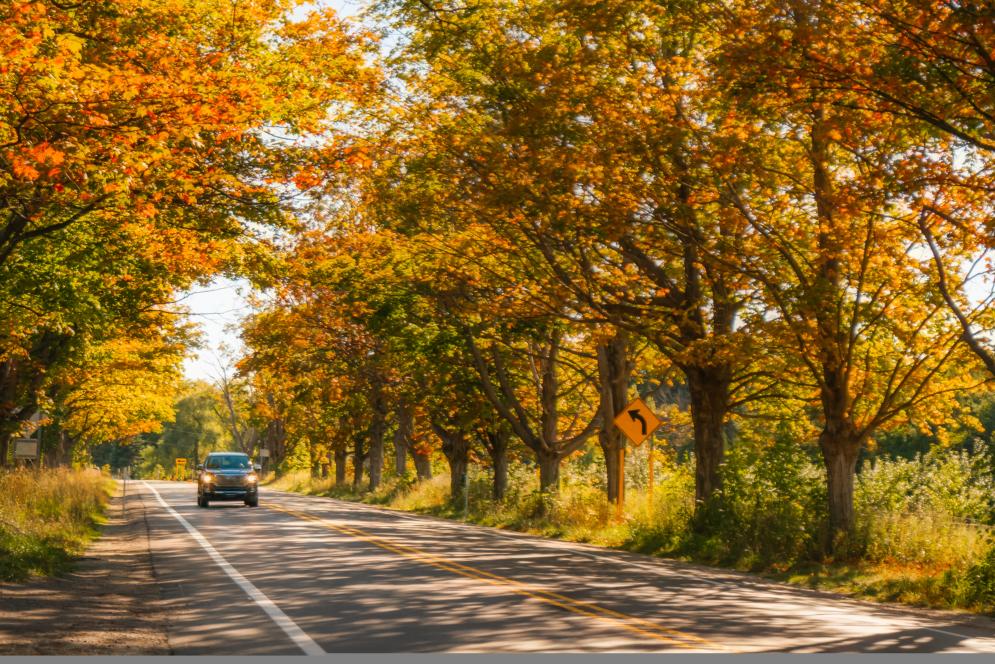 'Tis the season for fall color! All over northern Michigan, the trees are starting to turn crimson, orange, and gold. Here are all the best places and ways to enjoy autumn's glory.
What to Know
 
Lake Effect
Up north, fall color starts inland and moves out toward the bays and lakes. The waters of Lake Michigan keep coastline temperatures moderated, so trees close to the beach will be the last ones to change. This means the peak color time can stretch out to two weeks as leaves get more vibrant in different parts of the region.
Terrific Trees
Our forests are home to a wide variety of trees, from maples to oaks, hemlocks to birches, aspens to ashes. This means you'll see lots of different colors beyond the classic yellow, orange, and red. Purple, cream, and even silver can be found, and coniferous trees will keep their deep greens for an extra splash of color.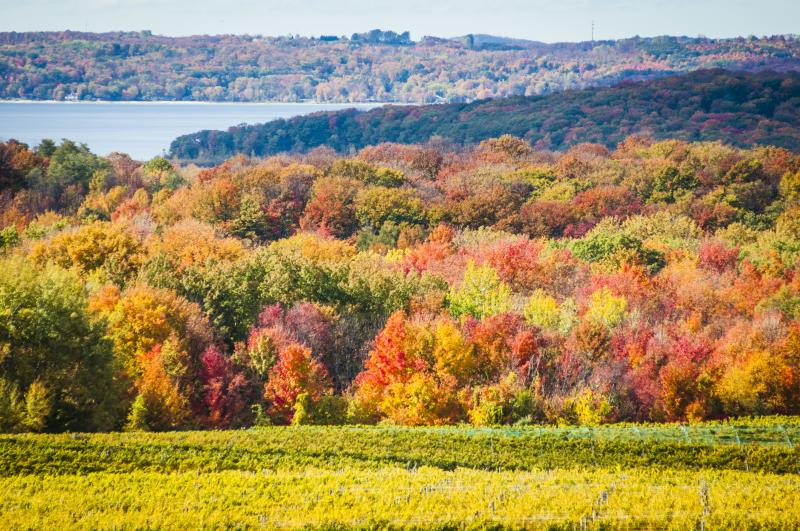 Where to Go
 
Grand Traverse County
Take a drive out Old Mission Peninsula (about 18 miles long) to see a gorgeous contrast of blue waters and fall foliage. Cruise up along M-37 (aka Center Road) all the way out to Mission Point Lighthouse. There are a few great overlooks where you can stop for photos, or you can take a break and enjoy a glass of wine with a view at one of the peninsula's 10 wineries.
For hikers, Old Mission Peninsula has three beautiful gems: Pelizzari Natural Area, Pyatt Lake Preserve, and the trails around Mission Point Lighthouse.
Benzie County
Two beautiful drives await you: US-31 and M-22. The former takes you through the heart of Benzie County—full of uninterrupted forest views—toward Platte Lake and Crystal Lake. The latter runs parallel to Lake Michigan, with stops at Point Betsie Lighthouse, the charming beachside towns of Frankfort and Elberta, and down to Arcadia Dunes.
If you're traveling on two wheels instead of four—or you just want to take a bike ride in the woods—try out the Betsie Valley Trail, which runs 22 miles from Frankfort to Thompsonville.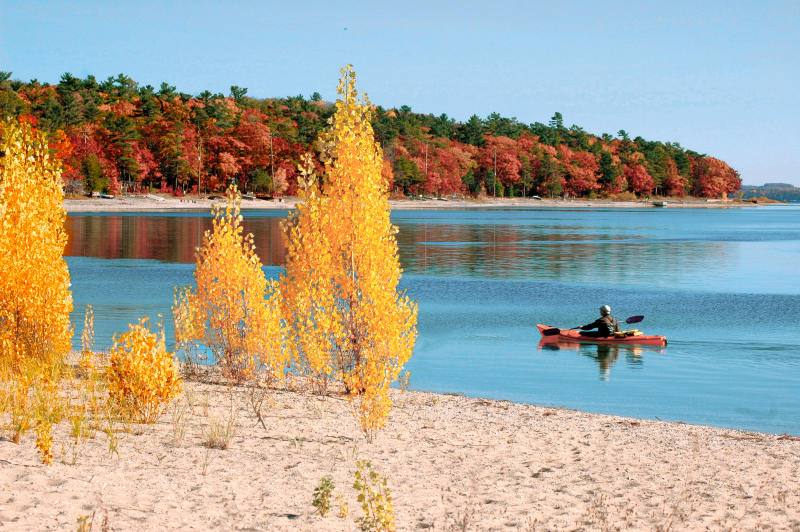 Leelanau County
You can link up with M-22 for this drive too! Skirt along the water as you follow the highway through Suttons Bay, up to Northport, and then around with stops in Glen Arbor and Empire. You'll be within a stone's throw of Sleeping Bear Dunes, so be sure to traverse the Pierce Stocking Scenic Drive or get out and stretch your legs for a great hike.
Speaking of hiking, beyond the Sleeping Bear Dunes trails—which are a must—we also recommend getting some fresh air near Northport's Grand Traverse Lighthouse at the Leelanau State Park.