Traverse City has become a popular holiday shopping destination, thanks to a growing number of winter visitors who've gotten tired of trudging through the Big Box stores back home, and have headed north for some retail adventuring in the many boutiques, galleries and shops of the Grand Traverse area. Christmas preparations here start as early as October, when local churches, clubs and artist's cooperatives begin staging the holiday arts and crafts fairs for which the region is justly famous. And by November a whole series of community celebrations and sales swing into action. Here are some of them: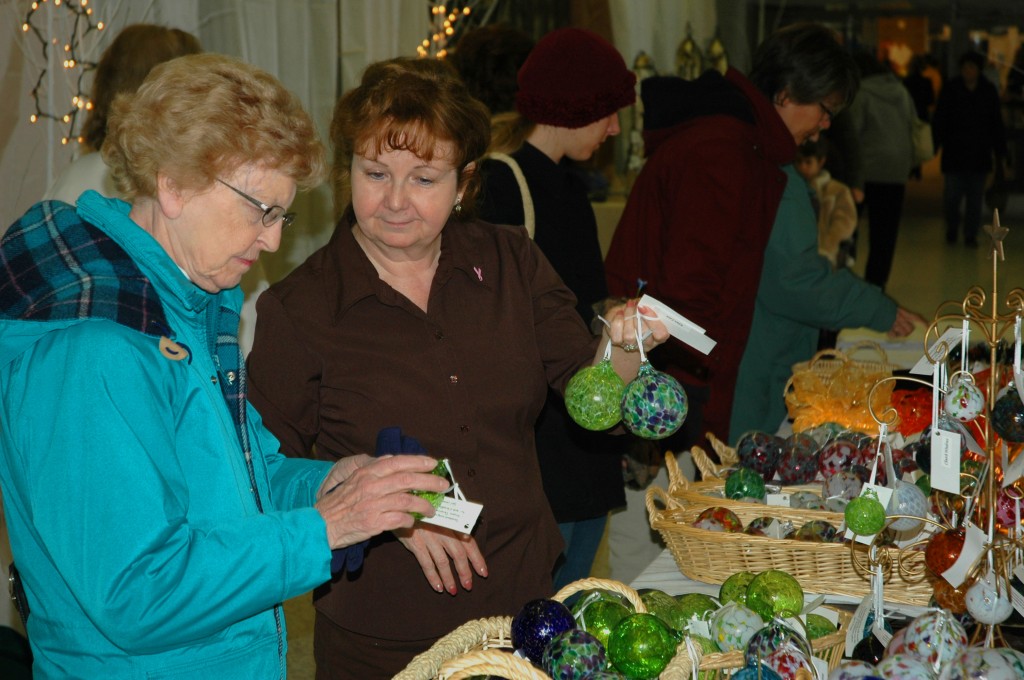 Oct. 25:  23rd Annual East Extravaganza Craft Show 9 am – 3 pm
Traverse City East Middle School hosts this event, which includes food, arts and crafts, a silent action and a book sale. Proceeds will benefit the middle school library. 1776 Three Mile Rd.
Oct. 23-26 Dennos Museum Annual Holiday Art Fair (Th 5– 8 pm, Fri & Sat 10 am – 5 pm, Sun 1– 5 pm)
Fabulous invitational annual three-and-a-half day holiday art fair, featuring fine arts and crafts from 50 Michigan artists.  No admission charge.
 1410 College Dr, Traverse City (231) 995-1586
Nov. 1: 32nd Annual Bellaire Holiday Gift Fair 10 am – 3 pm
A great little small-town fair held at Bellaire's high school — just down the hill if you happen to be staying at Shanty Creek resorts! Over 40 vendors, amazing assortment of items to do some early Christmas shopping!
Nov 1:  Dickens Christmas Arts & Crafts Bazaar   9 am-3 pm
This popular holiday craft fair at First Congregational Church features handicrafts from 60 area artists as well as baked goods, preserves, gourmet delicacies, confections, handcrafted gifts and seasonal decorations created by church members. 6105 Center Rd, Traverse City. (231) 947-6698
Nov 1:  27th Annual Immaculate Conception Craft Show  8:30 am-3:30 pm
More than 70 exhibitors will participate in this show at the parish Centennial Hall and the nearby middle school of Immaculate Conception. There also will be a bake sale, luncheon, and raffle. 720 2
nd
St., Traverse City.  (231) 946-4211
Nov 8:  7th Annual Fall Blessings Craft & Crafts Show  9 am-3 pm
Over 100 exhibitors will be on hand for this juried show at Traverse City Christian Middle/High School at 753 Emerson Rd. Crafts, silent auction, lunch, bake sale & door prizes.(231) 929-1747
Nov 20-22:  Festival of Trees Th 4-8 pm, Fri 9 am-6 pm, Sat 9 am-12 pm, Sun 11 am-4 pm.
This annual three-day festival at the Hagerty Center by Zonta of Traverse City features a charming display of professionally decorated trees and wreaths. All trees are available for purchase, as well as wreaths and other holiday accessories. New this year: 3-foot tabletop trees. Admission $7:50, students $4, preschool age free.  
www.zontatc.org
Nov 22:  Christmas Craft Show-Alden  9 am-- 3 pm
The Torch Area Artisans Guild holds its annual craft show in the Helena Township Community Center at 4732 Helena Rd. in Alden.  A wide variety of local crafters offer their wares for sale to the public, and refreshments are also available. 231-331-6583
Nov. 29: 6th Annual Winter Fantasy Art Show 11 am-5 pm
A mixed-media art and fine craft show featuring the work of local artists & artisans, held inside the heated greenhouse at Pine Hill Nursery.  Over two dozen booths offer a wide range of unique gifts, stocking stuffers and holiday décor, all handcrafted in Northern Michigan. Complimentary hot apple cider and a holiday train display add to the day's festivities.  Admission is free. 886 US-31 N, Kewadin.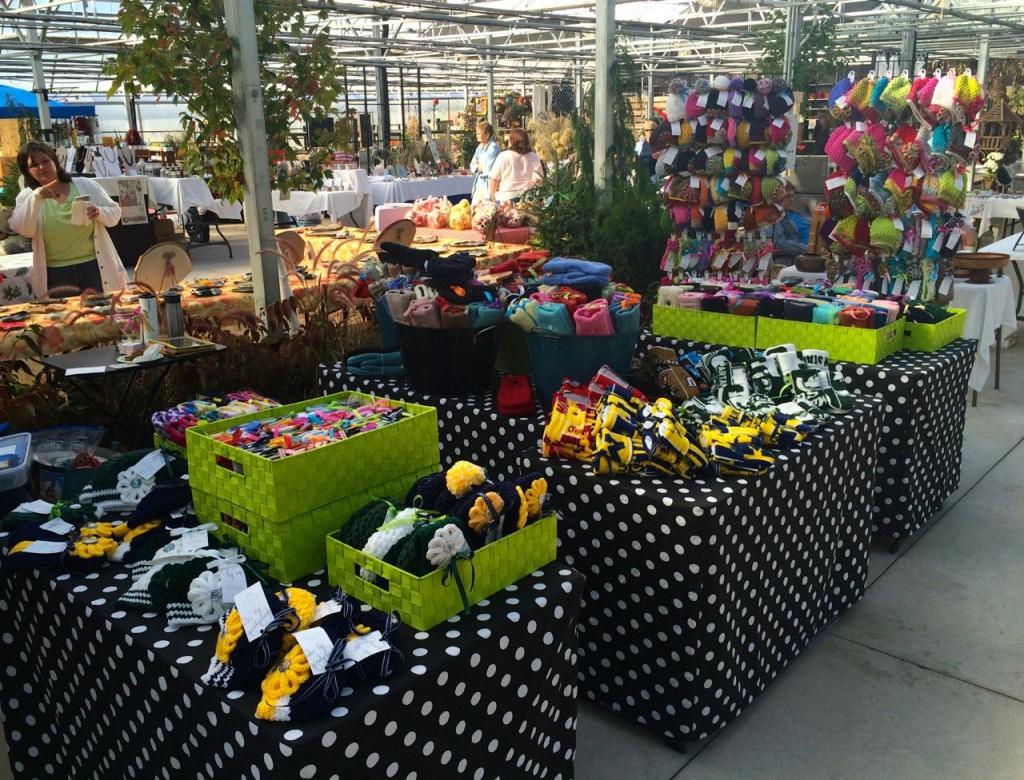 Nov 23:  Suttons Bay Holiday Open House 12-4 pm
A fun and festive way to start your holiday shopping in the cute-as-a-bug village of Suttons Bay. Enjoy the special offerings from area merchants and eateries. Stores will be serving refreshments for you to enjoy while getting a jump start on your holiday shopping, and vote for your favorite store window display with a canned good or toiletry donation to the local food pantry.
Nov 28:  Leland PJ Party Sale  8 am-5 pm
A fun event in the Leelanau Peninsula port of Leland, where shoppers get the best deals if they come in their pajamas! Special early bird discounts in effect from 8-10 am.
Nov 28: Glen Arbor PJ Party Sale   5-7 am
I don't know which of these two towns stole the idea from the other (actually, I DO know, but I'm not telling) but Glen Arbor has a PJ Party, too – and this one is in the wee hours of the morning. Honestly, if you get up this early, you deserve a discount! In the evening there's a 6:30 pm tree-lighting and carols at the township hall, and a preview of the next day's 
Holiday Marketplace
, which is held Saturday from 10 am-4 pm. 231-334-3238
Dec. 5: Santa's Arrival & Holiday Open House 5-9 pm
This little throwback to the good old days starts with music and caroling at the corner of Cass & Front, followed by the arrival of Santa Claus and the lighting of the downtown Christmas tree. From then on, there's shopping, with sales, specials and prizes at participating stores, plus antique fire engine rides, caroling and live entertainment at the corner of Cass and Front throughout the evening.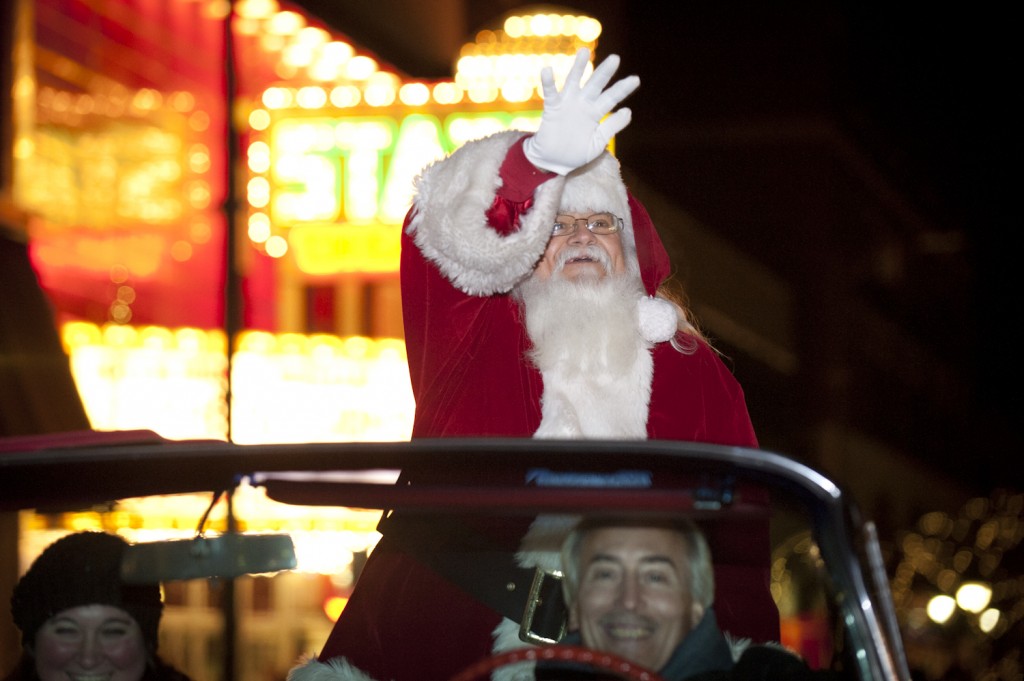 Dec. 5-7: Suttons Bay Holiday Festival
A three-day weekend of holiday events in Suttons Bay, starting Friday evening with a Holiday Stroll down luminaria-lined streets. Refreshments, hors d'oeuvres, local wines, restaurant specials and over 50 decorated trees. Saturday starts with family activities followed by Santa's arrival by fire truck for a 6 pm tree-lighting and caroling with the high school band and youth ensemble. Sunday winds up with a Cookie Extravaganza 12-3 pm and a Community Choral Concert at the Congregational Church.
Dec. 6:  Merry Marketplace-Leland  10 am-4 pm
Christmas arts and crafts show featuring local artisans with holiday gifts, fresh greens, ceramics, jewelry, ornaments, candles, soaps, gourmet chocolates, clothing, knits, and other handmade items at the Old Art Building in the Village of Leland. 231-256-2131.
Dec. 11: Ladies' Night in Downtown Traverse City 5-9 pm
Extended store hours for the ladies to shop in downtown Traverse City. Participating stores offer food and refreshments from 5 to 9 pm. And hey, you can enter a drawing to win prizes!
Dec. 13: St. Lucy's Day in the Village at Grand Traverse Commons
A picturesque celebration of "Santa Lucia" where holiday shoppers are regaled by wandering flute players and a young girl dressed in white who offers them fresh-baked warm pastries.  Other refreshments, shopping special and free horse-drawn carriage rides provide a unique experience of Christmas past.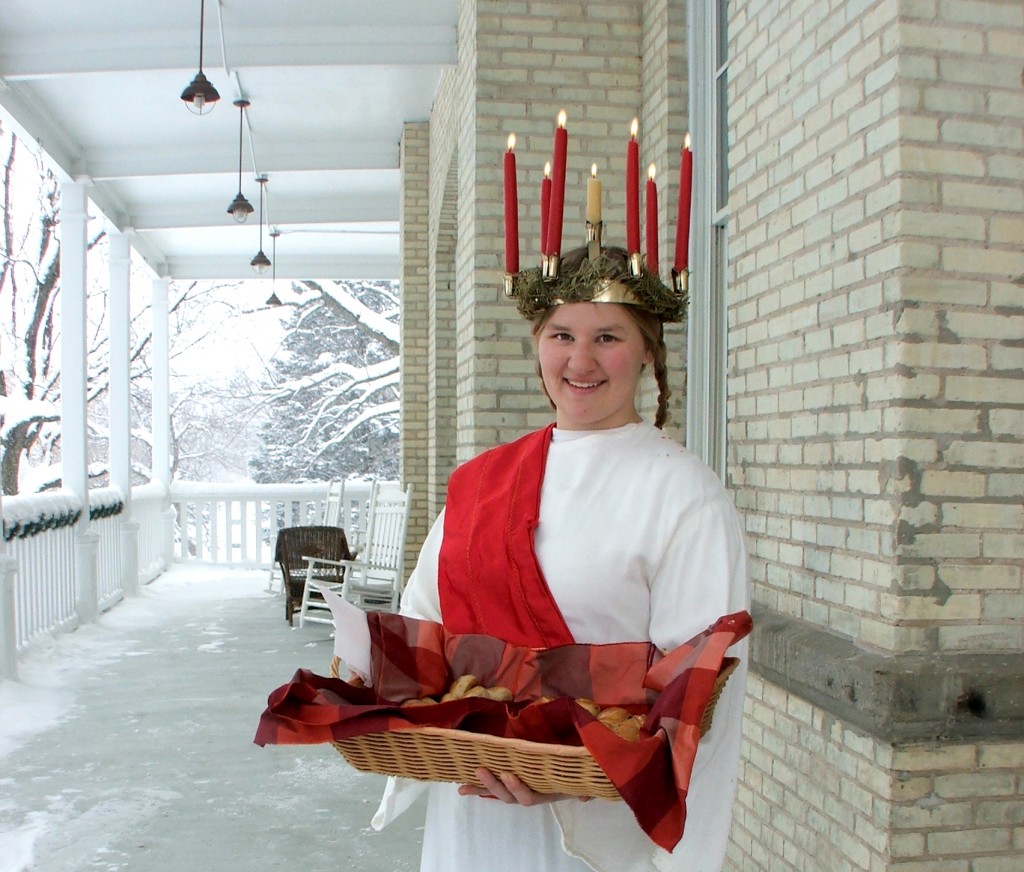 Dec. 13: Leland's Holiday Wonderland 10 am – 5 pm
A shopping celebration throughout the village of Leland, complete with refreshments, caroling by the Leladn Comet Chorale, a Holiday Story Hour, gfts and sales at local merchants, and a food drive for the village food pantry.
Dec. 18: Men's Night in Downtown Traverse City 5-9 pm
No need to panic! An evening of shopping has been designated just for the men in Downtown Traverse City. This night is a salute to the men. Enjoy food, refreshments and specials while you shop the night away finishing up those last minute holiday gifts!