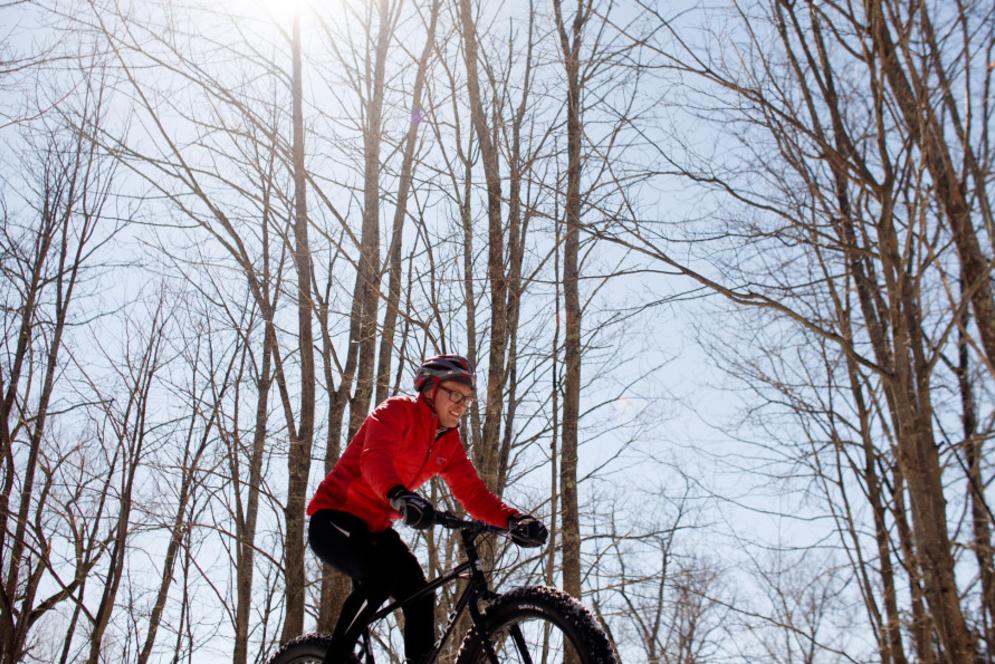 Fat tire biking offers exciting winter recreation opportunities. Learn more about them in this guest blog by Suttons Bay Bikes. 
This summer I moved to Traverse City and loved it! Biking, swimming, wineries, breweries, the area is great with endless trails, lakes, and beaches. There is so much to do, with fun around every corner.  As fall came and winter was around the corner, I was wondering if I was going to love the winter too. To be honest, I was worried because I can't ski. A revelation came to me this past summer when I saw a fat bike cruising down the street in Suttons Bay. I was immediately intrigued with this monster truck of the bike that looked as if it would be able to blast over any and all obstacles in its way. It wasn't long before I learned that this giant, almost comical looking, bike could be the solution to my ski-less winter dilemma.
I was so right! I started fat biking this fall and loved the velcro grip of the large tires on the trails.  I was new to mountain biking, most of my cycling was on the road, so the large tires were very stable and easy to ride. The tires look big and heavy but they roll easily down the trail. Big tires open the door for more adventures as they don't need manicured trails. They are able to ride through sand, snow, or wherever you may want to explore.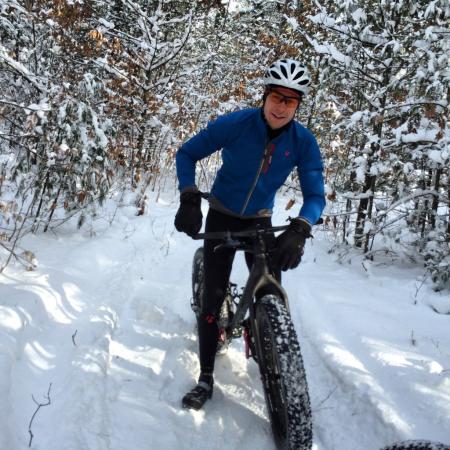 Then when the snow started to come, I was able to continue to enjoy the trails. The skiers had to wait until there was enough snow, fat bikes can enjoy the trails even when there is little snow. The best part? All that is required is the ability to ride a bike. Although I haven't been fortunate enough to be blessed with skiing prowess, I, like most, can hop on a bike and pedal away.
More adventures are to be had as the winter continues. These fat tires can take you to all new places, with the ability to ride not just trails but on the snow-packed ice of inland lakes and bays.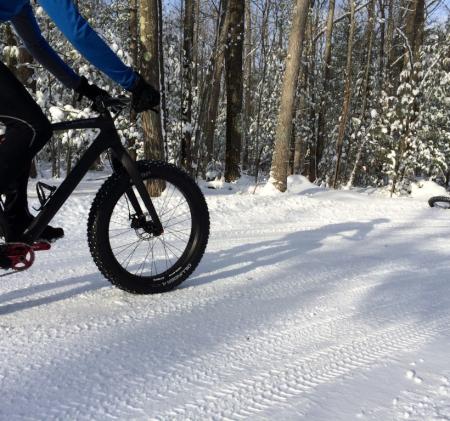 I encourage everyone to give this sport a try, it gives winter a whole new spin! You can rent the bikes at Suttons Bay Bikes, Brick Wheels and Einstein Cycles. For those looking for a new adventure or anyone in the market for a new bike, fat bikes offer year-round versatility that traditional bikes cannot seem to offer.
Photo credits to Beth Price Photography.