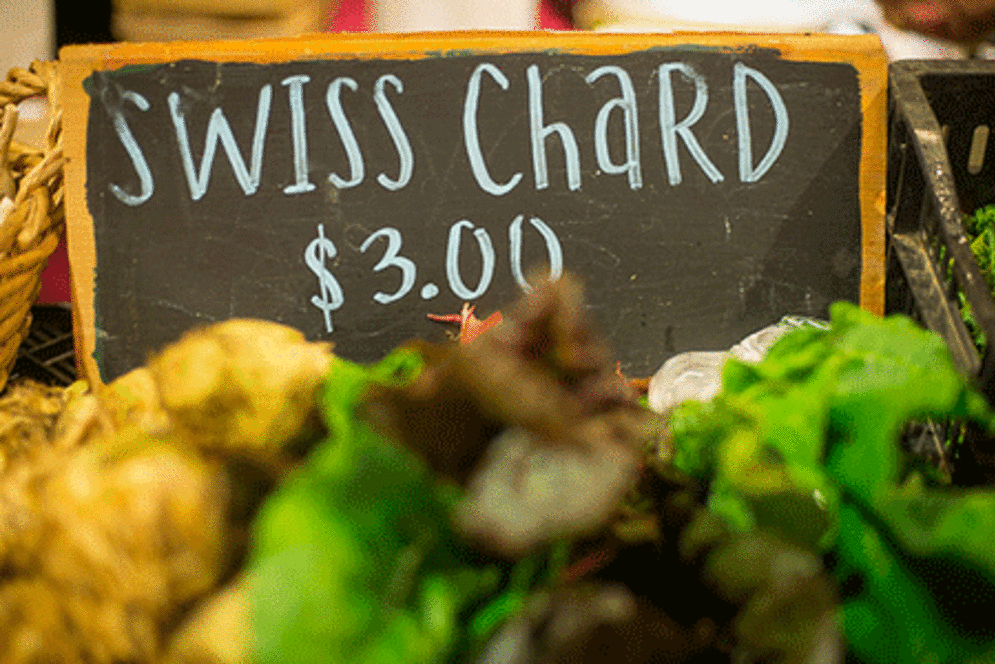 Harriet is sure-footed as she navigates the Indoor Farmers Market inside the Village at Grand Traverse Commons. Every Saturday after her swim at the YMCA, she heads over to Building 50 to chat with her farmer friends and pick from their selection of produce and other locally produced items. As a Traverse City foodie and food photographer, I knew I had to see what this market was all about, so I decided to join Harriet one afternoon. 
Harriet had to pick up her CSA (Community Supported Agriculture) chicken and eggs from Farm Friends and Accordions, so this was our first stop. We met with Jean Olds from Olds Farm in Mesick, and as Jean packaged up Harriet's chicken and eggs, Harriet told me that Jean's farm was the only place she knew of to get chicken's feet. That may not be something that would appeal to everyone, but for Harriet, it means a special relationship with her farmer, a chicken-style custom order -- and an essential ingredient for her chicken soup. With chicken feet tucked into her basket, our next stop was the apple lady.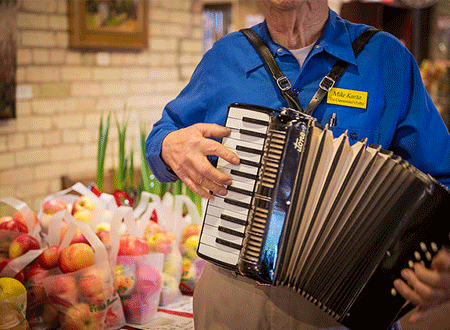 She's Bonnie, from Flynn Orchards in Mancelona, and we were pleasantly surprised to see that she still had Honeycrisp apples available. I chose my apples wisely and walked away with an aromatic and delicious bag of locally grown fruit. As we walked down the corridor, stepping in rhythm to fun squeezebox songs by Mike -- a regular at the market -- I started to feel a bit French, as though we were strolling through a Parisian arcade of food vendors looking for a fresh baguette.
Speaking of bread...9 Bean Rows is one of my favorite bakeries at this market, and most certainly the best place to find decadent, buttery croissants. Harriet and I couldn't resist, so we shared a rich and flaky almond croissant. We plotted our next stop and enjoyed the slower pace and smaller crowd of this unique indoor market housed in one of the area's most popular architectural attractions.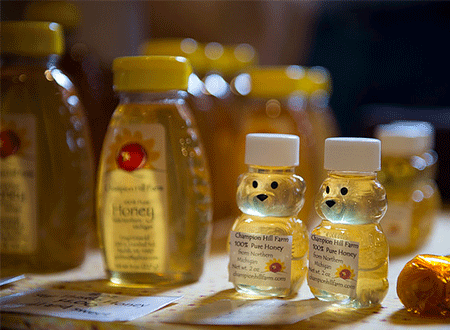 Here, farmers and vendors enjoy spending time talking to their customers and educating them about the area's local bounty. Visiting this market not only provides an opportunity to bring home the flavors of Traverse City, but also the experience of learning from the locals. For me, this was evident when I visited the Champion Hill honey table. As I'm a foodie, I already knew that free-range bees make honey flavors that are unique to our area. What I didn't know was that in 2015, the sumac bloomed together with the star thistle. This made the product from that season very special with a distinctly different aroma -- jammy with an essence of sunshine!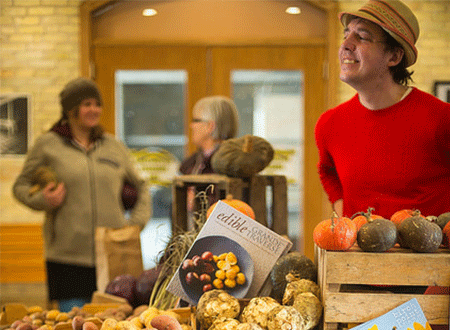 The Indoor Farm Market is not new to our area, but it has definitely grown over the last few years. The sheer variety of vendors and farmers along with the fresh (and mostly organic) produce make this a weekly destination for local residents. For a visitor, it is unlike any other market you will find. The location, the variety of products and the farm friends are just a few of the reasons to love this place! Fill a growler with local Cultured Ferments kombucha tea, talk carrots with Jess from Second Spring Farm, munch on a fresh bakery treat and stroll the amazing grounds of the Village at Grand Traverse Commons -- it's all in a day's visit to this special place.