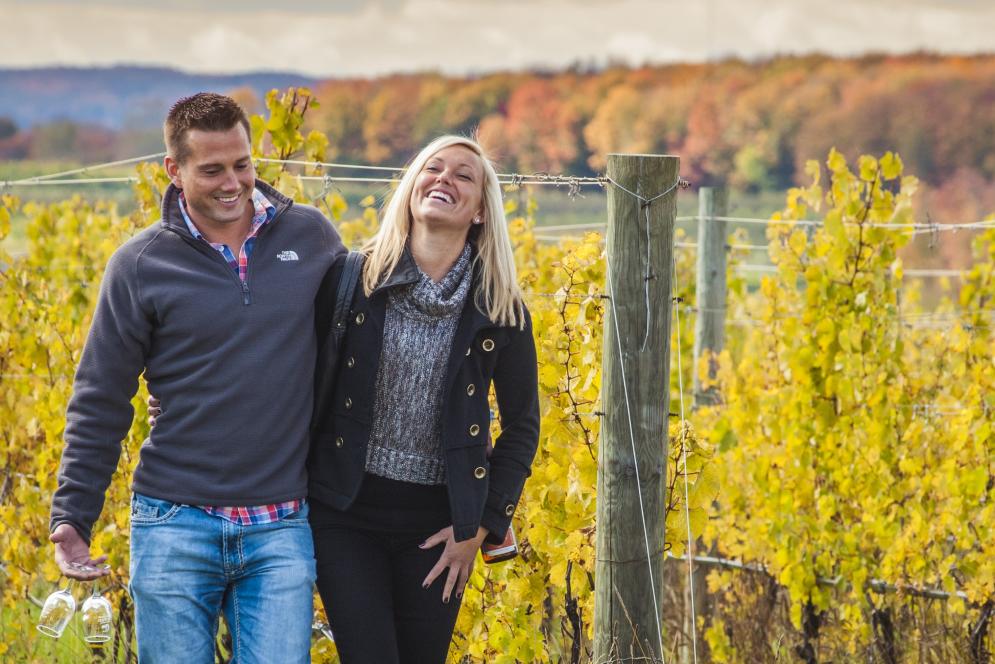 Fall is nearly upon us, and wineries on the Traverse Wine Coast are gearing up to celebrate another beautiful harvest season. Of course, this year things are a little different, with masks, reservations, and other safety procedures in place. We asked some of the wineries around northern Michigan—including MAWBY, Black Star Farms, and Chateau Chantal—what to expect while wine tasting this fall.
1. First of all, why is fall the perfect time to visit the Traverse Wine Coast?
It's a cozy time of year! It could be sunny and crisp or cloudy and cool but always so beautiful. Things are a little slower so it's a great time to sit and relax. —MAWBY
In the fall, you can experience the bustle of harvest time and see vineyards lush with ripe fruit. The cooler days are perfect for hiking our onsite trails or for enjoying an artisan pizza by the warmth of our wood-fired oven at our Suttons Bay location. The bottom line? Fall colors + local wine = great times! —Black Star Farms
Fall is an extremely special time for us on Old Mission – it's harvest time for the wine grapes!  Partnered with the excitement of crush, guests get an eye-full of stunning fall colors as they meander along our winding roads.  Local apples and fall treats are always in store to compliment the journey.  It can be busy, and planning ahead in our current environment is highly recommended. —Chateau Chantal
2. What winery events should visitors plan for this fall? 
The Leelanau Peninsula Wine Trail's Harvest Days in September and the Hunt for Reds of October…in October! —MAWBY
We'll be hosting another of our acclaimed Arcturos Dining Series—Harvest Bounties—in addition to private estate and wine tours through September in Suttons Bay. —Black Star Farms
We usually host a Harvest Fest Open House the first Saturday of October. We haven't yet planned out how the reconstructed version will look for this year, but expect some harvest activity to happen October 3rd! We also have wine dinners on every Sunday, as well as on Wednesday, Thursdays, and Friday nights in September and October. —Chateau Chantal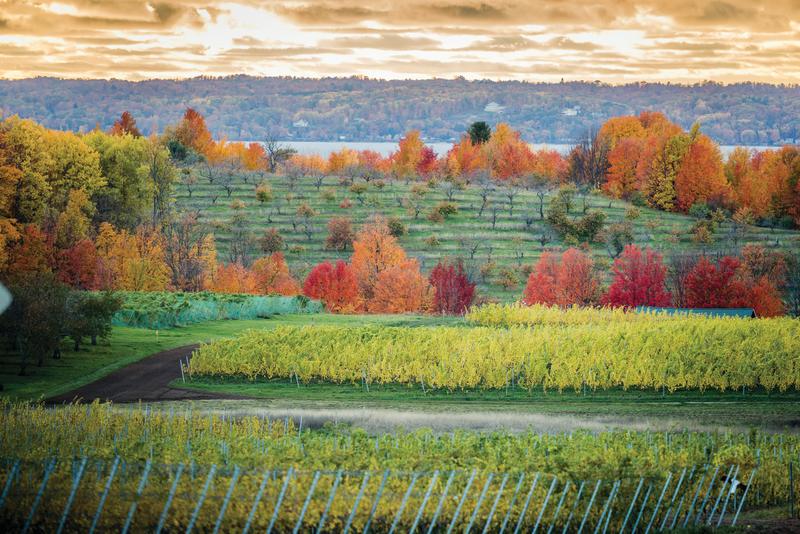 3. What will your outdoor spaces look like as cooler weather approaches?
We are fortunate to have a covered outdoor space (that used to be where we made the wine), and we can make that comfortable for guests who want to enjoy the views. —MAWBY
At our Suttons Bay location, we have our spacious Terrace Patio with retractable sliding doors and gas fire pits that is very cozy on chilly days. We also have a covered patio with lounge seating and a large tent on the lawn at our Old Mission tasting room. —Black Star Farms
We are lucky to have a beautiful outdoor space on our two patios. We also have a 2,000 sq. ft. dining room that we can use for socially distanced seating. The focus will be on safety, masks, distancing, and having a good time!  —Chateau Chantal
4. Will you be implementing any new safety protocols with more people being indoors? 
Reservations are definitely part of our "new normal." As the weather turns, we won't be able to host as many visitors, so reservations will be even more important. Things are different, but we are all doing our best to show you a good time! —MAWBY
We will be operating on a first-come, first-serve basis and ask that people limit their parties to 6 or fewer people. Larger parties might have to be seated separately. —Black Star Farms
We have an online reservation system required for flights and glasses of wine. We can also take a certain number of walk-ins based on our occupancy and the weather.  —Chateau Chantal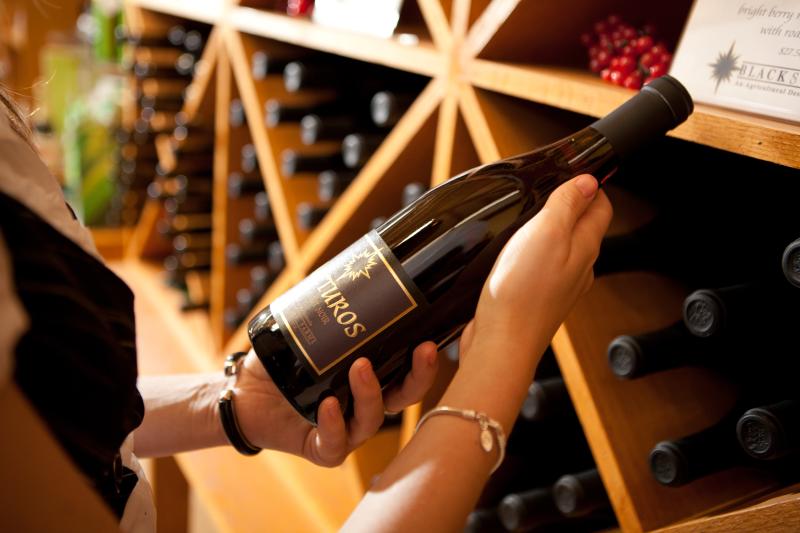 5. What else can visitors look forward to this season?
We've debuted a "new" wine: VOTE...with Us. Us is a longtime favorite, a brut sparking of Pinot Noir and Chardonnay. We've put a special label on it and now through Election Day, $2 from every bottle sold will be donated to the League of Women Voters of Michigan. —MAWBY
Inn guests can explore wine country on bikes rented through Grand Traverse Bikes. Bikes are delivered to the Inn for their convenience. (New this year, E bikes are available!) And our newest release is 2017 A Capella Pinot Noir. —Black Star Farms
Our Inn is certainly open, with openings in late October. We also have a great new release Pinot Gris that is delicious!  —Chateau Chantal
You May Also Like