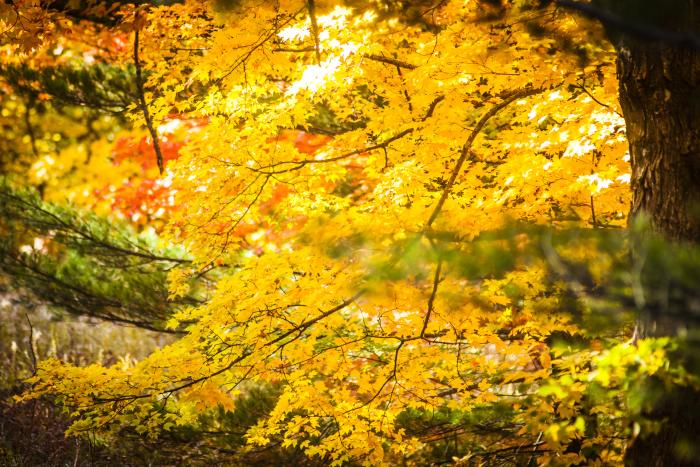 Fall color is advancing in the Traverse City area, particularly at higher elevations to the east and south of the city and the interior of the Leelanau Peninsula. Individual maples are showing bright red and orange, and there is some spot color from the golden yellow of the poplars, but for the most part there isn't yet the kind of massed color we expect to see soon. 
We're still about a week from reaching peak color, but there's noticeable red, orange and gold appearing on the wooded hilltops above Grand Traverse Bay. Maples remain the standout performers, joined by rich maroon outcroppings of sumac and Virginia creeper, while the Birch and Poplars strike a contrast with rich yellows. 
Take a drive up M-22 for a modest view of the colors along the shoreline, or head south of Traverse City (towards Kingsley) to an area dotted with dozens of small lakes and dense forests of evergreens and hardwoods where color is showing off. There are also sections of the Sleeping Bear Dunes that are beginning to pop, these include Alligator Hill and the Pierce Stocking Scenic Drive.
Splashes of color are also appearing on the Leelanau Trail and can be viewed by taking a walk, going for a run or riding a bike.