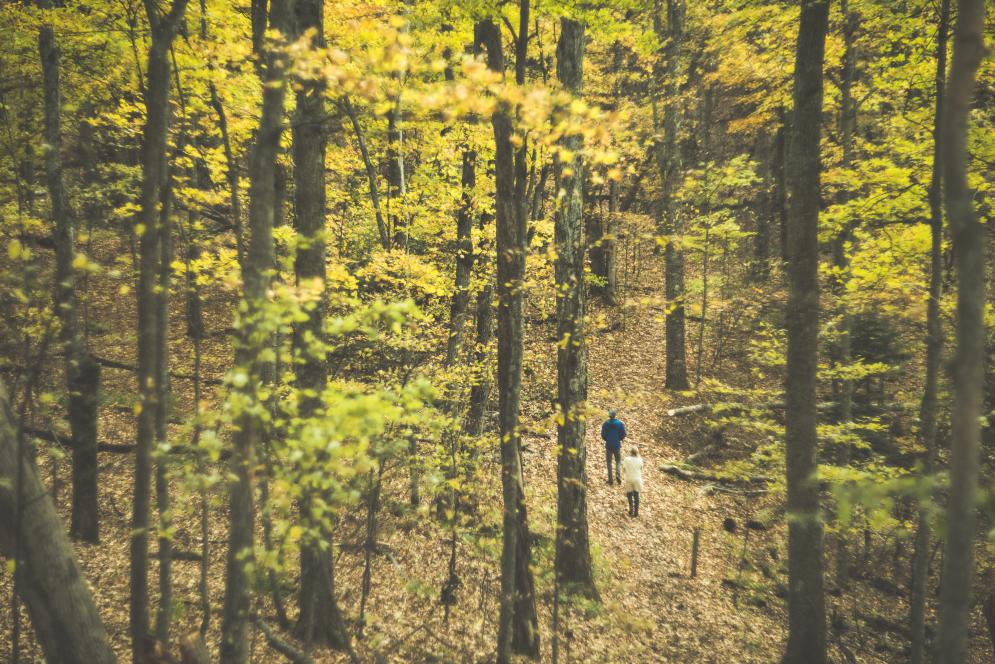 Fall color is on its way to northern Michigan, but we are not at peak. As you drive the rolling hills of Old Mission Peninsula, cruise the Leelanau County roads, or head toward  downtown Traverse City, you'll see some spots of red, orange, and gold in the trees. Some areas around the region are a little more colorful; Benzie County has just a touch more color than we do, but they are also not at peak. 
Here is where we are seeing a little bit of color right now. 
M-37 on the Old Mission Peninsula 
This is the main road that runs up and down the peninsula and connects with lots of side roads. Along M-37 we are starting to reds and yellows from the maple and poplar trees. Vineyard foliage is also starting to change color and there are still clusters of grapes on the vines. 
Scenic Overlook near Chateau Grand Traverse 
Off M-37 just before the Chateau Grand Traverse parking lot, there is a scenic overlook. Stop here for a lovely view of the vineyards, Grand Traverse Bay and little spots of color in the trees. This overlook is also an incredible spot to watch a fall sunset. 
Central Neighborhood 
The Central Neighborhood near Downtown Traverse City has a lot of maple and oak trees, so there's typically a nice fall foliage display. Right now, there's a little bit of orange and red from the maples. And pretty soon, there will be massive Halloween displays around this area too. Check them out between Sixth Street and 10th Street.
M-204 on the Leelanau Peninsula 
Head north on M-22 into Suttons Bay and turn left on M-204 that will take you to Lake Leelanau and towards Leland. You'll see some color change on M-22 and M-204. Be sure to save time for wine tasting and shopping in the surrounding port towns. 
Crystal Mountain in Benzie County

Soak in the fall colors on the chairlift rides at Crystal Mountain. Scenic chairlift rides will be sold in one-hour blocks. Within that hour, guests must be checked-in and at the chairlift ready to ride to the top.