We are almost there! Fall color is around every corner in the Traverse City region. Some areas are more intense than others, but overall, autumn's display is expected to peak later this week and into this weekend. Areas that have the most concentrated mix of colors are noted below. 
The Village at Grand Traverse Commons Trails
There are 480 acres of preserved parkland around the Village at Grand Traverse Commons. If you prefer to see fall color by foot or mountain bike, this is the place for you! Maples are in the bright orange phase and the poplars are showing off their golden beauty. Look for the scenic overlooks on the Copper Ridge and the Old Orchard Trails.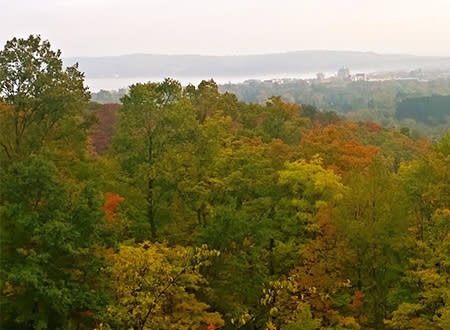 The Village at Grand Traverse Commons
M-37, up the Old Mission Peninsula
Take a scenic drive to the Mission Point Lighthouse and be sure to stop at the overlook just before Chateau Grand Traverse. There are layers of fall color and an amazing view of Grand Traverse Bay. 

Old Mission Peninsula
M-22, the Leelanau Peninsula 
While not at its peak just yet, there are certainly many areas along M-22 and the Leelanau Peninsula that are on their way to becoming spectacular. The current state is a mix of reds and oranges from Maple trees, golden yellow from vineyard leaves and dark purple from the red grapes still on the vines. Hug the tree-lined shore of West Grand Traverse Bay on M-22, or venture off onto one of the county roads to explore the rolling hills and mix of colors.