Fall color is advancing slowly in the Traverse City area, particularly at higher elevations to the east and south of the city and the interior of the Leelanau Peninsula where temperatures have been slightly cooler than in the coastal parts of the region. Individual maples are showing bright red and orange, and there is some spot color from the butter yellow and crimson of climbing vines, but for the most part there isn't yet the kind of massed color we expect to see in another week or so.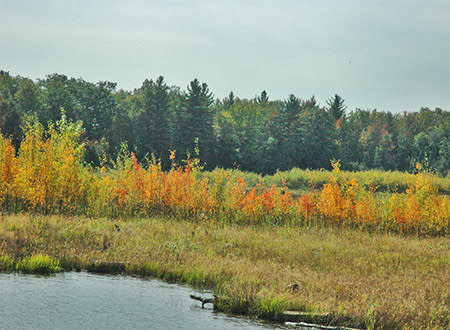 Nevertheless, the splashes of bright purple from the fall asters and the luminous stalks of goldenrod are making a fine show at ground level, especially in contrast to the many greens of the surrounding forests.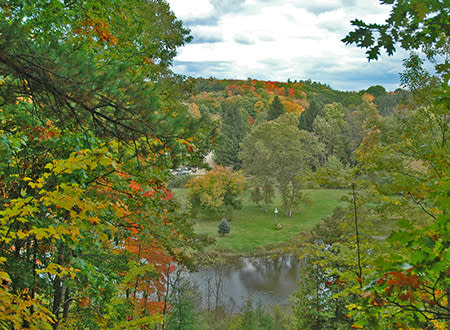 We're still more than a week from reaching peak color, but there's noticeable red, orange and gold appearing on the wooded hilltops above Grand Traverse Bay. Maples remain the standout performers, joined by rich maroon outcroppings of sumac and Virginia creeper, while the vineyards of the Leelanau and Old Mission peninsulas are now showing bright rows of yellow, gold and scarlet. Asters and goldenrod are still in cheerful bloom, too.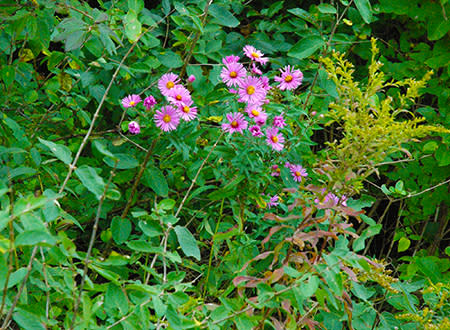 A wonderful fall drive can be found in the highlands just south of Traverse City, an area dotted with dozens of small lakes and dense forests of evergreens and hardwoods – as well as the majestic Boardman Valley. Much of this intensely varied landscape is contained in the Pere Marquette State Forest, and it is best explored by heading out into the maze of twisting roads that wind through the forests, around lakes and along the tops of high wooded bluffs. (But beware of the roads around Arbutus and Spider Lakes – they're beautiful, but so confusing to the newcomer that this area is known by locals as the "Arbutus Triangle!")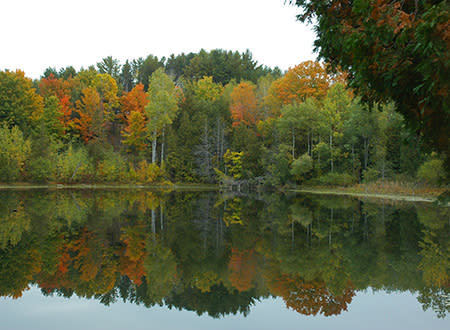 While all this lovely scenery can certainly be sampled by doing an automobile tour, there's no better way to experience the full sensory richness of autumn than by getting out to listen to the crunch of leaves, breathe the crisp autumn air and smell the spicy aroma of apples and woodsmoke. Hiking or cycling one of the Traverse City area's many non-motorized trails, or paddling a canoe or kayak down one of its gentle rivers, are great ways to have an intimate encounter with Traverse City's fall beauty.