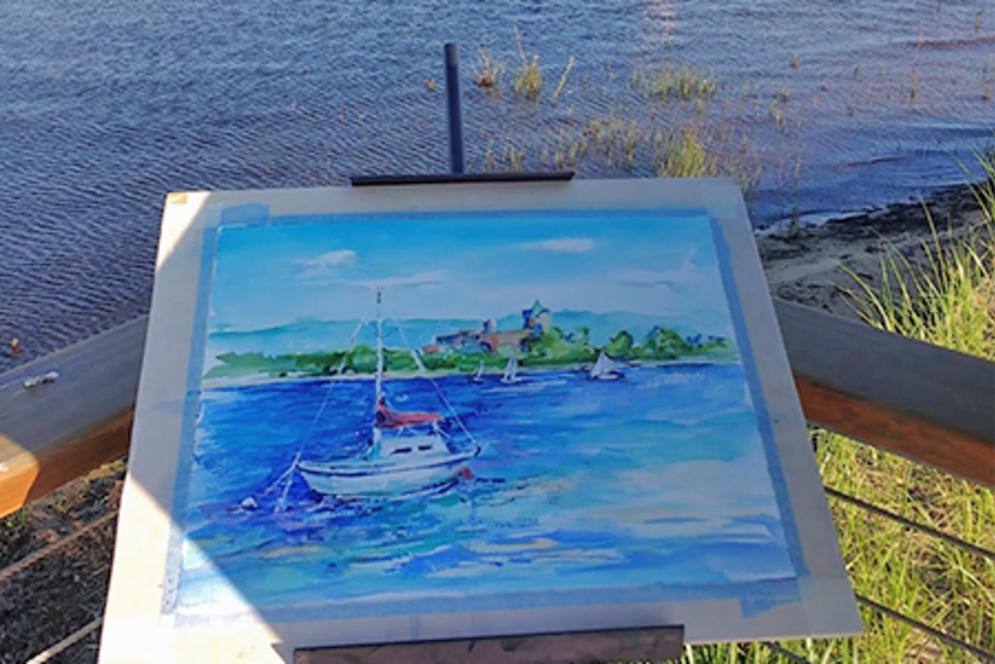 Where do you find inspiration in the Traverse City Area? Local painter Adam VanHouten shares a few of his favorite locations that have inspired his Explore Traverse City Plein Air Painting Project. 
Three years ago, I began my experiences in painting outside. I had already been painting in watercolors for some time and came across a "plein air painting" event hosted by the Old Art Building in Leland called Leland Air.  It was my first time creating art outside of the comforts of my studio. Three trips later, from my car to the beach (with too much equipment), I began painting. While the bugs circled around me in droves, I realized this adventure was definitely a challenge, but one I gladly accepted! It also came with the sound of waves crashing on the shore of Lake Michigan, the gentle breeze blowing across my face and the smell of a fresh catch of fish from the Leland Harbor. What can I say? I was hooked!
Three years later and I am still heading out into the open air taking in the sights, sounds and visions that make up Northern Michigan, many of which have inspired My Explore Traverse City project. This project began as a summer activity but has become a way of life, not to mention a new way to explore more of my beloved hometown through paint and surface. You would think that by growing up in this area I would have experienced most of what Traverse City has to offer, but around every bend is a new vision to be found.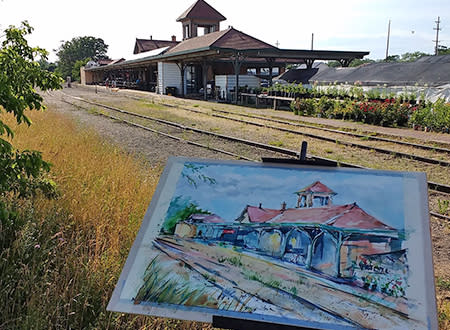 I find that painting outside provides a new web of experiences from this area, each one building upon the last one, and all of them connecting to the past. Different people to converse with, new moments to reflect on, new things to notice; these are only a few examples. The paintings in this collection represent a snapshot in time, and each image is a story of a different locale. Whether it is a quiet early morning at the marina at Clinch Park or a windy day at the Traverse City Train Depot, there's always something that takes me by surprise -- like the time a crow flew through a broken window of the Old Solon Schoolhouse as I painted the sun setting on Hoxie Road. Needless to say, it startled me and my brush flew in the air and landed on my painting. This was definitely an inspired mark and it is what I love about painting in the great outdoors! Infused in each painting is the story of the experience and time spent in this place that we call Traverse City.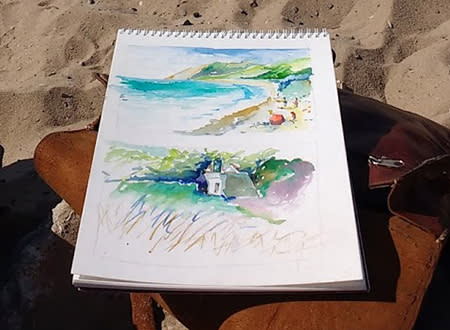 As I continue to paint in and around the area, I not only end up with a finished product but also a new memory to add to my collection. These are the memories I look forward to sharing with you in my artwork.
Be sure let Adam know where you think he should set up his easel next by sending an email to adam@adamvanhoutenartist.com!