This morning I awoke to a forecast of light snow -- nothing much, the meteorologist said, just some flecks of white that would pretty much disappear upon reaching the ground. Awhile later, I stepped outside for my run and felt only a cold drizzle and slight wind. None of the white stuff here on the east side of Traverse City, but it was a bone-chilling, cup-of-something-warm-would-be-nice kind of morning nonetheless. With our beautiful, sun-filled fall, it definitely felt like our typical late-autumn and early winter weather was upon us.
I'm ready for it. Bring it on, I even say. Some of my most favorite outdoor activities are those that take place when the mercury falls. Snow, frost, ice … even an early November rain that's decidedly colder than you'd imagine can't dampen my enthusiasm for getting outside and logging a few miles. Today it was just me and my black Lab Max on the Vasa, and those hard-packed dirt paths, thanks to a frigid rain throughout the night, is my idea of pretty perfect trail conditions this time of year.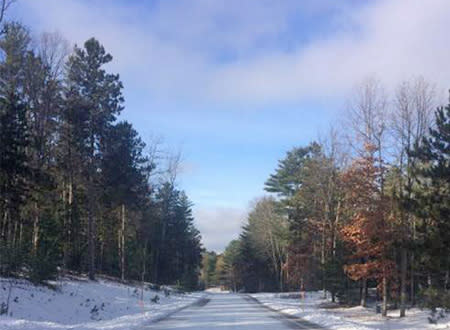 Once the snow really flies and sticks -- it won't be long now -- I'll switch out my favorite pair of Brooks for snowshoes when I want to get out on the region's trails. I'll keep on running, too, on my neighborhood streets, through downtown and along the bay, and out Old Mission Peninsula. I'll also hop on Traverse City's fantastic paved TART trail system all season long. We're incredibly lucky to have these routes cleared throughout the winter, thanks to volunteers' and city workers' hard work, allowing runners and walkers as well as cyclists to commute and exercise safely. 
Take a look at one of my favorite places to start or finish a run and get an insider's tip for running in Traverse City in this quick video. 
There's nothing quite like eyeing an upcoming race to stay motivated these next few months. To inspire your winter calendar of fun outdoor activities, consider signing on for one (or more) of these upcoming events in the Traverse City area:
Turkey Trot 
With its options of a 5-miler and 5K, the Traverse City Turkey Trot has become an annual Thanksgiving tradition for families, including ours. It feels great to get outside and move on this holiday that is all about enjoying great food with loved ones. Last year my dad joined our family in walking/running the 5K -- it was our first 5K together! My sister-in-law and brother-in-law also were there. Afterward, we hosted everyone at our place for turkey, mashed potatoes and pie. Trust me, that first bite is all the sweeter knowing your body worked for it earlier in the day.
Farmland 5K
Held on a dedicated cross country course on private farmland, this Dec. 5 event celebrates winter and those of us who don't let inclement weather get in our way of outdoor fun. This event also features a bike race. This is another family tradition for us. One of the best parts of this event? Savoring the hot chocolate and steaming cups of chili (all from local businesses) after crossing the finish line.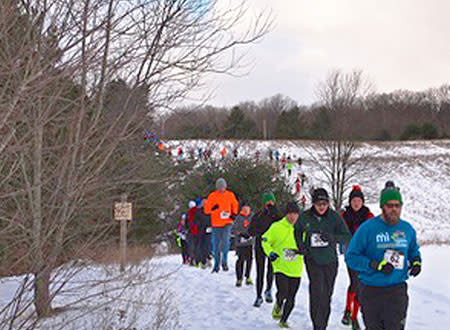 Jingle Bell 5K Run/Walk 
This evening race is set for Sunday, Dec. 20. Bring a non-perishable food item for donation to a local pantry. Festive attire is encouraged. 
Resolution Run
Kick off the new year in a healthy way with this downtown event. The run/walk event on Jan. 1, 2016 starts and finishes at Little Fleet and benefits families served by Traverse Health Clinic. 
Bigfoot Snowshoe Race 
Set for Jan. 23, 2016, this event at Timber Ridge on Traverse City's east side features 5K and 10K race options. Don't have your own snowshoes? Rentals are available. Another favorite of mine, this event gets you into the woods, possibly breaking trail if there's fresh snow, and I promise you'll feel amazingly accomplished after crossing that finish line. 
 
Frozen Foot Race
This 5-mile race starts at Eastern Elementary School at the base of Old Mission Peninsula, taking runners on a loop through nearby neighborhoods. This remains one of my all-time favorite local running events -- it has an intimate feel to it, and I love that you could end up running in deep snow or on clear roads. Held on Jan. 30, it definitely keeps you motivated to stay active.
What's your favorite way to stay fit during the winter? Choose your favorite activity, layer on some cozy gear (click here to win $800 in Smartwool products) and play awhile in Traverse City during nature's most exhilarating season!