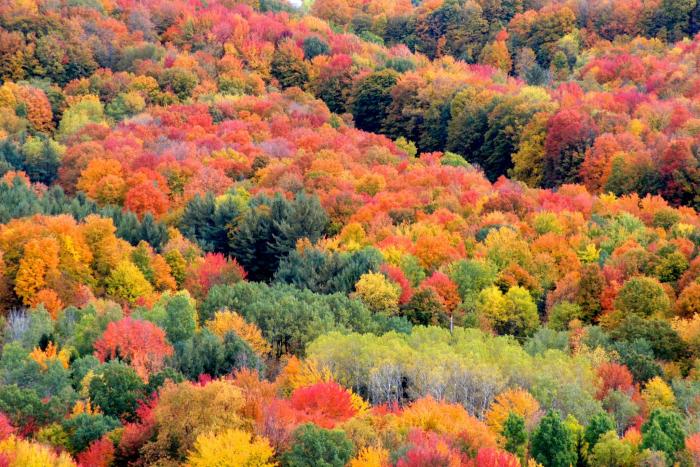 Glacial formed hills running through Antrim County provide the ultimate backdrop for fall colors and events. Whether for the weekend or a day, Bellaire is your hub for fall adventures. Located in the heart of the Chain of Lakes, northern Michigan scenic outlooks are just a short drive away. After experiencing the natural beauty, make sure to check out some of the fall traditions in the area.
Shanty Creek's Chair Lift Rides return this year on Saturdays until October 19th. Enjoy a spectacular 360-degree view of the fall colors from the blue chairlift high atop Schuss Mountain. Tickets are $5/person and available for purchase the day-of at the Blue Chairlift at Schuss Village (Note: tickets are not available for purchase in advance). The ticket price includes cider and donuts.
King Orchards U-Pick is a family favorite for apple picking and their pumpkin patch. Make sure to grab some of their freshly baked donuts and pressed cider. King Orchards is located north on M88 between Eastport and Central Lake.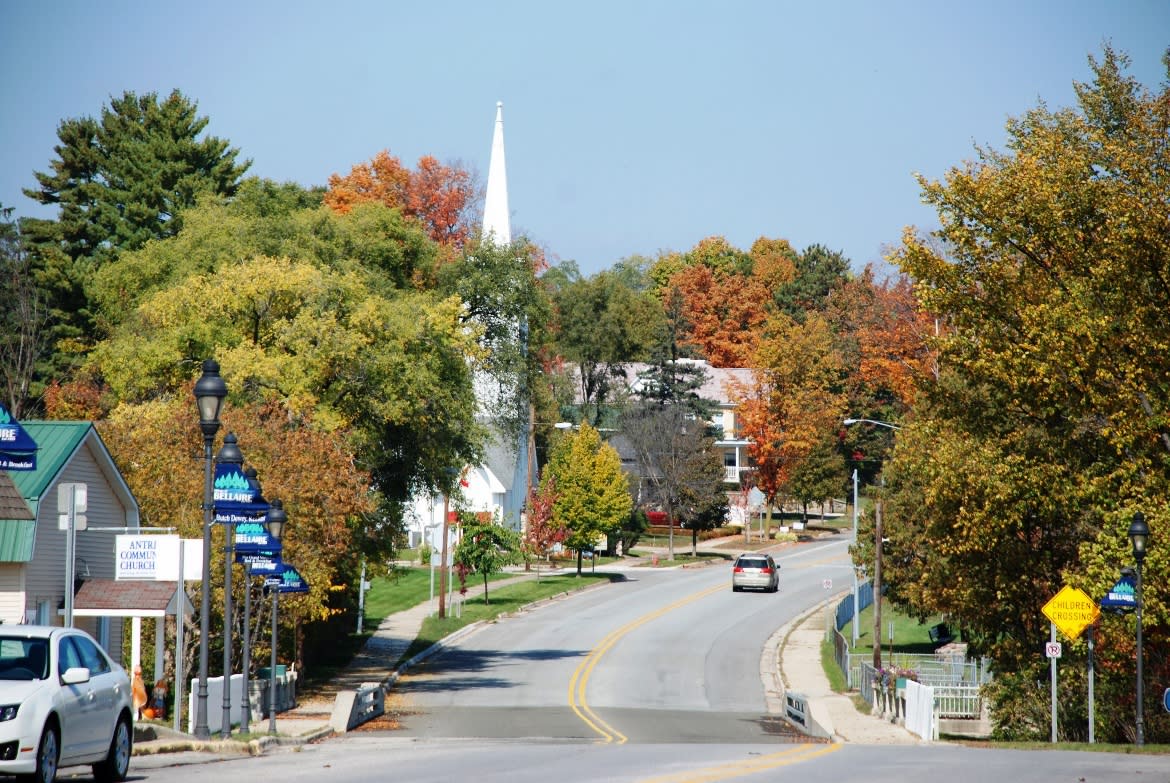 Experience downtown Bellaire for a fun evening of Art & Music on Friday October 18 from 4-8pm. Stroll the shops, restaurants and tasting rooms of Downtown Bellaire while Artisans & Musicians showcase their talents! Restaurants and tasting rooms will also be offering specially created drinks just for the occasion!
Join Grass River Natural Area's Annual Autumn Fest on October 19. Join them for a super fun, all-ages community event. Take a stroll through the forest on our trick-or-treat trail, play some games, and enjoy fall arts and crafts.
As the holiday season arrives, the list of loved ones in need of gifts grows and ideas can sometimes go flat. Be original and trendy this year and pledge to buy local and handmade. Find the perfect gift for your loved ones at the 36th Annual Holiday Gift Fair at the Bellaire High School on November 2nd from 10 am – 3 pm. Featuring over 60 regional artisans, with everything from jewelry and soaps to local maple syrup and custom furniture, you are sure to find the perfect holiday gift for everyone on your list.
Bellaire comes alive for the holiday season in the 10th Annual Light Up the Night and Soup Cook-Off celebration on December 7th, 2019 starting downtown from 11 am until 7 pm. Celebrate with family and friends with a day full of Holiday Events. From a free kid's movie, ornament making, the annual "Soup Cook-Off" with 10+ participating restaurants, a visit with Santa after the "Parade of Lights," and more. Don't forget the community Tree Lighting, Caroling and a live Nativity; this is truly a family friendly event.
Bellaire's unique outdoor experiences and gourmet tastes will become a family tradition year after year. Even better, might call you back to be your forever home. For more upcoming events click here. 
You May Also Like