One of the problems with having a green Christmas is that winter nights around here can get really dark without snow. Fortunately, Dave Mikowski has a cure for that.
If you drive out to his neighborhood in Long Lake Township anytime during the next few weeks, you'll be treated to all the Christmas lights you could wish for – thousands of them – all choreographed by computer to blink and flicker in time to a 50-minute loop of holiday tunes. (You can listen to the music, too – by simply tuning your car radio to 99.5 FM when you're in the neighborhood.)
"I just sit back and watch people go by," he says. "Sometimes the kids will go out and hand out little candy canes, but mainly we just like to see people enjoying themselves."
Though the display is just north of North Long Lake Road, it wouldn't be easy to find -- except that the Mikowskis have put together a great little Facebook page, "Christmas on Kimberly Lane"  that includes driving directions, an interactive map, and even recommendations for desserts (Moomer's Homemade Ice Cream is nearby, after all) and dinner. (Dave recommends the take-out pizza and chicken at the Long Lake Grocery, which is pretty much just around the corner.)
Mikowski was bitten by the Christmas-light bug five years ago when he was working as a port crane operator in Anchorage, Alaska -- a place that knows a lot about long dark winter nights. Last winter was his first Traverse City display, and he was shocked at how quickly people found out about it. On some nights there would be 30 cars at a time coming up Kimberly Lane.

Last winter, he estimated there were 10,000 individual bulbs in his display -- and although he says he doesn't count them anymore, he thinks he may be close to 15,000 this year.

On the other hand, if you don't want to drive all the way out to Long Lake, you might just amble over to 143 E. 9th St. (near Cass, just south of the Old Town Playhouse) where Dave's brother, Rob Mikowski, has a Christmas display of his own. "He may even have more lights than I do," says Dave. "I know he's been at it longer than me. We've got a friendly little competition going."

Rob has his own Facebook page, "Tis the Season to be Merry." His lights put on a limited show from 5-9 pm on Mondays and Tuesdays, and a full "kick-out-the-jams" show from 6-9 pm Wednesday through Sunday. (Again, the music is on 99.5 FM during full shows.)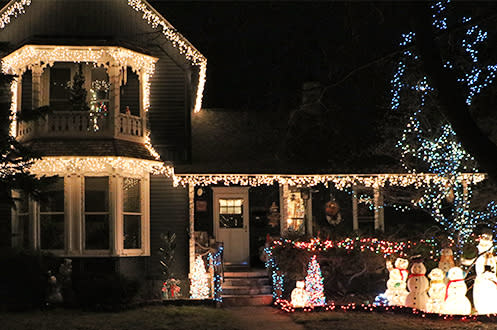 Some of the best Christmas lights in the region are tucked away in Traverse City's many alleyways. One of the most resplendent is the two-block stretch of alley between Tenth and Eleventh Streets near Pine Street, dubbed "Christmas Alley" because of the blaze of multicolored lights that surrounds it on December nights. (Actually, it's become such a hit that the neighbors sometimes keep the show going until Valentine's Day.) Take time to peek into other alleys, though, because the custom is spreading; there are places in the alleyway between Eighth and Ninth Streets that look especially festive, too.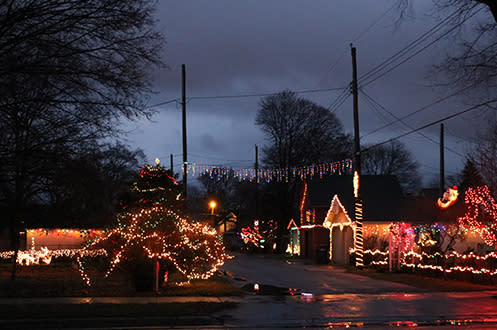 Another prodigious Christmas display can be found in town along the east shore of Boardman Lake, at the intersection of Woodmere Avenue and Carver Street, where Janean Jones has been hanging lights and putting up illuminated displays for decades, adding more decorations each year until her little house and yard are saturated with light. (In fact, things have reached the point where Janean's neighbor, Cathy Wiley, has given up trying to compete with her own display. Instead, there's just a lighted sign pointing at the Jones house that says "DITTO.")