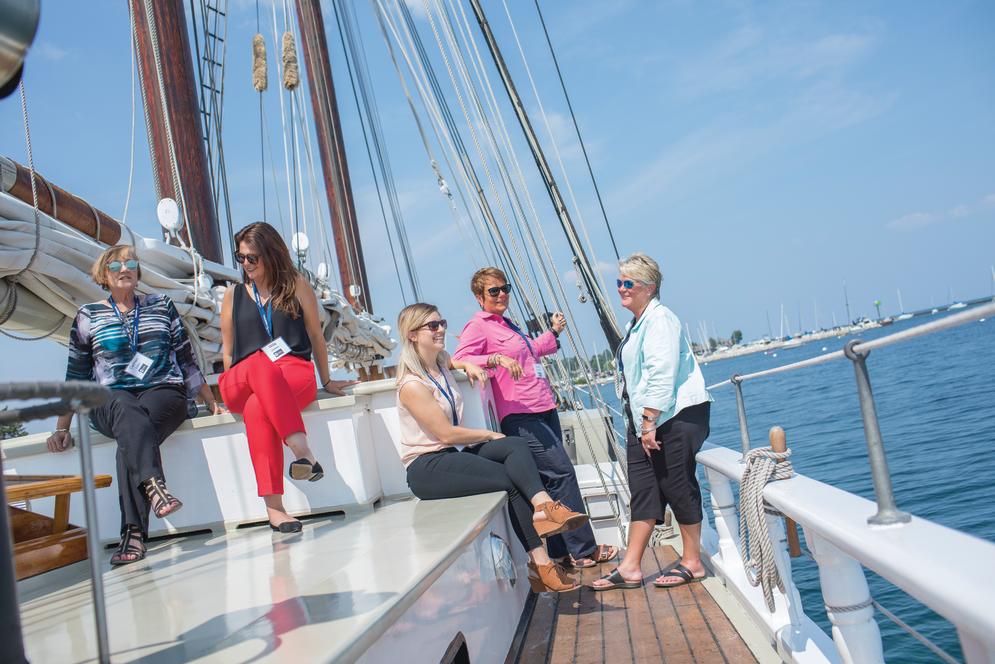 Historically Traverse City is closely intertwined with the water. Lake Michigan, Grand Traverse Bays, lakes, and rivers continue to leave an impression on all who touch this region. That connection to the water can be critical for a business thirsty to grow employees into a team. There are many team-building opportunities here and many of them are connected to the amazing natural resources. The water of the region can revitalize a team, but there are also plenty of excursions on the land that build a business into a team. Here are some of them:
Team Building by Water
Bay Cruises: A new addition to the region is the start of The Discovery Cruises aboard a 65' vessel. Or sail aboard a replica of an 1800 cargo schooner, The Manitou has a 59-passenger capacity. The Wind Dancer sailing cruise came to Traverse City last year and resuming operation. The  Nauti-Cat gives a different sailing adventure aboard a catamaran.
Kayak, Bike & Brew: Explore Boardman Lake, Boardman River and West Grand Traverse Bay with Kayak, Bike & Brew. Along the way explore some of the unique breweries and taste the work of their craft.
Team Building on Land
Wine & Beer Tours: There are so many wine and beer tours in the region, but you want your team to stay safe. Get a designated driver and learn something about the region with the tours highlighted at Traverse City Tourism.
Golf Outings: If the team is composed of avid golfers or novices, Traverse City has a course designed for the team. Traverse City Tourism has dozens of courses waiting for the team.
Play Ball: Traverse City Pit Spitters bring Northwoods League baseball to your team. Experience a game at the beautiful Turtle Creek Stadium. Baseball and summer are the perfect team-building opportunity.

Sleeping Bear Dunes National Lakeshore: Voted as the Most Beautiful Place in America by viewers of ABC Good Morning America, the team can climb the dunes or just enjoy a scenic tour through the winding, tree-covered trails with stunning views of Lake Michigan. Sleeping Bear can be self-guided or hop on a tour bus.
Yoga in the Vines: Relax, meditate and at the end of the session savor a glass of wine. That's what Yoga in the Vines is all about.
No Axe to Grind: Here's a team activity that's fun and different – axe throwing competition. The Den at Grand Traverse Resort has axe throwing lanes where you choose from a bullseye game, to tic-tac-toe and more.
Volun-tourism: Leave a lasting impact on northern Michigan and have the team feel they really accomplished something. There are plenty of opportunities to work with groups like Goodwill, United Way, Habitat for Humanity, Toys for Tots and other well-respected organizations. Contact Sarah Barnard at TC Tourism for some ideas: Sarah@TraverseCity.com.
More Options