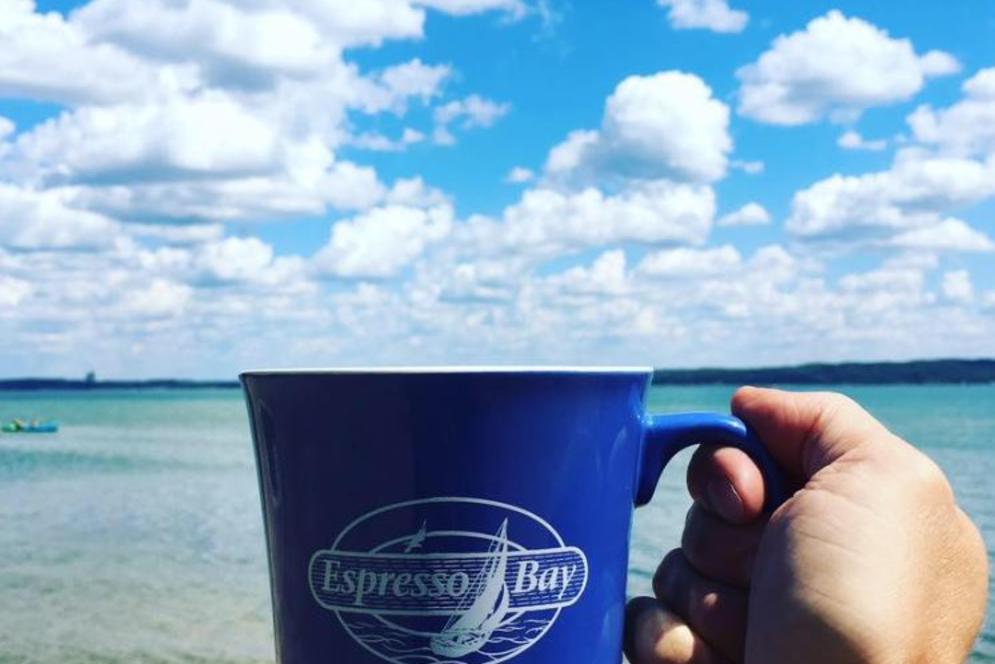 In this Bright Spots blog: The Chef's In + Espresso Bay and Traverse Area Public Schools. 
We all need bright spots in our day, now more than ever. Our community is full of people and businesses doing amazing things in the face of challenging times, and we want to celebrate the light they're shining in northern Michigan. Read on for inspiring stories about the folks who make Traverse City a pretty great place.
The Chef's In + Espresso Bay: Giving Out Lunch

Two downtown Traverse City businesses—The Chef's In and Espresso Bay—have teamed up with a local charitable organization to provide free sack lunches to healthcare workers, unemployed community members, and folks over 60.
Meals are available daily Monday through Saturday from 11 a.m. to 5 p.m. The Chef's In is known for sandwiches, soups, and salads to go, while Espresso Bay is a beloved coffee shop that also features smoothies and other treats. The sack lunches include a sandwich, baked good, and chips.
The three populations being served are critical in our region. Traverse City is home to the largest hospital system in northern Michigan, with hundreds of staff now facing the COVID-19 pandemic. We're also a tourism-driven economy, and with travel at a halt, many businesses are feeling the strain. Lastly, we're a retirement destination, with a large population over 60. Taking care of our people is the greatest goal during these challenging times.
Thank you, Chef's In and Espresso Bay!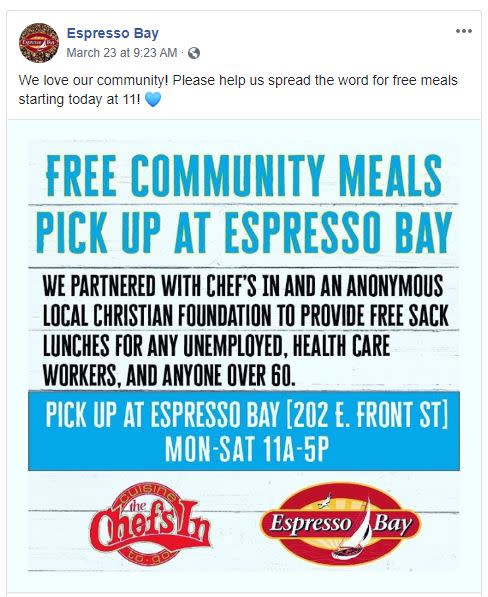 Traverse Area Public Schools: Making Meals for Kids
So many children depend on getting one or two meals each weekday while in school. With Michigan schools closed for the next several weeks, Traverse Area Public Schools (TCAPS) stepped up to make sure meals were still available to kids in need.
TCAPS now provides a free meal distribution service Mondays, Wednesdays, and Fridays from four school locations throughout Traverse City. Additional meals are provided for the days when the distribution centers are closed in order to ensure that students have a healthy breakfast and lunch each day.
The meals are available to all children 18 and younger, and no identification is necessary. Parents and students can come to the distribution centers to pick up food, or contact the school if transportation is an issue.
Local businesses—like the Traverse City Pit Spitters, our hometown baseball team—have donated food and supplies to supplement this amazing program.
Thank you, TCAPS!