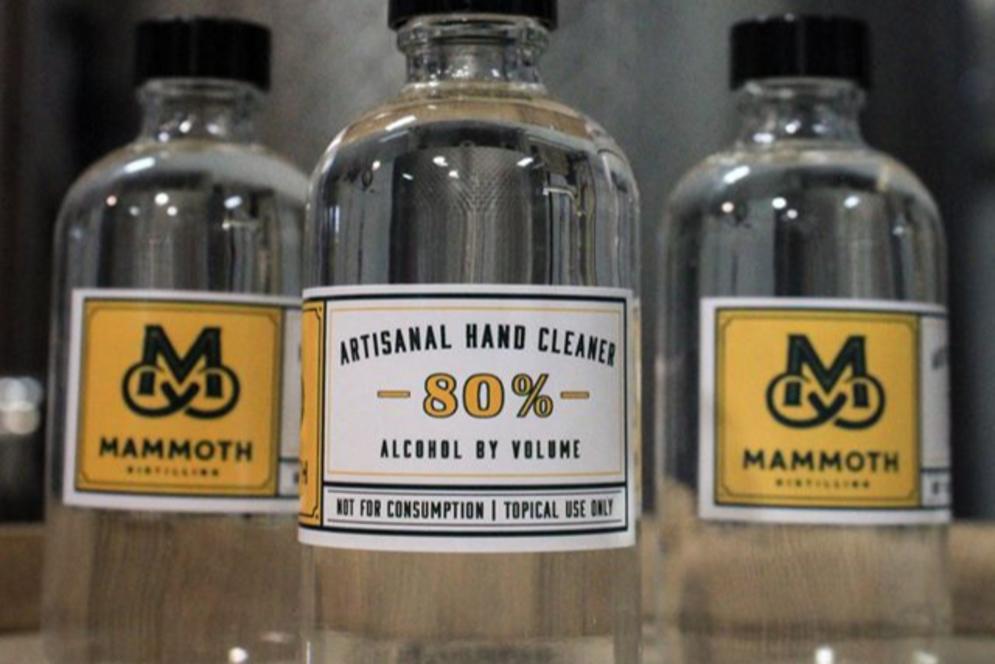 In this Bright Spots blog: northern Michigan businesses helping the community.
We all need bright spots in our day, now more than ever. Our community is full of people and businesses doing amazing things in the face of challenging times, and we want to celebrate the light they're shining in northern Michigan. Read on for inspiring stories about the folks who make Traverse City a pretty great place.
Mammoth Distilling: Making Hand Sanitizer

Mammoth Distilling (locations in Traverse City, Bellaire, and Central Lake) is working hard to combat the shortage of hand sanitizer right here in our community. They're the first distillery in Michigan to tackle the task, using high-proof spirits in the sanitzer.
While private businesses aren't allowed to donate hand sanitizers in bulk to places like nursing homes—at least not yet—Mammoth says: "The industry as a whole is working with state and federal officials to determine how to allow companies like ours to step in and help given the unprecedented need." What an awesome goal!
The sanitizer will still be available for free to northern Michigan locals. The weekend of March 20 – 22, Mammoth is inviting the public to bring their own containers to be filled. (Never fear—only five customers will be allowed in the store at a time to promote social distancing.) Guests are also able to purchase the distillery's product on site. Cheers!
Thank you, Mammoth Distilling!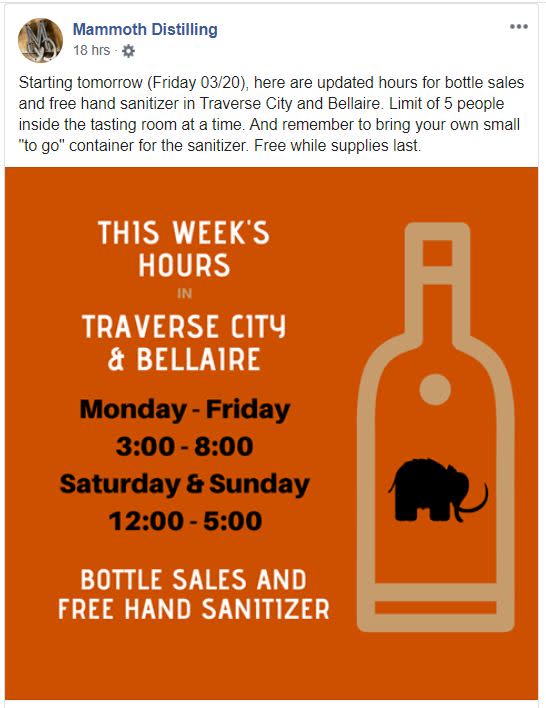 The Bayview Inn: Looking Out for Our Girls

The Bayview Inn in Acme may be closed for food and beverage service at the moment, but they are staying involved with the northern Michigan community. The restaurant is acting as a drop-off site for feminine hygiene products for young women. Many of these girls rely on getting access to products while at school and will not have access for the foreseeable future. 
As the Bayview's Facebook post says, "It sounds like a small need but that small act will help ease unnecessary anxiety for young women who have enough to worry about already! We will be collecting for however long it takes us to get through this—together."
A donation box is located outside the restaurant. The first box filled up in just half a day and was taken to a local food pantry.
Thank you, Bayview Inn!