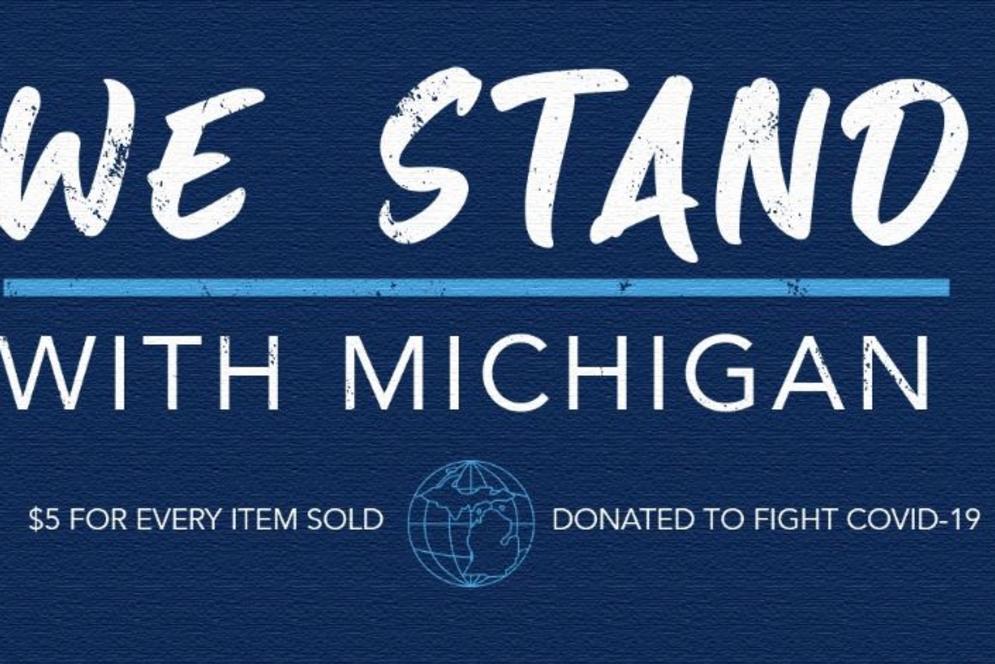 In this Bright Spots blog: T-shirt shopping for a cause.
We all need bright spots in our day, now more than ever. Our community is full of people and businesses doing amazing things in the face of challenging times, and we want to celebrate the light they're shining in northern Michigan. Read on for inspiring stories about the folks who make Traverse City a pretty great place.
High Five Threads

High Five Threads normally makes fun Michigan-themed gear—T-shirts, koozies, hats, and more—for locals and visitors alike. Today, they're working with Forward Inking Design & Studio to support hospitality workers. Their NoMi Strong line features the wonderful things that make northern Michigan such a special place to live and work: Great Lakes, great food, great beer, great wine, great hospitality, and great people.
Two T-shirt designs, a sweatshirt, a trucker hat, and a sticker are available with he NoMi Strong logo.
High Five Threads will donate 100% of the net profits from this line to support hospitality workers impacted by COVID-19 at referring and participating businesses. If you are part of a local northern Michigan business and would like to participate, please call 231.343.0302 or email nomistrong@highfivethreads.com.
Thank you, High Five Threads!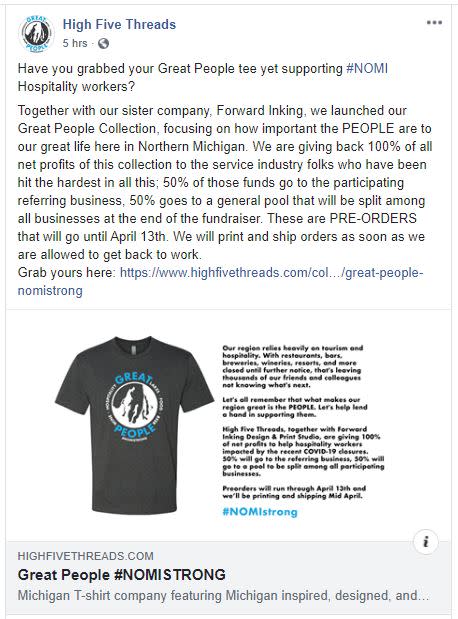 Tee See Tee
Another local T-shirt company is also stepping up in a big way. Tee See Tee has created their I Stand with Michigan collection, a statement that shows support for the governor and the state. The goal of the statement is to keep the Michigan community safe, encouraging social distancing and other safe habits during COVID-19.
The collection includes products for men, women, and children in a variety of designs. $5 from every purchase is donated to fight the pandemic.
Tee See Tee's Facebook page says, "A portion of the proceeds will be donated to the University of Michigan Medicine's COVID-19 Philanthropic Fund. Contributions to this fund enable crucial support for the most pressing needs during the COVID-19 Crisis."
Thank you, Tee See Tee!