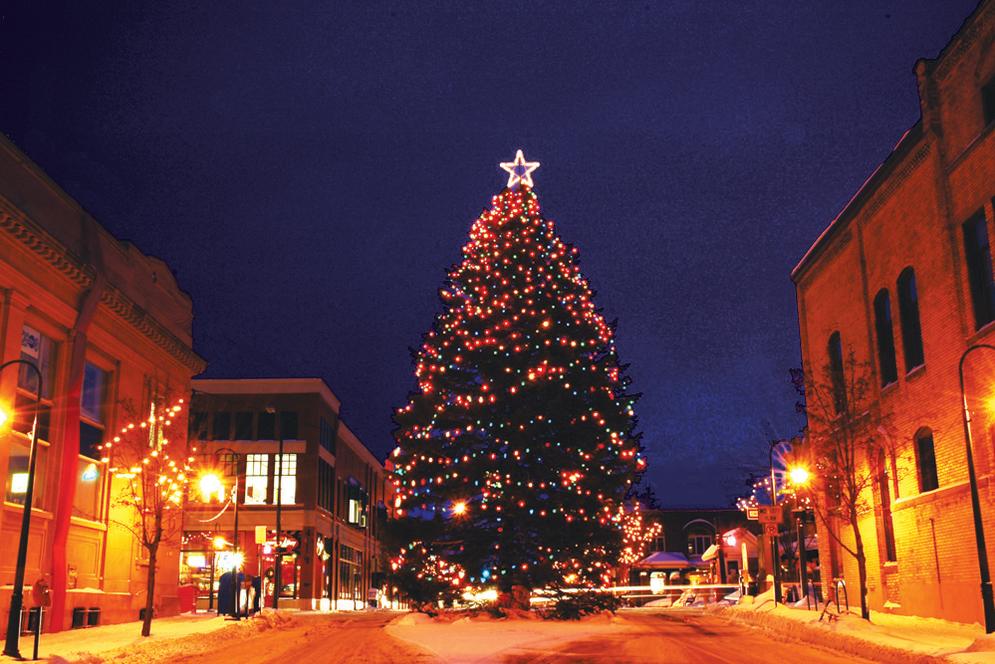 In this Bright Spots blog: the Downtown Development Authority (DDA) helps our healthcare workers, vulnerable populations, and downtown merchants with two holiday programs. 
Giving Thanks Through Giving Meals
Traverse City's Downtown Development Authority is encouraging locals and visitors to support several of the hardest hit industries—healthcare, community services, and restaurants—with their "Giving Thanks Through Giving Meals" program. 
The program will provide boxed lunched from participating downtown restaurants every Monday and Wednesday from November 25 – December 9. Check out the schedule below:
November 25: Bubba's and Park Street Cafe, supporting Munson Healthcare
November 30: The Flying Noodle and Greenhouse Cafe, supporting Northwest Michigan Supportive Housing and Dann's House
December 2: The Good Bowl and Mama Lu's, supporting Addiction Treatment Services
December 7: The Dish Cafe, supporting Grand Traverse Health Department and Goodwill Inn
December 9: Firefly, supporting Women's Resource Center
Thank you, downtown TC restaurants and the DDA!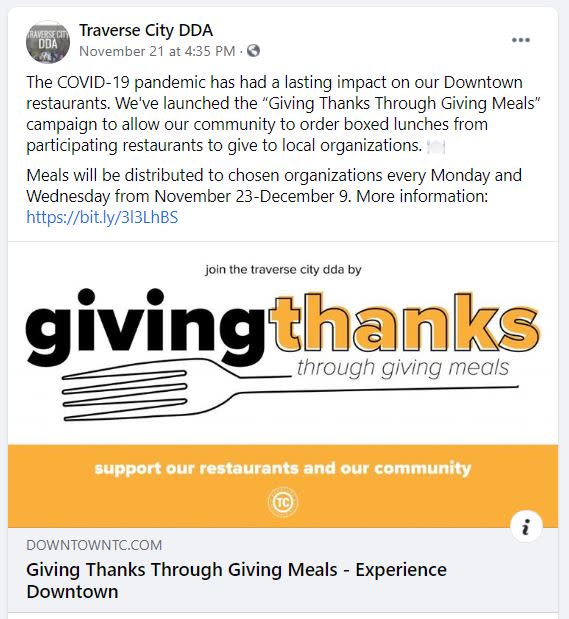 The Strolling Light Parade + Downtown Relief Fund
In a normal year, downtown Traverse City hosts a beautiful light parade, coinciding with the arrival of Santa and the lighting of the holiday tree. Things look a little different for 2020, but the new Strolling Light Parade is sure to put folks in the holiday spirit.
On December 12 from 5 – 9 p.m., the public is invited to come walk the streets of downtown, which will be bedecked with holiday lights, from the trees to the storefronts. Additionally, 12 different locations around town will be partnering with 12 nonprofits with light displays representing the 12 days of Christmas.
Most importantly, those visiting the light parade can donate to support the Downtown Relief Fund, which helps offset rent and expenses for downtown merchants. Vote for your favorite light display (each vote is $1) to support the fund as well as the participating nonprofits.
Thank you, downtown TC and Light Parade participants!