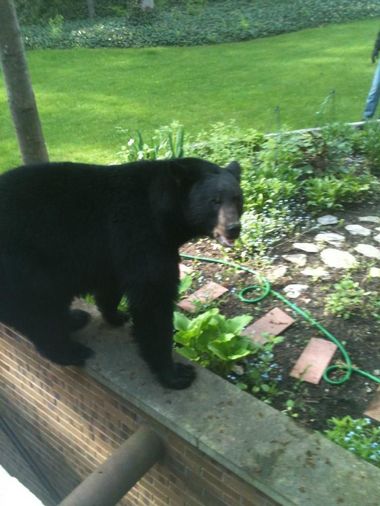 Mike Onthank of the fire department got this photo of our weekend visitor
By MIKE NORTON Well, it's been a wild weekend in Traverse City so far. And I mean WILD! Everybody's talking about the
black bear
that wandered into town on Sunday and led local emergency workers on a backyard tour of the Central Neighborhood, all the way from the Front Street fire station to a house on 12
th
Street, before he (or she) was finally tranquilized and taken into custody. And this comes on the heels of an announcement from the rangers at the
Sleeping Bear Dunes National Lakeshore
advising campers and hikers to be on the lookout for an increasingly visible population of bears in that neck of the woods. It's a good sign in some ways, an indication that our green spaces really are getting greener, but if we want to live in closer contact with our nonhuman neighbors I'm guessing we'll need to learn a few new rules of conduct. Don't feed the bears, folks - and don't treat them like big dogs. They're wild animals. On a much more civilized note, the folks at Traverse City's
AmericInn
are doing something really fine to celebrate Independence Day this year: they've decided to honor American veterans by awarding a free vacation from July 4-8 (during the National Cherry Festival) to two families. The entire package is worth $500 for each family - a nice break in these economic times. "This is our way of giving back to our heroes and their families who have made a commitment to our communities and to our country," says AmericInn general manager Nick Trahair. The hotel will accept recommendations for deserving families until June 25. All you have to do to make a recommendation is email them at:
info@americinnTC.com
. They can be reached at 231-938-0288 or their website at
www.americinnTC.com
.

A tasty bib lettuce salad opens the Wine Dinner festivities at Chateau Chantal
Another lovely custom that's starting up again is the
Chateau Chantal
Winery B&B's summer offering of special "Wine Dinners" every Wednesday and Saturday evening from June 15 to Labor Day. Several of us had the opportunity last week to serve as "guinea pigs" for one of these exquisite six-course meals -- prepared by Chef Perry Harmon, owner of
Way North Foods
(which, by the way, makes some splendid local biscotti). The evening started with a 6 p.m. tour of the Chateau's new winemaking and tasting-room facilities, and we were at the table by 6:30. It was mind-blowing. Best whitefish I've ever had - and that was just one course! And I got a chance to sample some of the soon-to-be-fabled 2010 vintage. I gotta tell you folks, the 2010  Traverse City wines may well go down in the history books. I'm not a big Pinot Grigio fan as a rule, but this one blew me away! You can check out the
dinner menu
for yourself on their website, but the dinner is a fantastic deal at  $55 per person, plus tax and gratuity. Reservations are required at least a day in advance and can be made by calling 1-800-969-4009 or booking online.