By: Joel Gaff, Jr.
As you approach the top of the hill your legs are burning, your heart is racing, and your lungs are searching for air. But then you roll over the crest and see the view of West Grand Traverse Bay, and all those feelings of exertion disappear. A smile hits your face and you start to giggle like a little kid riding a bike for the first time. It's all downhill back to the transition area, where you'll start the run portion of the Traverse City Triathlon.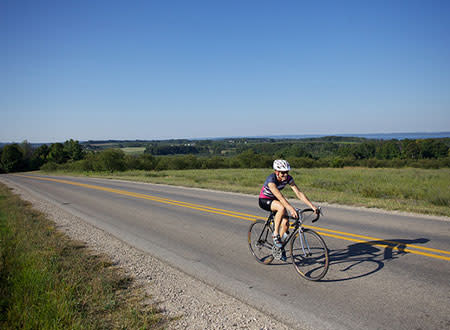 If you're looking for a way to enjoy the natural beauty of the Traverse City area while challenging yourself and burning a few calories along the way, the Traverse City Triathlon presented by McLain Cycle and Fitness is your ticket.  Now in its seventh year, the Traverse City Triathlon consists of a sprint triathlon, Olympic triathlon, half distance triathlon, duathlon, and open water swim.
Options, Options, Options...
The event includes several distance options, for first-timers all the way up to veteran Ironman triathlon finishers.
The triathlon starts off with a swim in the clear, calm waters of Bower Harbor. After that, participants hop on their bikes and head out around the Old Mission peninsula where they'll enjoy breathtaking views of East and West Grand Traverse Bay as well as vineyards, orchards and farmland.
Once they've finished the cycling portion of the event, participants will slip their running shoes on and compete in a flat run along Neahtawanta Road and through the Pyatt Lake Nature Preserve, before finishing at Bowers Harbor Park, near the Jolly Pumpkin restaurant. (The duathlon starts off with a short run instead of a swim, and then finishes with a bike and run just like the triathlon.)
Grab a Friend
Relay options are also available for all triathlon distances and the duathlon. If you're not up for the challenge of the complete triathlon or duathlon, or are looking for a fun activity to do with a couple of friends, these relay options are the way to go.  Relay teams are made up of two or three people, and each person completes one (or two) legs of the race. Or, if you just want to get your feet wet (pun intended), the open water swim is the option for you.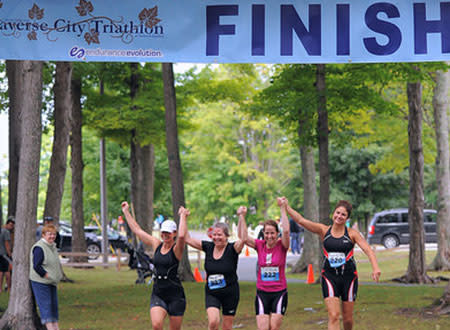 Post-Race
The Traverse City Triathlon is a great activity around which you can plan your next trip to Traverse City. If you arrive several days prior to the event and are looking for an easy workout be sure to hit the TART trail where you can walk, bike or run along the Bay. After the race, head out to explore the local wineries, micobreweries and shopping in Traverse City. Wherever you go be sure to reward yourself with post race fuel at one of the area's great restaurants. And if you're too pooped, there are plenty of beaches where you can throw down a towel, relax, and enjoy the satisfaction of finishing a triathlon!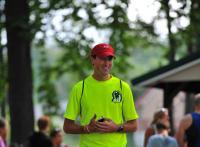 About the Author: Joel Gaff, Jr. is co-founder of Endurance Evolution and Race Director of the Traverse City Triathlon.  He was born and raised in Traverse City and spends as much time as possible swimming, cycling, and running throughout northern Michigan. You can follow him on Twitter at @joelga, or contact him via email at joel@enduranceevolution.com.