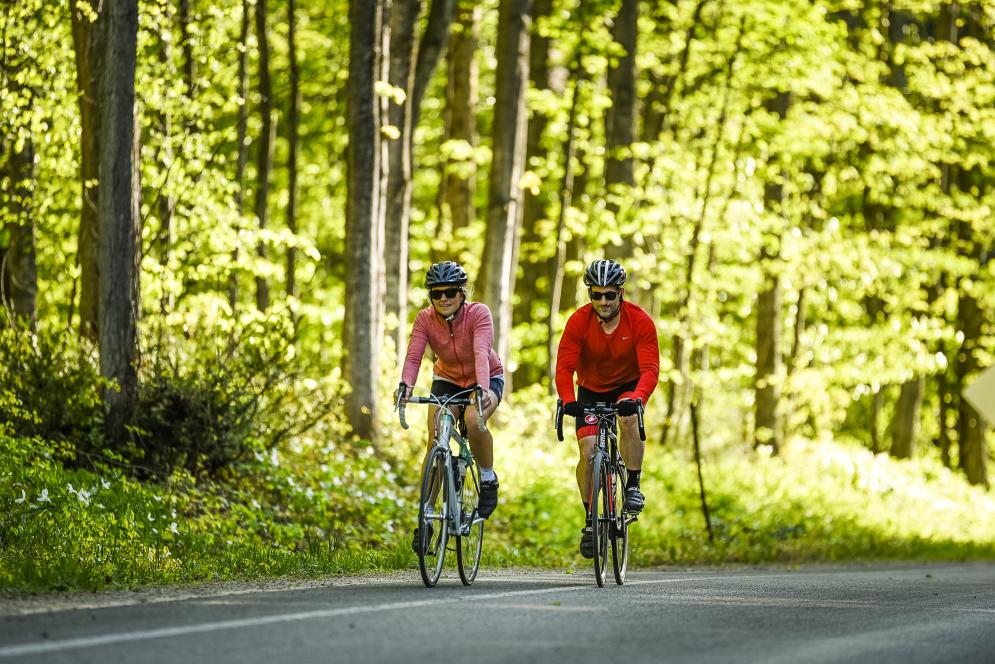 Go for a bike ride or head to the beach. Hike the dunes or stroll through a quaint coastal downtown. Here in northern Michigan, the day's possibilities truly are endless -- especially when the sun is shining and the landscape beckons us outside to explore. We want to do it all.
It's true, we can't do everything in one day, but we just may be able to more than we thought. There's a great option for those of us who want to combine two-wheel transportation with lots of destination exploring. And did we mention you can leave your car keys at home or back at the hotel?
Our region's public transportation -- Bay Area Transportation Authority, or BATA -- offers a  Bike-n-Ride program, allowing cyclists to pedal paved trails one way and ride the bus back in both Grand Traverse and Leelanau counties. Let's be honest: sometimes we bite off more than we can chew and ride a longer distance only to realize it sure would be nice to have a ride back! The Bike-n-Ride program also helps protect our natural environment by reducing carbon emissions and traffic congestion.
 
How it Works
You can explore either the Leelanau Trail, which runs from Traverse City to Suttons Bay, or the Sleeping Bear Heritage Trail, which runs from Empire through Glen Arbor.
The one-way bike trips are approximately 17 miles between Traverse City and Suttons Bay on the Leelanau Trail and 9.5 miles point to point from Glen Arbor to Empire. The Bike-n-Ride buses allow for 11 bikes to be transported – at no cost. The bus fare is just $3.00 per-person (bikes ride free) that can be paid on the bus in cash (debit/credit cards not accepted) or with a BATA FlashFare card.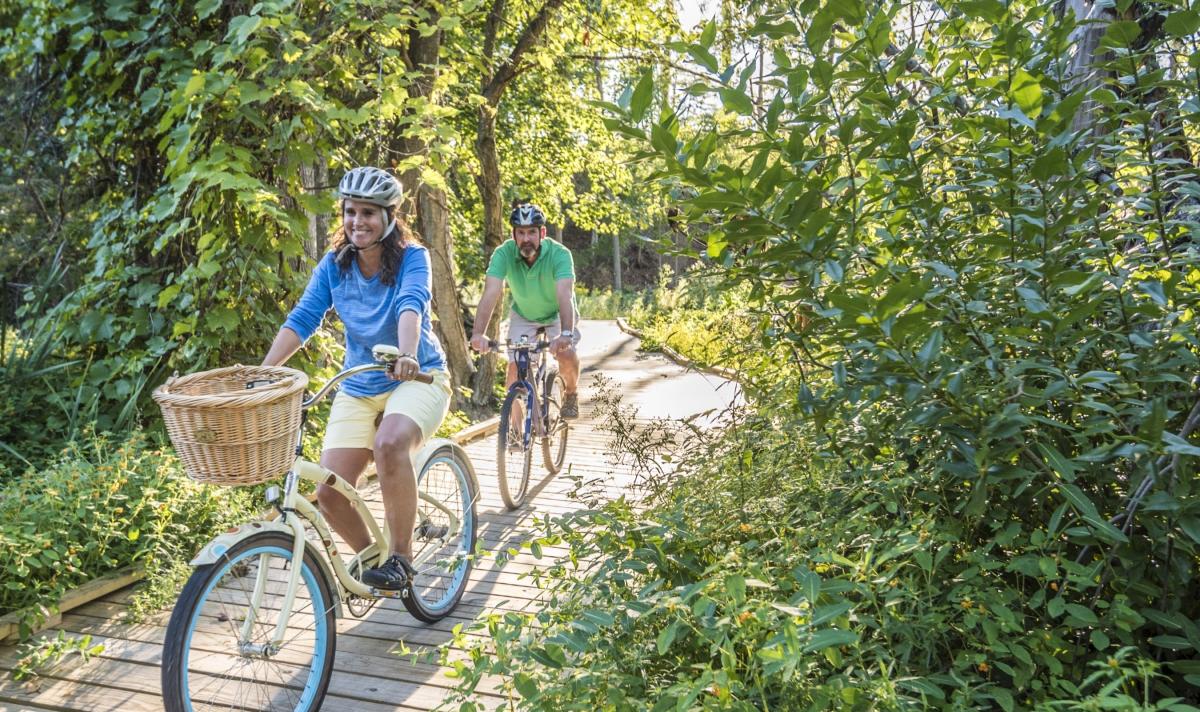 Exploring Sleeping Bear National Lakeshore/Empire/Glen Arbor
Route 11 takes riders out to Glen Arbor where you can enjoy the 9.5-mile Sleeping Bear Heritage trail that runs from Empire through Glen Arbor. Route 11 makes regular stops in Glen Arbor and continues through to Empire two times a day during the week, and three times a day on Saturdays and Sundays. When the bus travels to Empire, it stops at the Dune Climb Lot (Stop #1164) and at Pierce Stocking Drive (Stop #1166).
Take a dip and cool off at Lake Michigan Beach in the villages of Empire, Glen Haven or Glen Arbor. Or, veer off the Sleeping Bear Heritage Trail some and head to the Empire Bluff Trail, a must-see and the perfect place to wow never-before-been-to-Northern-Michigan guests. This .75-mile trail (1.5 miles round trip) opens onto a bluff 400 feet above Lake Michigan for a spectacular view of the water. There and back takes under an hour, but know there are a couple of short-but-steep stair-step climbs along the way, and know you'll want to hang out there for a good long while.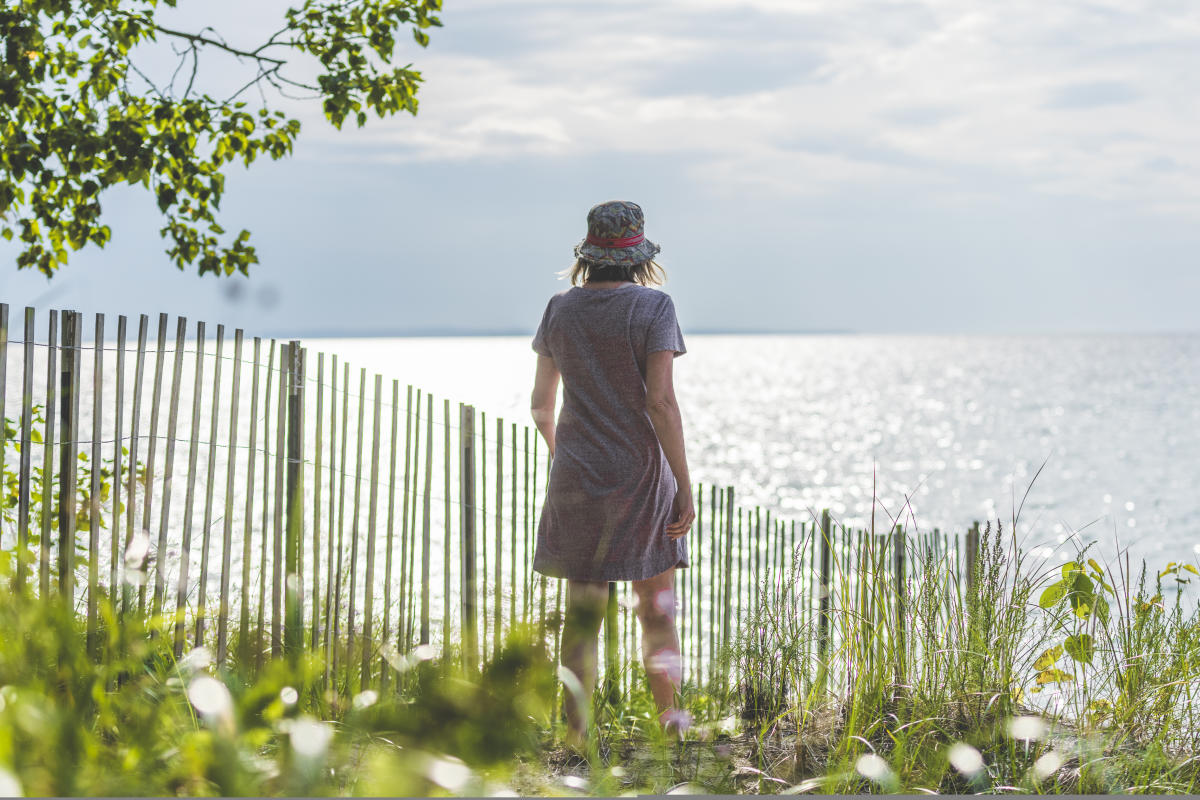 Savoring Suttons Bay
Route 10 follows the scenic Leelanau Trail all the way to Suttons Bay. Riders can hop on the bus in Traverse City to Suttons Bay and ride the 17 miles back to town, or bike out to Suttons Bay and ride the bus back to Traverse City. BATA's bus Stop #1050 at the Suttons Bay Library in Suttons Bay is where you can pick up the bus only four blocks north of the Leelanau Trail.
Along Leelanau Trail, take a break on one of the many benches dotting the trail and soak in the orchard and meadow views. Or take a gander off-trail to one of the nearby wineries (watch for the trail signs featuring a wine glass symbol!) Once in Suttons Bay, enjoy perusing the downtown shops, grab lunch, and stroll the public beach that's just steps away from everything.
Ready to get biking and exploring? Maps and details are found on the BATA site. The service operates seven days a week, from May through October.
Important to note: Bike-n-Ride is not an express service; the bus will make regular Loop stops. This is a first-come, first-served program, so arriving early for pick-up is advised.