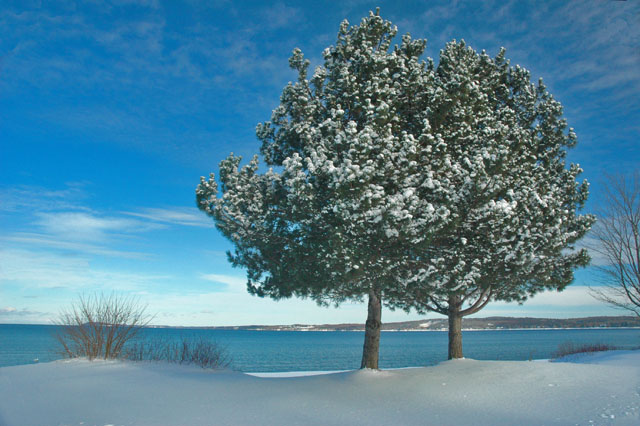 By MIKE NORTON
These are the days that make you glad you live in a place where there's such a thing as winter. Maybe not a place where winter can last for six months, of course…
But this morning's sunrise over the steaming Bay was a beautiful thing of lavender, rose and gold, with deep blue shadows in the hollows of the hills. And now I'm looking out the window at a sky of flawless blue, the trees laden with thick white icing – and it's so cold that even the snow thrown up by the plow it still pleasantly clean.
Christmas is coming! In the Norton house, three of the four Advent candles are burning on the wreath, including the rosy gaudete candle that signifies rejoicing. And on Saturday, Karen and I spent the day soaking up the season with a visit to the cookie sale at Trinity Lutheran Church to visit old friends, and and afternoon trip to the Village at Grand Traverse Commons to watch their St. Lucia celebration.
St. Lucy, as she's known to us English speakers, was a young girl who was put to death in AD 304 for refusing to surrender her virginity.  Since her feast day is observed in December – on what used to be shortest day of the year -- and because her name comes from the Latin word for light – celebrations of St. Lucy have often involved candles; that's particularly true in Scandinavia, whose winters are even longer than ours. There, St. Lucia Day traditionally involves a young girl dressed in a white dress and a red sash (to symbolize Lucy's martyrdom) wears a crown or wreath of candles on her head as she hands out gifts of rolls and cookies.
For the last few years, the Village at Grand Traverse Commons has held a lovely St. Lucia celebration featuring lots of crafted baked goods, charming young girls with robes, sashes and candles on their heads (thankfully, electric ones!)  and carols played by the Northwind Flute Choir. It's just a nice quiet anti-hectic way to get oneself in the Christmas spirit – especially on a day like Saturday, when the snow was floating down as thick as cottonballs and people were taking advantage of the free horse-drawn carriage rides around the castle-like buildings of the Village.
They were in need of a little extra serenity on Saturday, too. All morning long, there had been farmers and gardeners selling late-season vegetables and herbs in the Mercato (the splendid little indoor shopping district in the quarter-mile-long lower level of Building 50) and a television crew from HGTV had been filming a segment for the show "You Live in WHAT?" about all these people living, working, shopping and playing flutes in what had been, after all, an enormous mental asylum.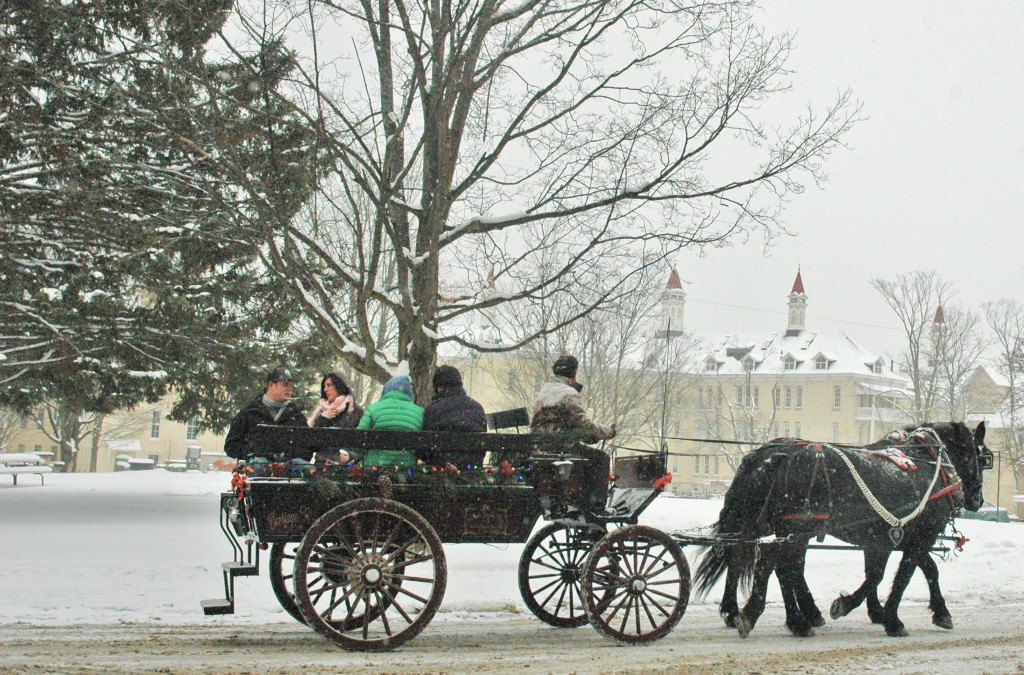 Like downtown Traverse City and many of our surrounding communities, the Village works hard to let people know that wintertime can be beautiful and bustling at the same time. They have their own Christmas tree lighting, and next week there's a last-ditch shopping event called "Procrastinators United." No St. Lucia girls or flutes this time, but those free carriage rides will still be available!
Before I forget, though, it's time to publish our annual list of Traverse City restaurants where you'll be ably to get dinner on Christmas Eve, Christmas Day or both. As always, it's probably incomplete – I'm glad to make corrections if you just let me know. In the meantime, it's time to stop procrastinating!
Area restaurants open on Christmas Eve & Christmas Day 2013
West Bay Beach Holiday Inn Resort     Chef Derek : 383-5844
Christmas Eve Dinner-Open 11:30am-10pm.
Christmas Day Buffet:
Hours: Noon -5pm
Adults-$25.95, kids 12yrs + under $12.95, 5 yrs.
Great Wolf Lodge      Amanda Carlson: 941-3600 XT 788
Hours: 7:00am-11am. Reservations are not necessary.
Christmas Day Breakfast Buffet:
Adults-$11.99, kids 4-10yrs. $6.99 3yrs. & under 3 are free.
Christmas Day Dinner Buffet:
Hours: 4pm-9pm
Adults-$24.99, teens 11-15yrs. $14.99, kids 4-10yrs. $8.99, under 3 are free.
Grand Traverse Resort & Spa     Jillian: 534-6800
Aerie Restaurant:
Christmas Eve Dinner-Open 5pm (last seating at 8:45pm)
Christmas Day Brunch:
Hours: 11am-6pm Reservations are highly recommended.
Adults (ages 12 yrs.+)-$29.95, kids 5-12yrs-$14.95, 5 yrs. & under are free.
Advance reservations are highly recommended. Call 231-534-6800
All lounges/bars are closed. State law prohibits the sale of alcohol on Christmas Day.
Sweetwater Café: Bill 534-6000
Breakfast 7am-2pm
Lunch-11:30am-5pm
Dinner-5pm-10pm
*Shanty Creek Resorts   Kathy: 533-8621 XT 7100 *reservations are recommended.
Lakeview Restaurant:
Christmas Eve Dinner Buffet  5-9pm
Adults-$27, seniors $25, kids 9-12 yrs. $14, 5-8 yrs. $12, 4& under are free.
Christmas Day Breakfast Buffet:
Hours: 8am-11am
Lunch: Noon-2pm
Christmas Day Dinner Buffet:
Hours: 5pm-9pm
Adults-$27, seniors $25, kids 9-12 yrs. $14, 5-8 yrs. $12, 4& under are free.
*Cambria Suites-Reflect   Scott: 778-9000
Christmas Eve  (order off menu)
Breakfast                      Lunch               Dinner:
Hours: 7am-11am          11am-4pm         4pm-9pm
Christmas Day (order off menu)
Breakfast                      Lunch               Dinner:
Hours: 7am-11am          11am-4pm         4pm-9pm
*Leelanau Sands Casino Christine   534-8100
Christmas Eve
Big Dex's Pizzaria CLOSED
Christmas Day (Order from the menu)
Hours: 5-10pm
Turtle Creek Casino    534-8888
Christmas Eve
Bourbon 72 will be closed.
Seasons Buffet 9am-10pm
Christmas Day
Bourbon 72:
Hours: 5pm-10pm Prime Rib/Crab Legs buffet Adults $29.95, Kids 5-12 yrs $19.95 under 4 free
Seasons Buffet:
Breakfast-8am-10:30am Dinner 5pm-10pm
*Free Community Meal: Phil's on Front- Open noon-6pm, 231-929-1710
Open on Christmas Eve but closed Christmas Day:
*Amical-Serving lunch 11am-3pm, 231-941-8888
*Apache Trout Grill- Serving lunch 11am-2pm, cocktails 2pm until 5pm
*Bagger Dave's serving lunch and dinner (off menu) 11am-6pm
*Cracker Barrel-Serving breakfast & lunch 6am until 2pm, 231-933-9244
*Firefly-Open 11am-5pm, 231-932-1310
*Maddy's Tavern-Open 11:30am-5pm, 231-276-6244
Harrington's by the Bay-Open 11am-6:30pm, 231-421-9393
*La Senorita-Open 10am-8pm, 947-8889
*Minerva's-Serving lunch 6:30am-2pm, 231-946-5093
*Poppycock's-Open 11am-3pm, 231-941-7632
*The Boathouse-Serving dinner 4pm-9pm, 231-223-4030