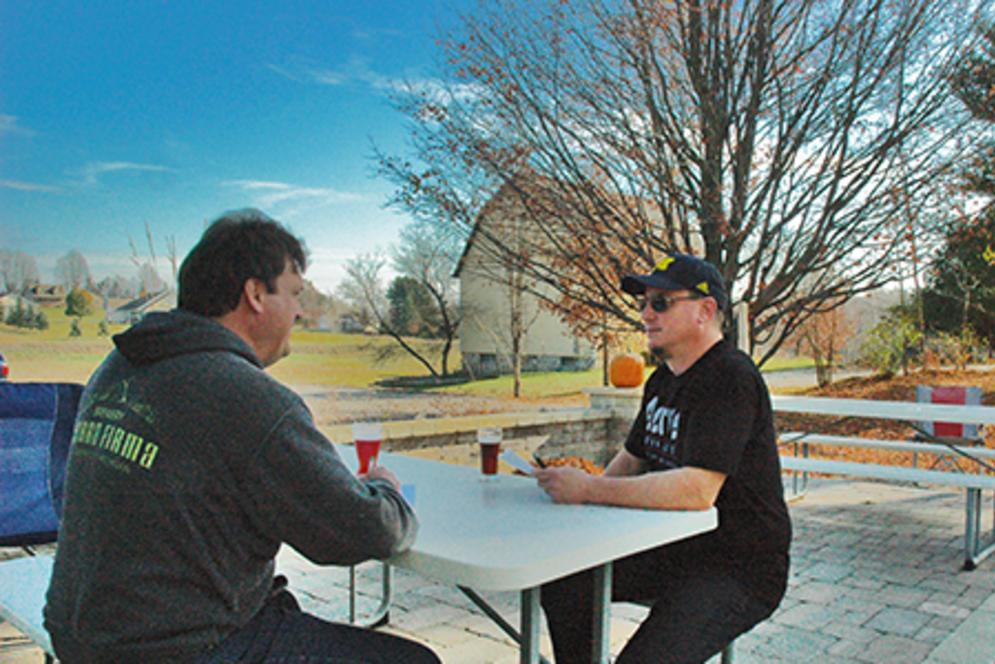 For some of us, there is no wrong season for craft beer.
Who isn't up for the complex saison taste of the Sickle farmhouse ale at The Workshop in spring, the comfortable warmth of a Fire Starter chipotle porter at Right Brain in midwinter, or a fresh, cool Highway Robbery blonde ale at Hop Lot on a hot summer afternoon?
Still, when all is said and done, the season of beers and ales par excellence is autumn. That's one reason why we hold Traverse City Beer Week -- seven days of tastings, dinners, workshops and other beer-related events -- during the month of November. 
What makes fall such an appropriate time for beer?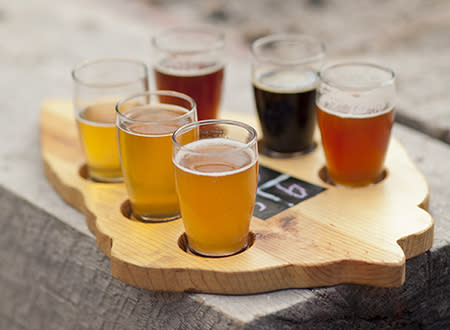 Perhaps it's a question of color. When you think about it, the brewer's palate is almost perfectly matched to the majestic spectrum of autumn: gold and red, orange and russet, and a range of browns, ranging from pale tan to darkest cocoa.
If you're a particularly whimsical person with a lot of time on his hands – a blogger, for instance -- you might even try matching particular beers with fall trees. Wheat beers are like birches, blonde ales are like poplars, red ales and cream ales seem like maples, while amber ales, porters and stouts are more like oaks.
On the other hand, there is a definite shift in the taste of autumn beers – and with good reason. As hot August days give way to cool September afternoons, the bright witbiers and pilsners of summer are succeeded by warmer, maltier, thicker brews: the brown ales, the porters, and the stouts.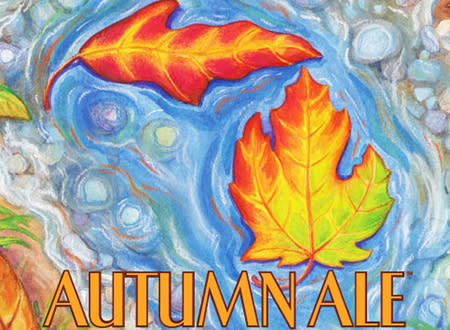 Brews like the Dauntless Oktoberfest lager at North Peak or Right Brain's Chubby Squirrel, a spiced amber ale rich with vanilla, nutmeg, clove, cinnamon and lemon peel, or even a traditional brown ale like Terra Firma's classic Sleeping Bear Brown or the potent Coatbridge Old Ale brewed at The Filling Station (with its added notes of peat-smoked malt) seem to evoke a more autumnal range of flavors.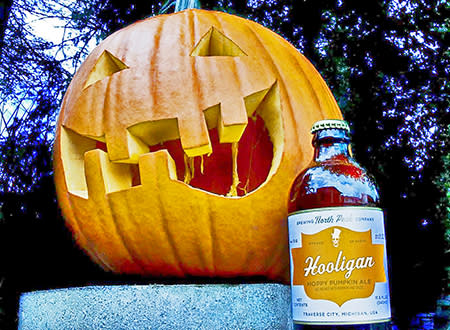 Can we talk about pumpkin ales? It's a controversial subject among craft brew aficionados, but I don't share the antipathy of some beer snobs. I LIKE pumpkin beers, from the spicy Smash Face brewed at Hop Lot to the pumpkin pie-like Pumpkincrusha at Short's and the Hallow-Giving Honey oatmeal pumpkin ale at Terra Firma. (Especially the hoppy Hooligan pumpkin ale at North Peak, the only pumpkin ale that could double as an IPA.) Besides, this is a town where one of our breweries is called The Jolly Pumpkin!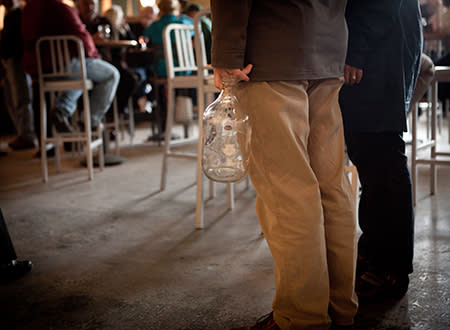 In the end, though, I think the connection between fall and fermented beverages is deeper than any of these things. It's a congruity of the soul, an emotional and spiritual symmetry. There is something about this season of wistfulness and drama, with its spectacular skies and misty vistas, that calls out to the beer drinker in us all.
Autumn, after all, is a long and bittersweet goodbye – like the relationship between a beer-lover and, say, a pint of Old Town Brown at Brewery Ferment. A goodbye made more bearable by the hope of more autumns, and more pints, to come.