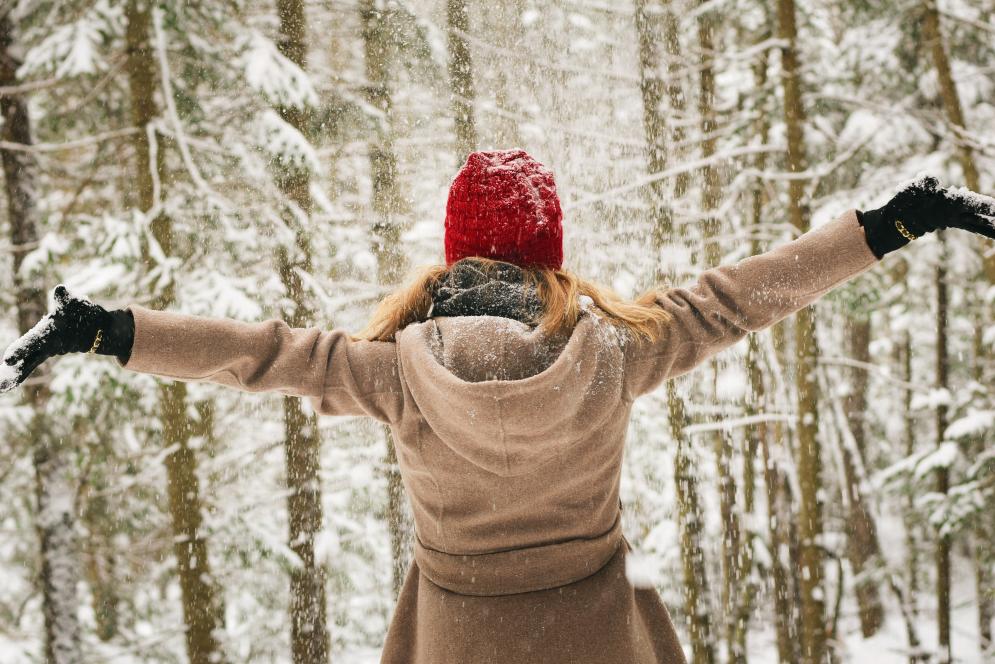 Whether you're a skier, snowshoer, snowmobiler, or just a fan of all things snow, there's something special about visiting Traverse City in the winter. The trees are coated in white, the lakes have turned a frosty blue, and the lights downtown always seem to be twinkling. 
This year, we're celebrating winter fun in style with our Escape Packages. Not only can you find great deals on hotels, but you'll also get access to an exclusive mobile passport with coupons for attractions all over town, including dining, wine purchases, and more.
Where can you use those awesome coupons? Here's a quick peek:
Wineries like 45 North, Black Star Farms, and Rove Estate
Breweries like Acoustic Taproom, Earthen Ales, and Rare Bird Brewpub
Restaurants like Benedict, North Peak Brewing Company, and Reflect Bistro
Other cool eateries like Bay Bread Company, Bubbie's Bagels, and Peace Love and Little Donuts
Shops like Glitz & Spurs, High Five Threads, and Lakes and Grapes
Attractions like the Music House Museum and Solitude Float and Wellness Spa
See the full list here!
Wondering what else to do in the winter in Traverse City? We've put together a list of 10 of our favorite winter activities up north. From outdoor adventures to safe and socially distant options, this list will help you create the perfect itinerary for your trip. 
1. Visit Sleeping Bear Dunes National Lakeshore
See the sand dunes covered in snow and the stunning waters of Lake Michigan all winter long at our favorite national park. There will be no ranger-led hikes this year, but you can still bust out your hiking boots or snowshoes and explore. Better yet, get an incredible workout—with incredible views—by Nordic skiing along the Pierce Stocking Scenic Drive!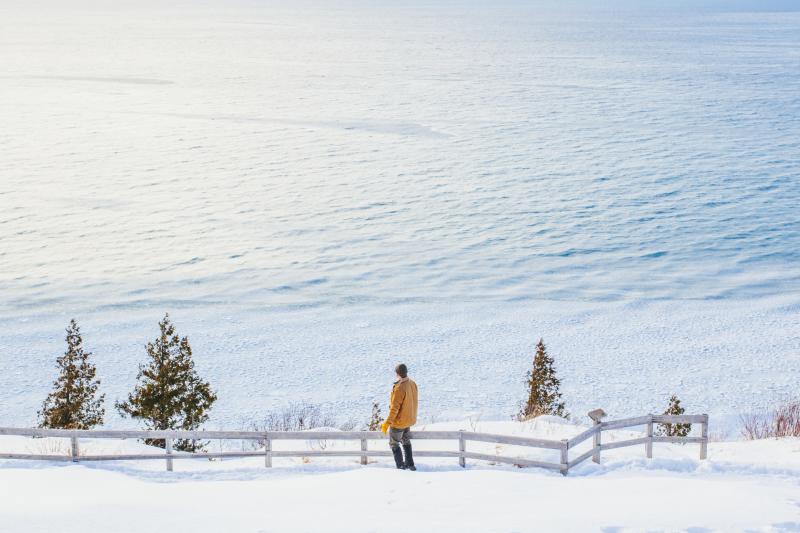 2. Downhill or cross-country ski
Speaking of skiing, there are plenty of opportunities to hit the slopes at several resorts around town, including Crystal Mountain and Shanty Creek Resort. If you're more into cross-country, you can explore dozens of miles of groomed trails—we especially recommend the VASA trail!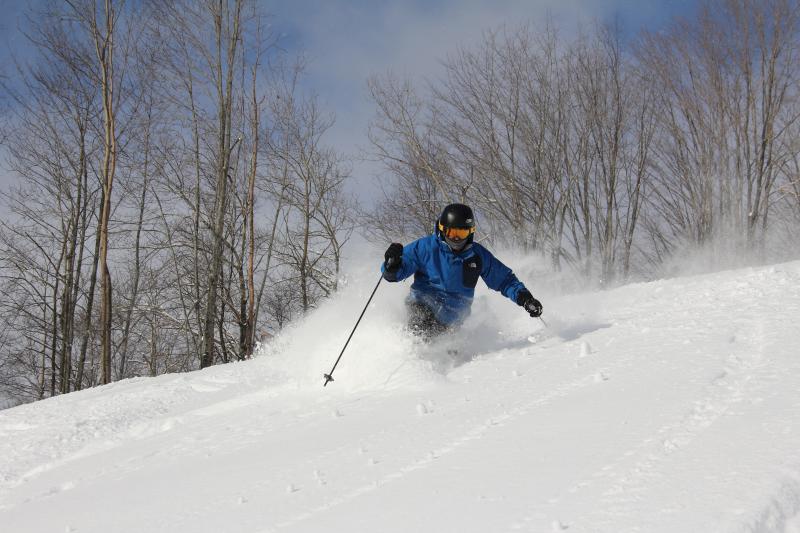 3. Snowshoe through the vineyards
Winter + wine = good times. Wander through the peaceful vineyards of the Traverse Wine Coast before enjoying a glass of your favorite vintage on a heated patio or igloo. Also, don't forget that ice wine season is coming up…cheers to the nectar of the gods!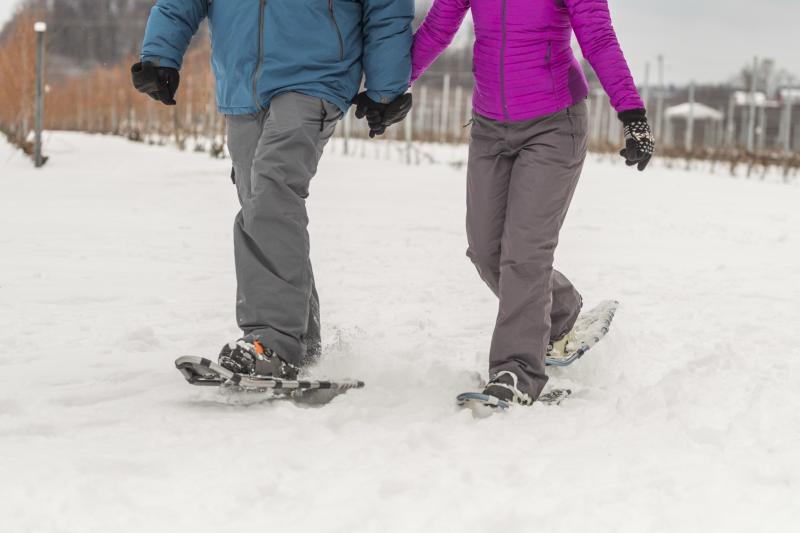 4. Hike the trails of the Grand Traverse Regional Land Conservancy
Beautiful, protected trails can be found all across northern Michigan for a walk in the woods thanks to the GTRLC. You can hike in all four counties—Grand Traverse, Antrim, Benzie, and Leelanau—as you explore the region. (If you need more trail inspiration, click here.)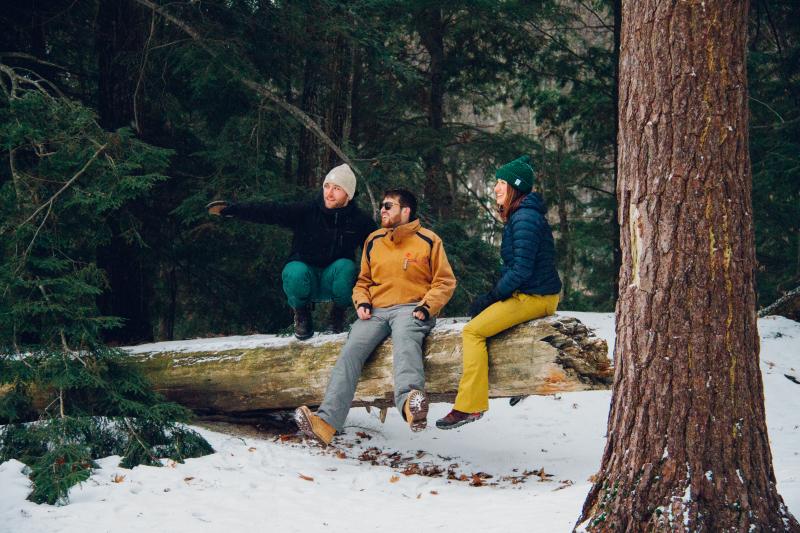 5. Go tubing with the family
Alpine tubing is fun for parents and kiddos alike, especially when followed by a warm mug of cocoa! Try it at Shanty Creek Resort, Mt. Holiday, or Timberlee Hills.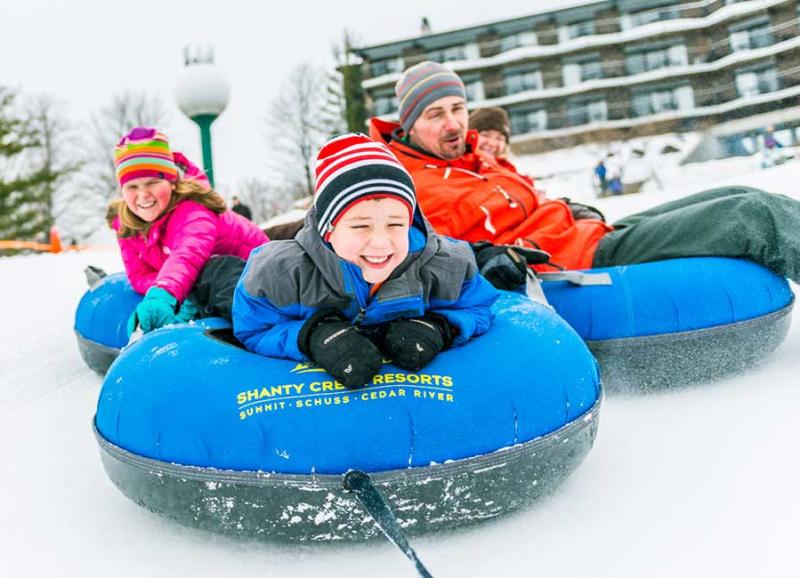 6. Stroll through downtown
Window shop on Front Street under the sparkling winter lights…and be sure to bring a mask so you can pop in and buy the perfect winter souvenir. We also love walking along the grounds of the Village at Grand Traverse Commons, especially when you can stop at the Mercato for a gift, Higher Grounds for coffee, or Pleasanton Bakery for a treat.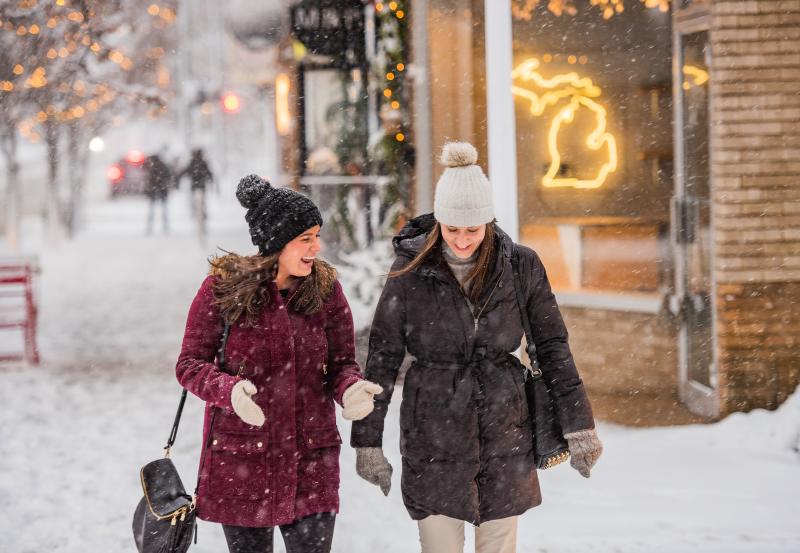 7. Take a cozy sleigh ride
Ride through a winter wonderland on a horse-drawn sleigh. Go for a romantic two-seater or a surrey big enough for the family at beloved spots like Crystal Mountain, Ranch Rudolph, and more.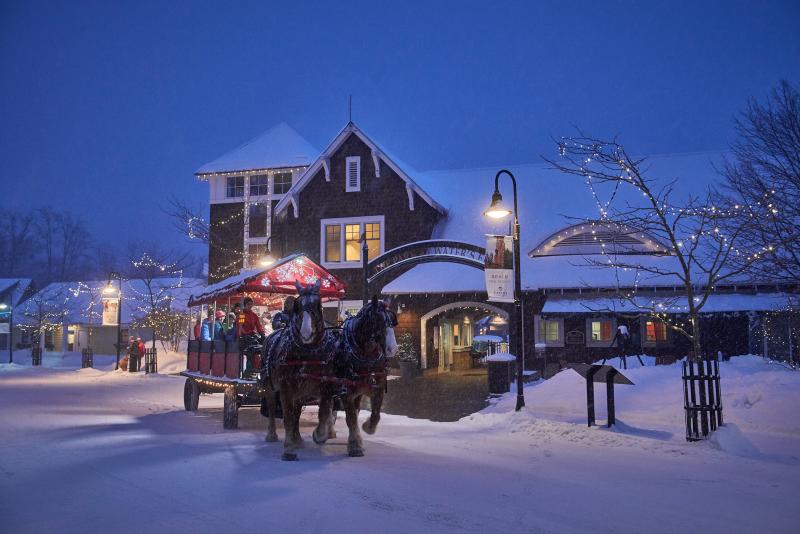 8. Try fat tire biking
Neither snow nor ice can stand up to the hefty tires of these winter bikes! Get the scoop on where and when to ride here.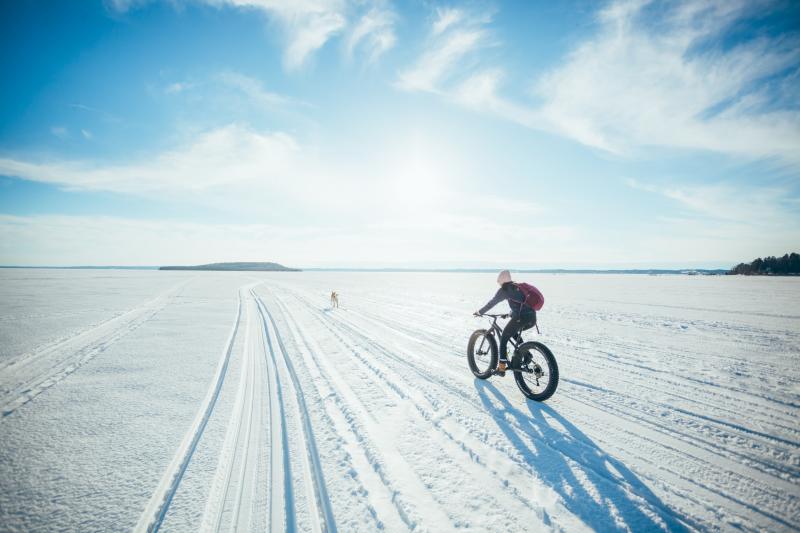 9. See a NoMi lighthouse
We know the beaches are best in the summertime, but if you love maritime history, there are several gorgeous lighthouses to visit up north. You'll find Mission Point Lighthouse on Old Mission Peninsula, Grand Traverse Lighthouse in Northport, and both Point Betsie Lighthouse and Frankfort North Breakwater Lighthouse in Frankfort.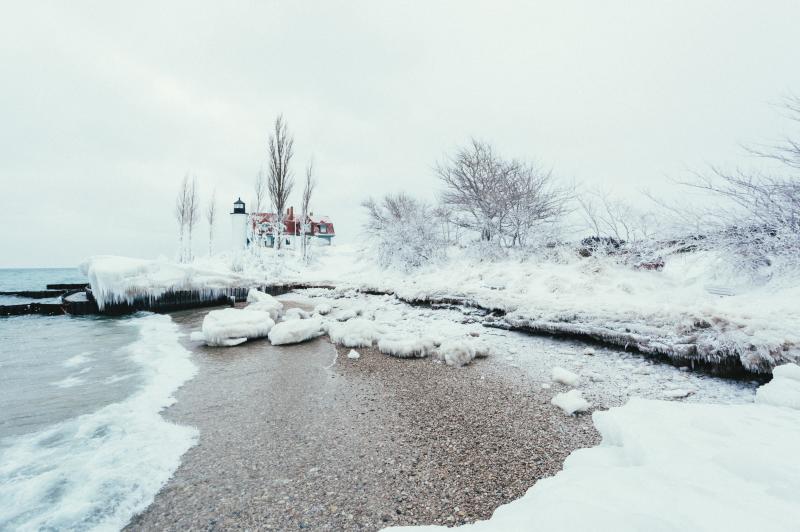 10. Get takeout from your favorite restaurant
COVID restrictions on restaurants are ever changing (get the latest here), but you can always pick up dinner to go while you're in town. Better yet, bundle up and snag a bite inside an igloo, yurt, or tent with plenty of "cool" outdoor dining spots around the region!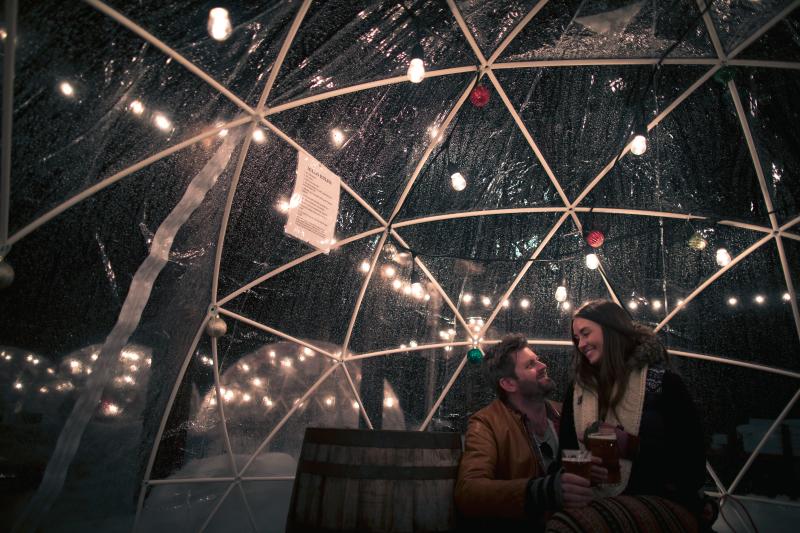 If you need more inspiration for winter adventures, check out our all-new Winter Visitor Guide. No matter how you choose to explore, you'll know you're in a pretty great place. 
*Escape Packages must be directly booked through participating hotels available now at traversecity.com. Upon check-in, guests will receive a code to unlock a digital coupon book and tips on how to spend their time in all the best places of the season.