By: Tree Sturman
 
If you live and work outside Traverse City's tourism zone, you may never have truly experienced "Clinch Park City."
 
That's what I call Traverse City's bustling, joyful and amazingly diverse sister city, which exists for only the briefest of seasons (between Memorial Day and Labor Day) along the shore of West Grand Traverse Bay.
 
For the first few years I lived here in TC, I never ventured into Clinch Park City. Little did I know that by avoiding this vibrant part of town, I'd been missing out on a wealth of unique and beautiful cultural experiences that I'd have had trouble finding elsewhere. On an average weekend in Clinch Park, I find myself greeting families from around the world and listening to the unique tones and textures of a multitude of tongues: Hindi, Mandarin, French, Spanish, Polish and Japanese. It's true: our sandy beaches, bays and bicycle trails are the melting pots of the North.
 
And why not? When visitors disembark at Clinch Park City, they are greeted by an envoy of "231 ambassadors" charged with a singular goal: to nurture positive, "people-powered" experiences in, on and around Grand Traverse Bay such as kayaking, stand-up paddleboarding and bicycling.  With this in mind, 231 Outfitters facilitates access to the lower seven miles of the Boardman River, between Sabin Dam and West Bay and conducts guided "Eco-Tours" through the upper, wild and scenic stretches of the River.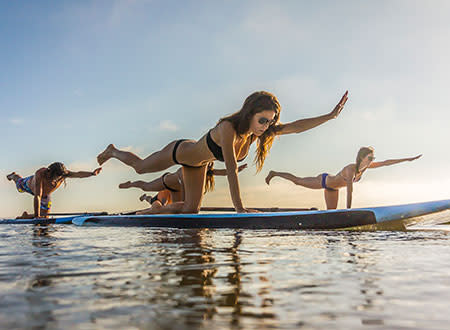 Stand up paddleboarding (or SUP-ing) is the most popular new watersport here in Traverse City.  If you've ever wanted to experience what it feels like to walk on water, then SUP-ing is for you!  It's a common misconception that this sport is reserved for the most athletic among us.  This couldn't be further from the truth! If you can walk, sit, or lie on your belly, then you can master a SUP in a matter of minutes. And if you have a well behaved pooch, your four-footed friend can even SUP with you!  Yoga fan? You can do that on a paddleboard as well. 
But kayaking is by far our most popular watersport.  With single, double, and even triple kayaks to choose from, it truly is floating fun for the whole family. You can either choose to leave from the beach at Clinch Park, or jump in our truck and get dropped up at one of three points up river for a one-hour, 90-minute, or two-hour float down the Boardman River.  With all the amazing bicycle trails in TC, you can even bicycle upriver and paddle down!
Speaking of bicycle trails, Clinch Park sits at mile marker zero on the world-class TART trail system.  Here, you can rent a bike at the beach and head off on beautiful, flat, paved trails for miles in any direction.  Attach a trailer or tag-along to your bike (we rent those too!) and bring your youngest of children on a beautiful, safe, and scenic tour of vineyards, orchards, lakes and rivers.  

This summer, we have expanded our offerings even more by creating two unique gastronomic adventures -- KaBrew and Ka'Brunch -- that take advantage of the several brew pubs and locavore restaurants along the shores of the Boardman. 

Traverse City's professional world teeters upon the ordinary, day to day workings of modern life, but here we're blessed with the constant gift of "nature therapy" and the joyful, rejuvenating laughter of countless children dancing and smiling as they frolic in the Milliken Waterscape -- better known as "The Splash Pad."  Hammocks abound, sun is abundant and volleyballs float freely in the wind.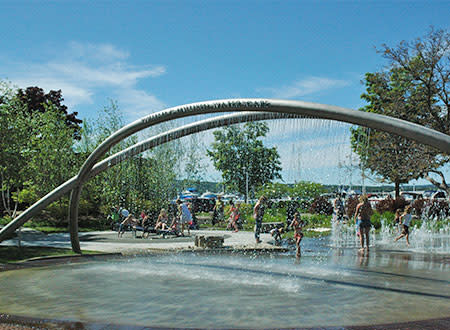 Here in Clinch Park City, our constitution is written in shades of joy and our preamble is simple and clear: "Let's get outdoors and make some memories!" 
About the Author: Tree Sturman is Eco-Tours Director for 231 Outfitters in Traverse City. A native New Yorker, he has degrees in Human Ecology and Public Horticulture, and served as executive director of the Grand Traverse Conservation District, where he was one of the developers of the Experience 231 phone app.