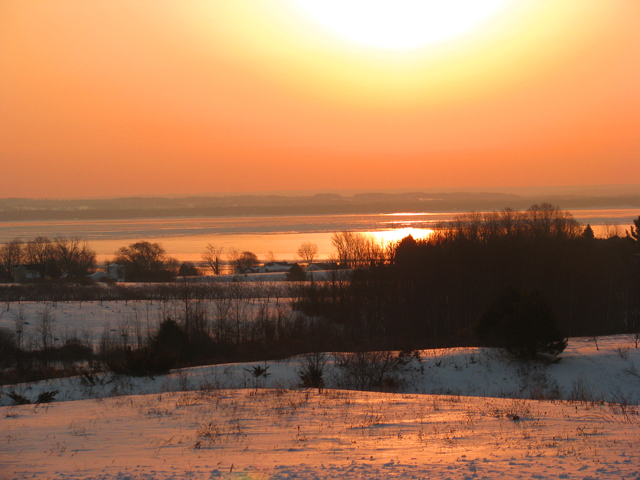 By MIKE NORTON
Well, another Thanksgiving Day is in the history books -- and when it comes to weather conditions, this one was much more like the ones I remember. Not the real-life Thanksgivings, which were mostly a juvenile blur of food, relatives and television; I mean the ones in the illustrated Childcraft Books that formed my earliest memories about how the world was supposed to be.
In particular I remember one illustration for the poem Thanksgiving Day (you know: "Over the river and through the woods/To Grandmother's house we go...") of a great horse-drawn sleigh filled with laughing people rushing across a covered bridge and into the snowy woods. Man, they looked like they were having a wonderful time! Living in the city, I'd never seen a sleigh or a team or horses, and we very rarely saw snow in November.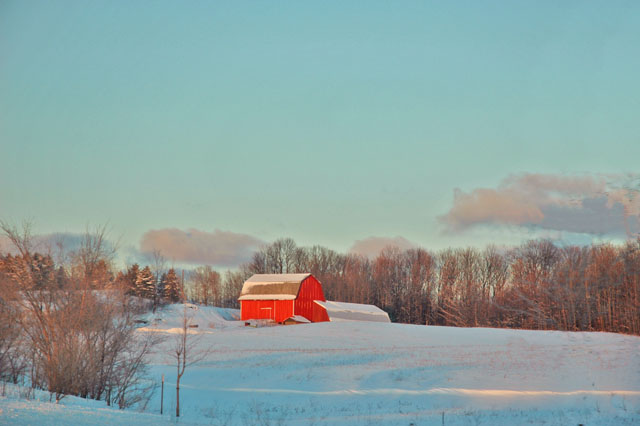 I'm still waiting for my sleigh ride – but we sure had snow for Thanksgiving this year! The runners at the
Sixth Annual Downtown Traverse City Turkey Tro
t had to maneuver around it on Thursday, and the folks at
Shanty Creek Resorts
were planning to open the slopes for skiing and snowboarding at Schuss Mountain today. (Weren't they still playing golf this time last year?)
No matter. If you don't like snow, Traverse City is probably not the right place for you.  As the media relations manager here at Traverse City Tourism, I'm always fielding questions from reporters who want to know if the economy, or the price of gas is going to hurt (or help) our tourism economy. "Neither one," I always say. "The only thing we worry about is the weather."
When you're in the business of outdoor recreation and natural beauty, it's the weather that can make you or break you. Clear warm springtimes, long hot summers, lingering and colorful autumns and snowy, snowy winters are what we like to see. And this winter looks like it could be a fun one!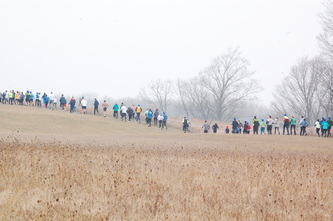 Consider the folks who put together the Farmland 5K European Style XC Challenge, which will be held Dec. 7 at the Lew Rasho Centennial Farm on Rasho Road. Now in its second year, the Farmland 5K is based on the traditional English/Irish game of "hares and hounds."  It's a non-paved running and biking event held on private farmland -- with straw bales, fallen logs, wood and stone fences and other surprise barriers set up to make things even more interesting. Organizers say it's "like taking a step back in cross-country running history."
And, of course, the fact that it's held in December introduces the same kind of meteorological wild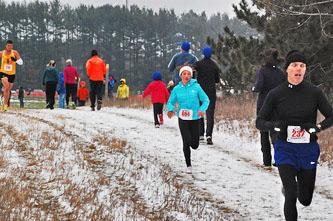 card into the event that aficionados of November's Iceman Cometh Challenge bicycle race enjoy so much – from year to year, there's no way of telling whether you'll be racing though 80-degree heat or two-foot snowdrifts. Last year's inaugural Farmland 5K was held on a cool, misty day, with frost-browned grasses and leafless trees everywhere.
This year's…. well, just to make things even MORE interesting, they're adding something called the "Farmland Free-For-All," a bike race that's be held immediately after the footrace. It's a total of four laps (about eight miles), but the clincher is that you get to ride any kind of bicycle you choose - cyclocross bikes, mountain bikes, fat bikes - you name it! Somebody even mentioned a unicycle…
I know it all sounds kind of wacky, and it's true that we do whatever we can to amuse ourselves this time of year. But there's a serious side to most of these events, too. True to its name, the Farmland 5K is about…. Farmland.  Proceeds from the event go to support the Michigan Land Use Institute  and its popular "Taste the Local Difference" program, which works to promote locally grown food to stores, restaurants and consumers.
"We want to see our community embrace healthy, sustainable living." says, MLUI Executive Director Hans Voss. "Eating local year-round is something we really push that can make a big difference to our local economy."