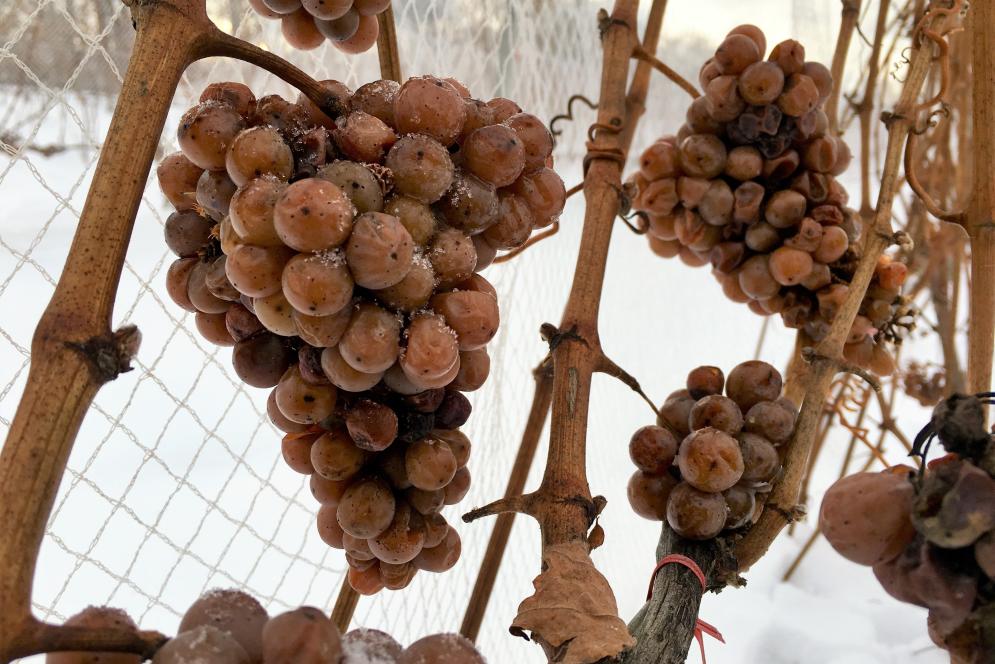 "Every time we do late harvest, we ask ourselves why," chuckles Kasey Wierzba, winemaker at Shady Lane Cellars in Suttons Bay," until the rewards of viscous, amber juice start to drip from the press, and then we know we wouldn't want it any other way." 
Kasey is referring to her December harvest of Riesling, when she and her vineyard crew plucked delicate grapes from the vines that were intentionally left behind beyond their peak ripeness to produce late harvest wines. Leaving the grapes on the vine for so long causes the grapes to become infected with a mold called botrytis. Believe it or not, this is a good thing! Botrytis sucks moisture from the grapes, turning them raisin-like. For this, botrytis is often referred to as "noble rot." As grapes dehydrate, sugar becomes more concentrated. So, basically, the later the harvest, the higher the sugar concentration, and the sweeter the wine!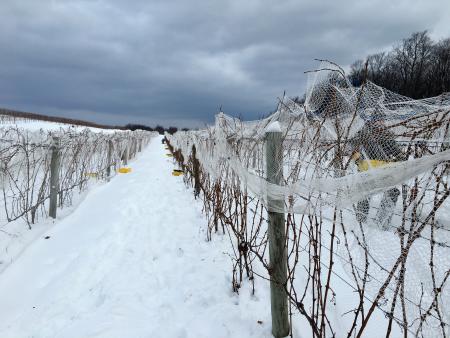 This technique is used to produce both late harvest wines and ice wine, the king of sweet wines. For ice wine, grapes are left on the vines long enough to freeze naturally in our cold climate. Once frozen, the grapes are carefully plucked and taken immediately into production.
Both wines are risky and labor-intensive. Leaving grapes behind sets them up for challenging weather conditions and grape-eating pests. And, the weather conditions, of course, have vineyard crews fighting through cold, harsh climate conditions to carefully pluck delicate grapes from the vines. 
"This year, we began late harvest trudging through two feet of snow while it swirled and blew, white-washing our faces," shares Kasey.
Once transported to the wine production facility, the grapes are pressed to get yields of much less juice than typical, sometimes getting just a few drops from each grape. For ice wine, it may take an entire vine to produce a single bottle.
In the end, however, the hard work is worth it. Kasey's 2016 Late Harvest Riesling is currently capturing wonderful aromas and flavors during its fermentation and will age in tanks throughout the winter. The wine, which is limited to 250 cases of the half-size bottles, is expected to be released in the fall of 2018. No worries for the wait, however, Shady Lane's 2012 Late Harvest Vignoles is delicious and currently available in the tasting room.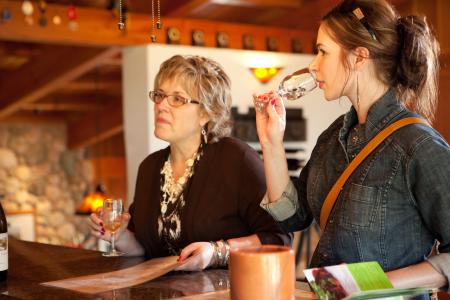 Both late harvest and ice wines are ideal for a delightful ending to a great meal with friends and family. Pair it with a sumptuous dessert, or sip it on it's own as dessert itself. Either way, the delicious treat is sure to sweeten your day!
To learn more about wine tasting in the winter and to find out which wineries offer Late Harvest and Ice Wine varieties, visit the wineries section of our website.