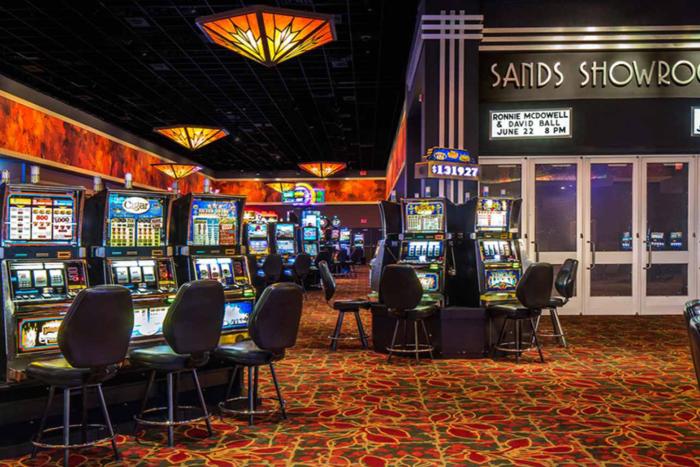 As one of Michigan's first casinos, Leelanau Sands doesn't just have a long history of gaming—they also have a long history of entertainment. Their intimate, 1,000-seat theater, the Sands Showroom, turns 20 this August, and Leelanau Sands is celebrating in style with a month-long performance series.But before diving into the upcoming acts for August, let's turn back the clock and see who has visited the Sands Showroom over the years.

The first performer to grace the Sands Showroom stage in 1999? Comedian Howie Mandel. Younger generations may recognize him from the game show Deal or No Deal, but the Canadian jokester is also known for his self-deprecating stand-up. Mandel kicked off a tradition of comedy in the area and was the first of many big names to venture north to the Leelanau Peninsula. After all, it was only a short drive from entertainment hot spots like Grand Rapids or Detroit, and an even shorter commute from Interlochen Center for the Arts or Traverse City's National Cherry Festival during their summer concert series.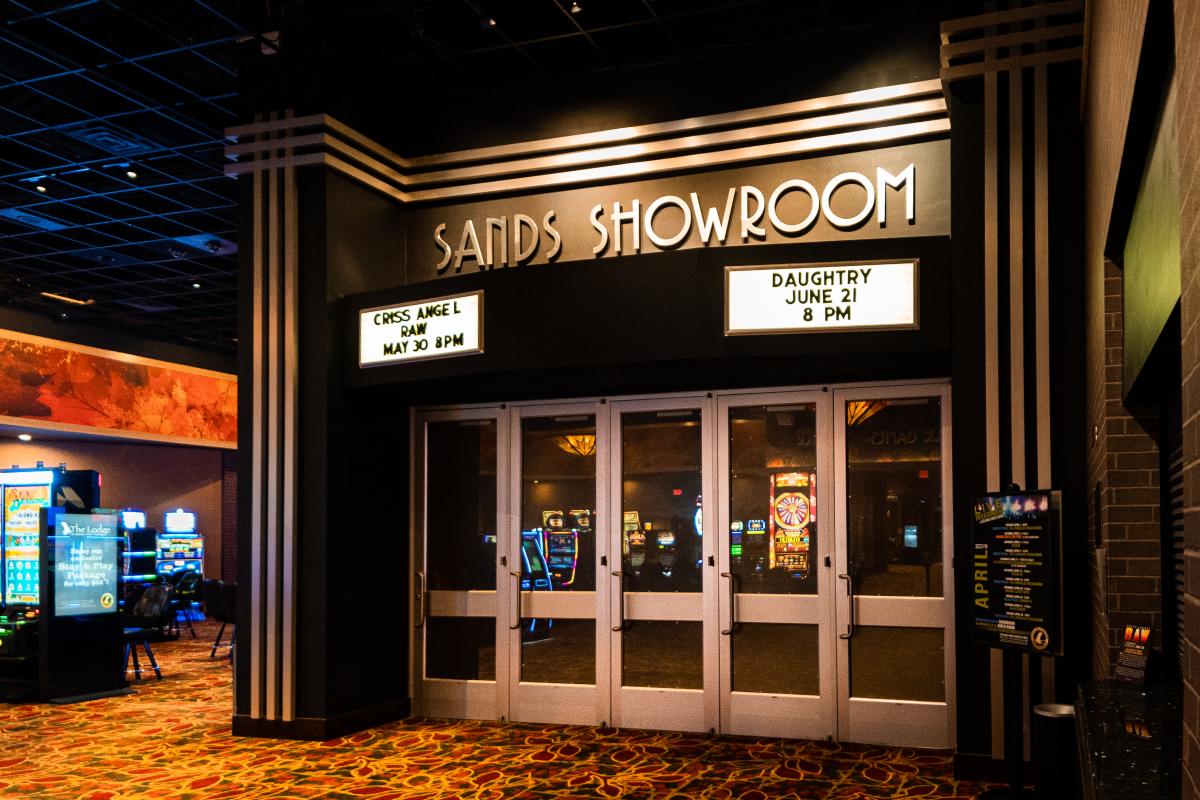 Soon, shows ran the gamut, from stand-up to country to classic rock. More than 250 acts have come through the Showroom in the last two decades, many of them internationally recognized artists who garnered sold out shows. Here are the highlights for every genre lover:

Blues/Soul: George Thorogood, Koko Taylor, Ray Charles, The Temptations, Smokey Robinson

Comedy: Carrot Top, Derek Carter, Frank Caliendo

Country: Darius Rucker, LeAnn Rimes, Lee Greenwood, Martina McBride, David Lee Murphy

Folk: Art Garfunkel

Magic/Illusion: Criss Angel

Musicians: Kenny G

Pop: Frankie Valli and the Four Seasons, Hall and Oates, KC and the Sunshine Band,

Rock: Blue Oyster Cult, Pat Benatar, Doobie Brothers, REO Speedwagon, Gin Blossoms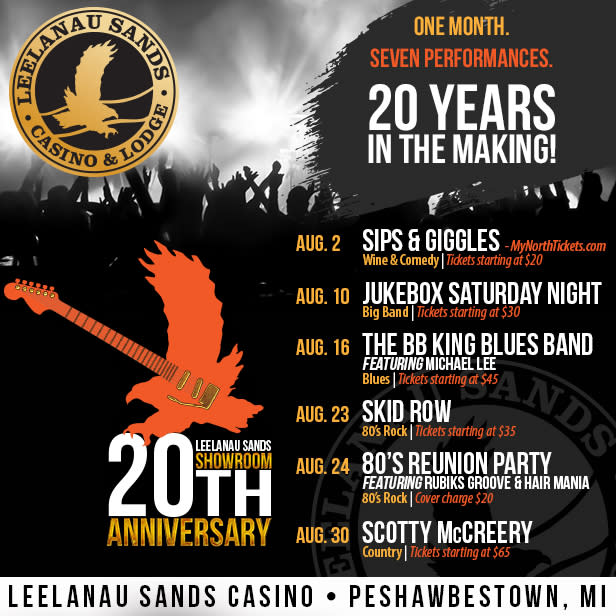 In August, the 20th anniversary will pay homage to all the acts who came before. Just as Howie Mandel christened the Showroom with comedy, the anniversary extravaganza starts off with humor with Sips & Giggles—a show that pairs Leelanau wines with a comedy performance. A different musical genre follows each weekend, culminating with country music star Scotty McCreery.
August 2: Sips & Giggles
Sips & Giggles combines two of the finer things in life: wine and comedy. Comedian Dave Landau has been featured on Comedy Central and was a finalist on NBC's Last Comic Standing. Enjoy your favorite Leelanau Peninsula wine at the show. Tickets starting at $20

August 10: Jukebox Saturday Night
Time to return to the good old days with the top hits of the Big Band Era. This is the perfect show for all the swing dancers and sock hoppers out there,
whether you show off your moves on the dance floor or enjoy the band from a stage-side seat. Tickets starting at $30
August 16: The B.B. King Blues Band
The B.B. King Blues Band was one of the pioneer groups that defined the blues genre. Now featuring Michael Lee from the hit TV show The Voice, the band keeps the musical legacy of B.B. King alive. Tickets starting at $45

August 23: Skid Row
Multi-platinum rock band Skid Row is an icon in the rock and heavy metal worlds. It's been 30 years since Skid Row's first hit album, which means
there's decades of songs to rock out to. Tickets starting at $35
August 24: 80s Reunion Party
Who misses their Walkmans, leg warmers, and stonewash jeans? This party features cover bands Rubiks Groove and Hair Mania playing the best jams from the 80s, so bust out your neon windbreaker—there will be best dressed prizes!—and get ready to dance. Tickets starting at $20
August 30: Scotty McCreery
Ever since his win on American Idol, Scotty McCreery has taken the country music world by storm, winning Best New Artist at the CMAs and going on make
a platinum debut album. Country music has always been at hit at the Sands Showroom, so the 20th anniversary is wrapping up with cowboy boots and
country fun. Tickets starting at $65
For show details and tickets, click here.