Traverse City is home to world-class dining, award winning wineries, stunning views, sugar sand beaches, and the best sunsets in all the world, but did you know that it's also one the best beer cities in America? Back in 2012, the Travel Channel named Traverse City as the best emerging beer town in America. Just two short years ago, they wrote of how impressive it was for such a small town to have four microbreweries.  Boy, how things have changed… Traverse City now has over 10 breweries, with more on the way. So when Traverse City Tourism invited me to cover the local beer scene, I knew a trip was in order – there were so many I haven't had a chance to try! I spent last weekend exploring five Traverse City breweries we hadn't visited before. We drank, we talked with the staff and made friends with the other customers, and then drank some more. On to the show! Here's the scoop on our weekend: Stop #1: Brewery Terra Firma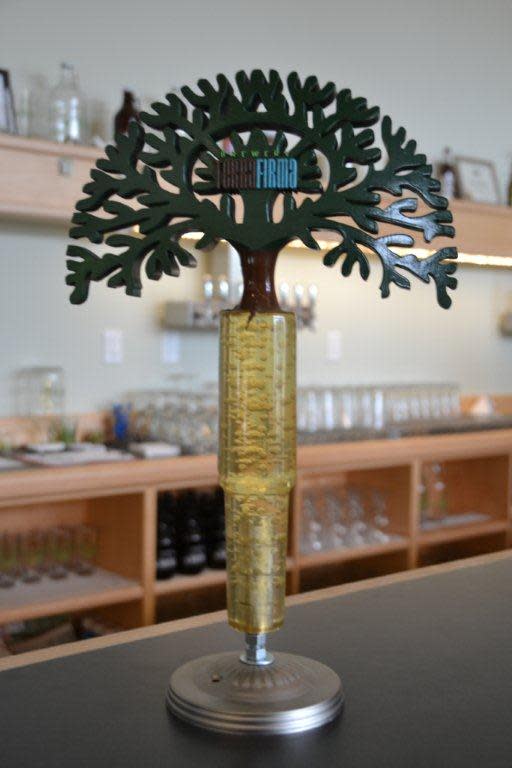 Located just five miles from the heart of downtown Traverse City, Brewery Terra Firma describes itself as both a brewery and an agricultural destination. They embrace eco-conscious practices like sustainable brewing methods and innovative waste/water recycling operations. They opened just one short year ago, and already have an impressive lineup. What I drank:
Beehive Honey Blond, 5.4% ABV
Manitou Amber Ale, 5.3% ABV
Scarborough Fair, Herb beer, 5.8%
John Henry Stout, 6.2% ABV
Magnum Hospitality IPA, 8% ABV
Cherry Festive Ale, Bourbon Barrel Aged Cherry Ale 7.5%
Stillhouse Stout, 7.5%
My favorite: It's a tie: Magnum Hospitality IPA had a strong floral nose, but was intensely hoppy on the palate. My favorite kind of IPA, there was nothing subtle about this one. Cherry Festive Ale – I was surprised how much I liked this – I'm normally not a fan of fruity beers. This one is made with local cherries from Kings Orchards, and aged in Traverse City Whiskey Bourbon Barrels. It's light compared to other bourbon barrel beers I've had, but packs quite a punch. You'll have to be careful with this one! Fun fact: Head brewer John Niedermaier was the former head brewer at the now-defunct Traverse City Brewing Company. When John decided to open Brewery Terra Firma, he discovered that the bank owned his recipes from TCBC – he actually had to buy them back!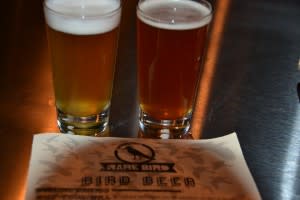 Stop #2: Rare Bird Brewpub Rare Bird is Traverse City's newest brewpub, opening their doors just two  months ago. They are located in a gorgeous red brick building right next to Patisserie Amie. Everything they brew is in small batches right now, so when we arrived they only had two  of their own beers available, but there were plenty of other craft selections to choose from. They also have a delicious and creative menu – I highly recommend the pork belly sliders! What I drank:
Her Name Was Amber, Amber Ale, 4.7%
WhipPourWill, Belgian Wit with orange peels & coriander, 4%
My favorite: Loved them both, but WhipPourWill was my favorite of the two. It was a spicy, well-balanced Belgian. Fun fact: The owners, Nate and Tina, met in a brewery, but their first words weren't about beer – they were about birds. They are both birding enthusiasts, hence the name of the brewery.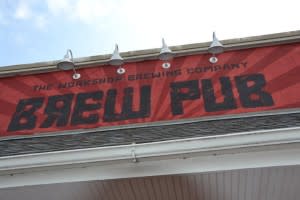 Stop #3: Workshop Brewing Company Located just west of the downtown area, Workshop Brewing Co. is the embodiment of their motto: Nature. Community. Craft. The tasting room has a big bar perfect to belly up to and make friends at, and tons of seating both indoors and outside for larger groups. They also have fun bar games, including one where you have to try to swing a ring on a string onto a hook on the wall. I watched the same guy try this for the 90 minutes I was there- it's addictive (and probably frustrating)! Workshop has a huge lineup of beers, and there's something on that menu for everyone, no matter what your palate. What I drank:
Uncapper, Honey Stock Ale, 5.5% ABV
Trotsky's Axe, Belgian Pale Ale, 5.3% ABV
10lbs Cascade, IPA, 5.5% ABV
Wrecking Bar, Bourbon Barrel Aged Porter, 8.5% ABV
Crowbar, Belgian Dark Ale, 5% ABV
Tenpenny, American Blond Ale, 4.9% ABV
Tenfranc, Experiment Ale (Tenpenny with Belgian yeast), 4.9% ABV
Sickle, Saison, 7.5% ABV
My favorite: Crowbar – This Belgian dark had virtually no bitterness, and tons of great Belgian flavor. Fun fact: Workshop actually occupies the space that Right Brain Brewery originated in. Stop #4: The Filling Station The Filling Station is a family owned and operated brewery that opened in 2012 located in Traverse City's former train station. The space is family friendly, with sandboxes out front for kiddos to play in, tons of outdoor and indoor seating, and TV's all around. The staff was so friendly, even in the middle of a crazy dinnertime rush – you can tell they really love their jobs. Their menu consists of pizza and salads – probably the best pizza in Traverse City, which made this the perfect dinnertime stop.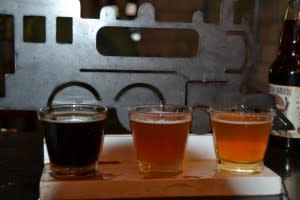 In homage to their location near the railroad, each beer is called a "track", when they run out of one, a little sign goes up indicating that it's been "Derailed", and the flights come in these cool little train holders. What I drank:
Empire Imperial IPA, 8.5% ABV
Walla Walla IPA, 7.6% ABV
Liverpool Porter, 5.2% ABV
Liesing Amber Lager, 4.8% ABV
Manchester Mild, 3.7% ABV
St. Clair Stout, 4.5% ABV
My favorite: Walla Walla IPA – a perfect pairing with my pizza, Walla Walla packs a punch without being overwhelming. It's crisp and light with just the right balance of hoppiness. Fun fact: If you order a flight, hold on to the selection sheet you filled out. The train on the paper will face the same way as the train flight holder – that's how you know which beer is where. If you lose the paper, you'll either have to guess or ask. Don't ask me how I know that. Stop #5: Right Brain Brewery Full disclosure on this one – I had been to Right Brain back when it was in The Workshop's location, but not since they moved to their gorgeous and HUGE new space in 2012.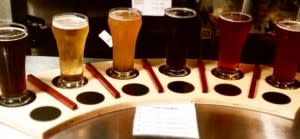 Right Brain was the perfect last stop – after four other breweries that day, I was worried that my palate would be blown out, and I wouldn't be able to taste anything. But thanks to Right Brain's unique beers, my palate woke itself back up, and I was treated to some of the most surprising and creative tastes I had all day.  They are well known for their wacky beer flavors like Spear Beer (with real asparagus added during the brewing process) and  Mangalitsa Pig Porter, brewed with pig heads and bones. What I drank:
Concrete Dinosaur, Brown Rye IPA, 7.2% ABV
Blue Magic, Lavender Ale, 4.5% ABV
Hefe Cubano, Coffee Hefeweizen, 5.9% ABV
Midnight Rendezvous, Black Ale, 5% ABV
North Shore Iron Works, Barleywine, 8.9% ABV
Looping Owl, Barrel Aged Amber, 6.8%
Cherry Pie Whole, Amber Ale made with whole cherry pies, 5.2%
TC Cherry Mash, Hybrid Cherry Wine Ale, 3.9% ABV
My favorite: Hefe Cubano – Light in color, I wasn't sure what to expect from this. One sip, though, and I was sold – the coffee comes through loud and clear on the palate, and is balanced out by sweet banana notes. Bonus: Biggest Surprise: Cherry Pie Whole – I had this the first year they came out with it, and wasn't a big fan. It's come a long way! The cherry pie flavor is well layered now – first you get the filling, then some great maltiness, and end on rich, biscuity, pie crust flavor. Fun fact: There's a salon attached to Right Brain called Salon Saloon, and those getting their hair cut can actually order a Right Brain beer to enjoy during their services. Russ Springsteen, founder of Right Brain, began his career as a hair stylist, and wanted to keep that part of his life alive in his new venture. Five  breweries is a lot to do in a single day, especially with the goal of tasting as many of their selections as possible. But this was work, and someone has to do the hard jobs, right?  I would strongly recommend that instead of following in our exact footsteps, you select one or two to visit per trip, and really spend some time in them – each boasts its own unique vibe along with unique beer. No matter what your taste, whether you're a seasoned craft beer pro or new to the scene, Traverse City breweries have something on tap for you. Special thanks to the AmericInn in Traverse City for hosting me this weekend. It's a great property in a great location, and their staff was top-notch. I also would not have been able to make this trip happen without my trusty designated driver – a must-have whenever you're out exploring breweries!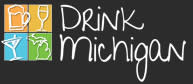 Trisha Verma is the co-founder of Drink Michigan, a company dedicated to promoting and celebrating Michigan wine, beer, and spirits. A lifelong Michigander, she enjoys spending her weekends exploring the state, looking for great craft beer, good wine, strong whisky, and new friends. Luckily, she never has to look far. (All photos courtesy of Trisha and Drink Michigan)