By now, it's a rare person who doesn't know that Traverse City is a lively summer beach town with a great food and wine scene. But many warm-weather visitors have no idea what an attractive place this can be during the Christmas and New Year's season – thanks to our eclectic shopping opportunities, a plethora of small-town holiday celebrations and our indefatigable atmosphere of Midwestern friendliness.
Looking for a few suggestions? Here are a few local favorites: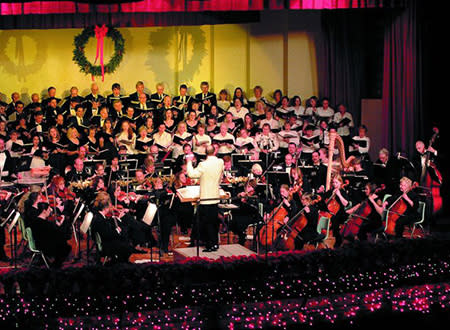 Hear the Angels Sing
Traverse City is a VERY musical place, and that's never more obvious than during the holiday season. From the Traverse Symphony Orchestra's Dec. 10-11 "Home for the Holidays" concert and the delightful Christmas extravaganza put on by the Northport Community Band and Village Voices to the mammoth bring-your-own-music performance of Handel's "Messiah" at Central United Methodist Church, there are orchestral and choral performances throughout the area all through December.
Do a Little Wassailing
Traverse City is in the heart of Michigan's loveliest wine region, and it's hard to think of a better way to enjoy the holiday season than taking a wine-tasting jaunt out to the beautiful vineyards of the Old Mission and Leelanau Peninsulas. (Since many wineries have special winter hours, be sure to check ahead -- or use the services of one of the area's many wine tour operators!)
Explore Christmas at the Grand Traverse Commons
On Dec. 9-12, the shops and galleries of the Village at Grand Traverse Commons hold a three-day celebration that culminates in an annual "Santa Lucia Day" celebration: serenaded by an ensemble of flutes, a young girl in a long white robe and a crown of lighted candles wanders the grounds delivering warm sweet rolls to holiday shoppers. There are special sales, horse-drawn carriage rides and other fun.
Wake the Sleeping Beauty
The renowned Interlochen Center for the Arts is one of America's leading music and performance schools, numbering among its famous alumni such stars as Nora Jones, Tom Hulce and Jewel. Each year, staff and students at Interlochen present a major ballet performance as a holiday treat for the community. This year's selection, presented Dec. 8-10, is Tchaikovsky's "Sleeping Beauty." (The Center also has a much-anticipated "Sounds of the Season" concert on Dec. 15 with classical holiday music, actors, dancers, jazz and a sing-along of popular carols.)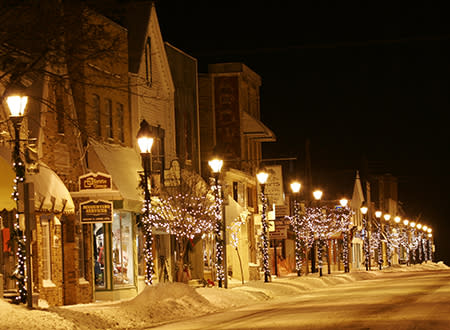 Enjoy Some Small-Town Merrymaking
Every community in this part of Michigan has its own holiday celebration in December, starting on Dec. 2 when Traverse City officially welcomes Santa Claus, lights its downtown Christmas tree and conducts a carol sing. That same weekend, the nearby village of Suttons Bay holds its "Holiday in the Village" celebration, and the town of Bellaire hosts a reception called "Light up the Night." On Dec. 10, the coastal village of Leland has a "Holiday Open House" celebration all its own.
Buy Something Nice for Someone you Love.
The Traverse City area has become one of Michigan's most popular holiday shopping destinations – partly because of the wide range of boutiques, galleries and shops scattered around the Grand Traverse area, but also thanks to the many community shopping festivals and events that enrich the "Up North" holiday gifting experience with small-town charm and tradition. Downtown Traverse City hosts a myriad of holiday shopping events each year, including Ladies' Night on Dec. 8 and Men's Night on Dec. 15. In the villages of Glen Arbor and Leland, there are PJ Party sales in the wee hours of the morning where shoppers get special discounts if they show up in their pajamas.
Figgy Pudding, Anyone?
Famed as a "foodie town," Traverse City wouldn't be Traverse City if the holiday season didn't include some fantastic feasts. One example: the Dec. 10 Harvest Dinner at the Black Star Farms Winery features Michigan-grown chestnuts incorporated into a variety of wine-paired seasonal dishes.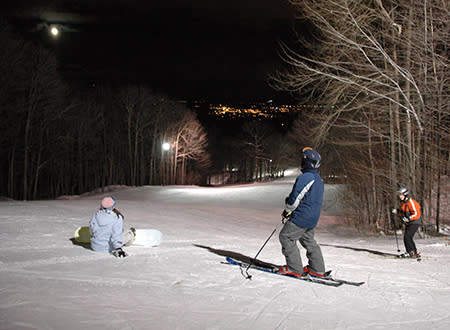 Get Outside and Experience A Midnight Clear
The essence of a visit to Traverse City is the Great Outdoors, and there is no more magical way to experience winter here that by venturing out-of-doors on a clear, starry night. Take skis or snowshoes – or just a good pair of walking boots and explore the luminous beauty of it all. (If you're lucky, and pick a dark spot like the Sleeping Bear Dunes or the Mission Point Lighthouse Park, you may even have a chance to spot the Northern Lights.)
Catch a Little Dickens
Traverse City's century-old City Opera House presents "A Christmas Carol in Prose," an out-of-the-box adaptation of the classic Dickens story by the Parallel 45 Theatre that uses non-traditional seating, imaginative props, volunteer interaction, "loud sound effects, moments of complete darkness, strobe-like effects, and confetti." Dec. 1-4 and 7-11.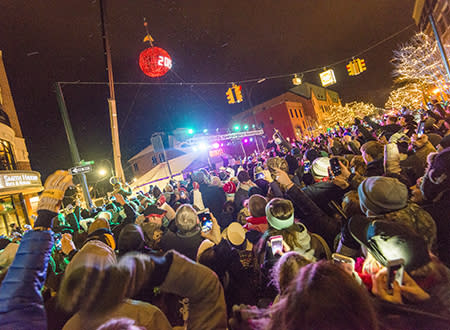 Watch the Cherry Fall
Ring in the New Year at the Cherry-T Ball Drop, an amazing Dec. 31 street party featuring a massive illuminated cherry that is lowered to signify the coming year! Live music and entertainment are all part of this fun winter party in Downtown Traverse City. And in typical "Up North" fashion, the price of admission is in the form of canned goods that are donated to local food banks and shelters.