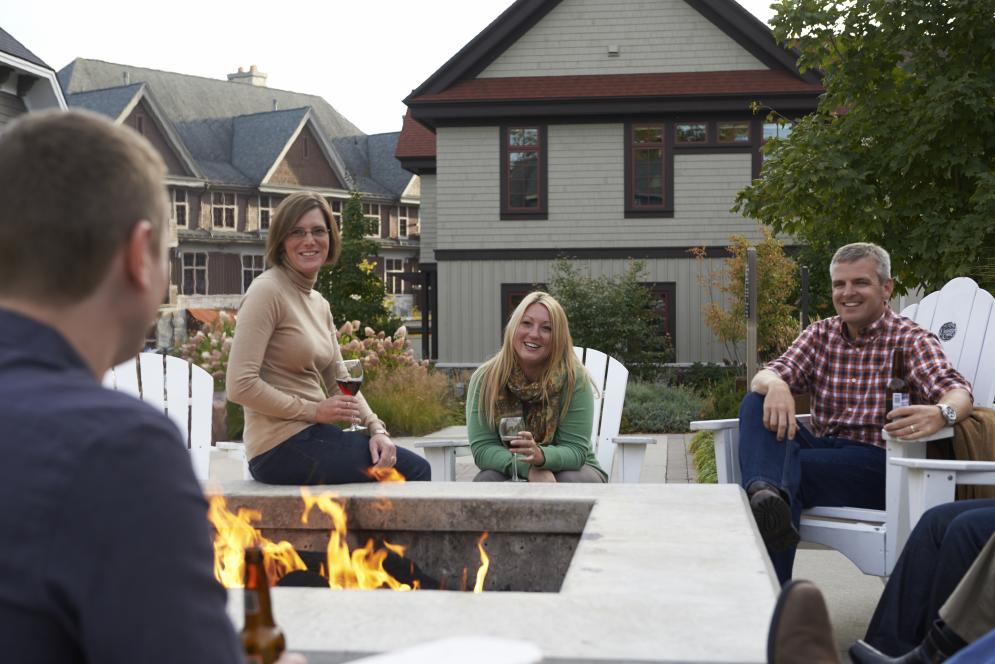 This spring, summer, and fall, we can't wait to open our (out)doors to you. Outdoor events and meetings are a perfect way to keep your guests feeling safe and comfortable while they enjoy a beautiful setting. 
When it comes to hosting an outdoor event in Traverse City, there are a few boxes to check. Read through the list below for our pro tips or contact one of our sales staff today to get started. 
1. Choose the right venue for your event
It can be hard to find the right venue in Traverse City—we have so many to choose from! For large outdoor extravaganzas, you don't need to look further than our award-winning regional resorts: Grand Traverse Resort and Spa and Crystal Mountain are two great options. Each property is stunning with an experienced staff that will walk with you through the event planning journey, work through every event regulation, and keep your attendees safe. 
A great place to start when looking for smaller outdoor event or wedding venues is the Traverse Wine Coast. Many wineries have picturesque event space tucked away behind the rows of vines and grapes. To name just a few of our favorites: Black Star Farms, Chateau Chantal, 45 North Winery, and Aurora Cellars. 
2. Choose the right vendors for your event
Having the right vendors can make the difference between an event that's a nightmare to plan or a breeze. Caterers, bartenders, bakeries, florists, decorators, rentals, and the list goes on. Luckily, we've compiled a list of a few of the event vendors in our area.  
3. Have your permits and permissions in order 
Talk to your venue and vendors about what permits and permissions you might need. Every event type and location are a little bit different. If you want to host an event on public land, reach out to the local Parks & Recreation department. (Don't forget to ask about liquor licensing if you plan to serve alcohol at your event!) 
4. Make a list of all the rentals you will need 
When hosting an outdoor gathering, you need to have a list of the essentials: tents, tables, chairs, decorations, and the crucially important porta johns. Ask your venue about what they can and can't provide. Then find a rental company that can provide you with everything you need; 307 Events + Tents and G.J.'s Rentals are two great options.  
5. Little details make a HUGE difference 
What makes the difference between a good event and a memorable event are the details. Consider adding little additions like wet wipes if the food is messy, blankets or shawls if it might get cold, umbrellas if it might drizzle, or sunscreen if the sun's going to be shining on a summer day. 
6. Keep your guests safe and comfortable  
Consider the comfort of your guests. The wonderful thing about outdoor events is that you can S P A C E   O U T. Make sure there's ample seating with wide walkways as you set up your space. 
We also recommend having a pest control plan for bugs and other unwanted visitors. A few days before the event, check the area for beehives.  
7. Consider the forecast 
Traverse City often has beautiful weather in the warmer months, but we do get our days of rainy or cool weather. Have a plan for your guests in case of rain. Also, consider other factors like the wind and sun. Make sure that every table linen is weighted down and that there is shade available for guests.  
8. Make a plan for power  
Consider how much power you need and where it is coming from. Talk to the venue and vendors about how much power they can provide and about how much power they need access to.  
9. Designate a clean-up crew beforehand  
No one wants to clean up after the party! Some outdoor venues do not offer onsite trash disposal, so you need to take it with you at the end of the event. Consider making your event zero-waste by working with Bay Area Recycling for Charity.
10. Be prepared for potential problems   
Accept that there will be unforeseen issues—every event has them! Be prepared to think on your feet and problem solve. Have a first aid kit on-site and a plan in place in case of injury or another emergency. 
But most of all, be prepared to enjoy the day! When you have all your Ts crossed and Is dotted, you'll be in for a gorgeous event.