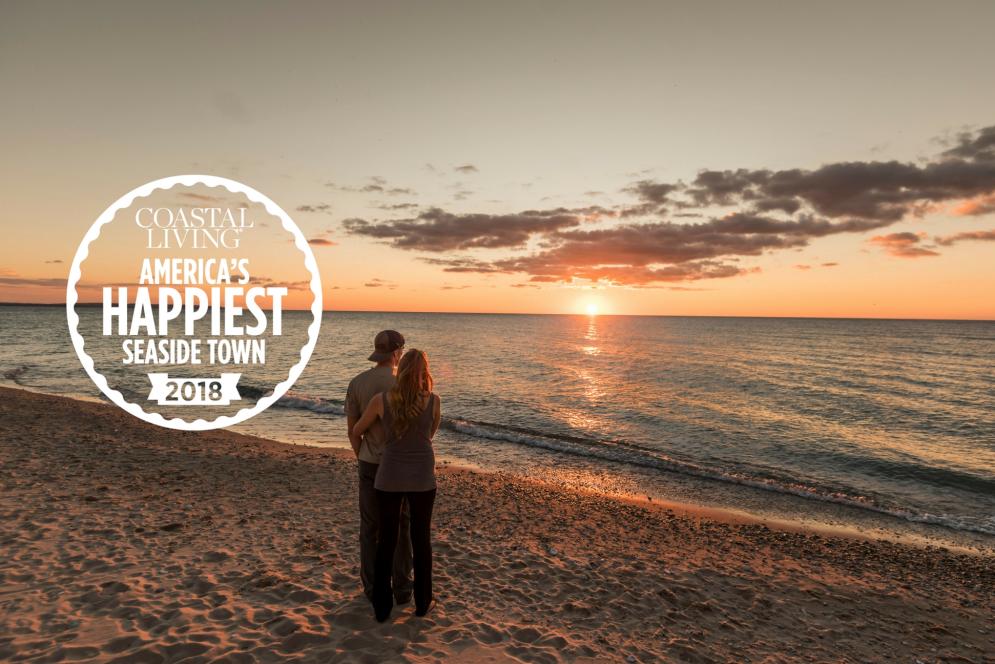 Traverse City, MI: The coastal town in northwest Michigan known for its cherries, outdoor recreation and vibrant culture is now in the spotlight for how it makes people feel. This week Coastal Living Magazine announced that Traverse City is a contender in the 2018 Top 10 List of the "Happiest Seaside Towns in America."

While all finalists will be featured in the July/August issue of Coastal Living Magazine, the winner takes home extra real estate in the issue, not to mention some hefty bragging rights. Between now and February 6, the public decides who the number one town is by voting online. It's a vote that individuals can repeat every 60 seconds throughout the two-week period. And though the finalists' rankings will be visible for most of that period, on Saturday, February 3 the progress will be hidden for the final three days of voting. Results of the competition will be publicly announced on June 12 at www.coastalliving.com.

"It's funny because Traverse City tends to allure people who value a happy lifestyle, often that's the outdoor adventurers, creative entrepreneurs, food enthusiasts and health advocates," commented Trevor Tkach, President/CEO of Traverse City Tourism. "And on the other hand, our geographical characteristics create a lot of joy in and of themselves, too. So when that all comes together, we have an inspiring, beautiful setting and a community that makes huge effort to nourish what's organically there. It's just a pretty happy place to be!"

Last year Grand Haven, Michigan took the top spot, but this year Traverse City is the only town in Michigan and the entire Great Lakes region that's in the final round of voting. "The world is discovering Pure Michigan's 'fresh water inland seas.' There's no doubt that Traverse City deserves to be considered as the Happiest Seaside Town in America," commented Dave Lorenz, Vice President of Travel Michigan. "With grand sand dunes, dozens of wineries, miles of bike paths, restaurants to savor and a beach, only steps away from a quaint downtown…Traverse City should be the easy pick as this year's winner."

But still, the big question remains. What exactly makes a town "happy," and to that extent, happier than another? After all, the ten finalists were narrowed down from over 300 nominations via social media. According to Coastal Living Magazine, commute times, crime ratings, walkability, standard of living, air quality and health of beaches are all quantitative qualifications, while the qualitative measurables come out during the voting period.

Tracey Minkin, Senior Editor at Coastal Living Magazine commented, "Happiest Seaside Towns is a small-town competition about grassroots and people, spunk, spirit and creativity. It's in this voting process that we get to see the real people of the towns get out and show it."

Traverse City Tourism invites all visitors and locals to do just that this Wednesday, January 24 at a voting party at The Little Fleet in downtown Traverse City. Party goers are encouraged to bring their mobile device, their Traverse City pride and a thirst for victory. The Little Fleet staff will be slinging drinks in honor of the competition with special eats offered by the Milkweed food stall from 5-7pm. Come get happy in the Happiest Seaside Town in America (that's #1 in Traverse City Tourism's totally humble unbiased opinion).