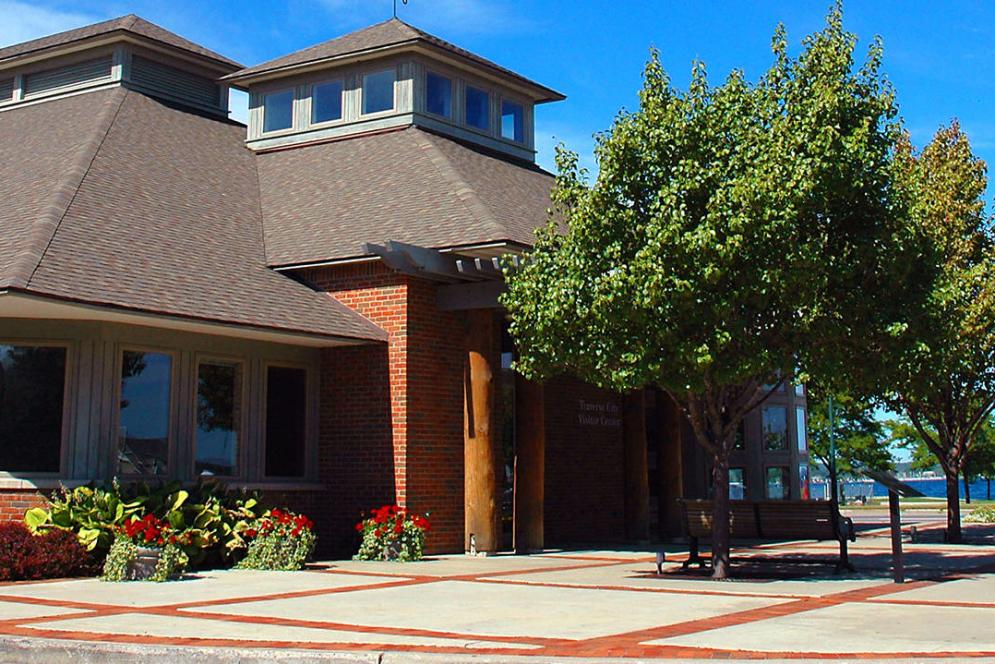 Traverse City Tourism Visitor Center Renovations Underway
TRAVERSE CITY, MI – The new decade is kicking off changes at Traverse City Tourism. This winter, the Visitor Center will undergo a complete renovation to better welcome guests looking to learn about northern Michigan. The renovation includes replacing the flooring, public restrooms, and visitor desk, as well as cosmetic updates to wall treatments and décor. 
"The inspiration for the redesign is to reflect the beauty of the bay right outside our door," says Sharon Pierce, Visitor Center Manager. "We're bringing in the blues, greens, and grays of the water inside."
A new event wall area will be added to the space, so local businesses can advertise events that will interest visitors. Energy-saving thermostats and LED lighting will also be installed during construction, and donation-worthy items are going to Habitat ReStore. 
All the work and materials are being sourced through local companies, including Wooden Hammer Ltd., Advance Painting Technologies, and Carpet Galleria. The Visitor Center is set to reopen before the busy spring season begins, and Pierce is looking forward to celebrating with her team of volunteers.
"The Visitor Center served over fifty thousand people last year," she says. "We can't wait to invite them back to see our new and improved space."
Trevor Tkach, CEO/President of Traverse City Tourism, echoes that sentiment. "Our Visitor Center is one of the first touchpoints for visitors in the area," he says. "It's time for an updated look that creates a welcoming atmosphere and expresses who we are as a region."
The Visitor Center closed to the public January 23 and will remain closed until construction is complete. During the closure, visitor guides and maps will be available in the Visitor Center entryway, and the center's staff will be available to answer questions via phone at 231-947-0692.
---

About Traverse City Tourism
Traverse City Tourism is a nonprofit corporation that serves as the area's official destination marketing organization. Traverse City Tourism works to enhance, reinforce, and develop the Traverse City brand by telling the Traverse City story to potential visitors through advertising, marketing, trade shows, publications, sales missions, media relations, and Visitor Center services. Its experienced and knowledgeable team members are motivated by pride for their community and a desire to advance its economic well-being without sacrificing the values that make it a pretty great place. For details on lodging, attractions, and area events, visit traversecity.com.