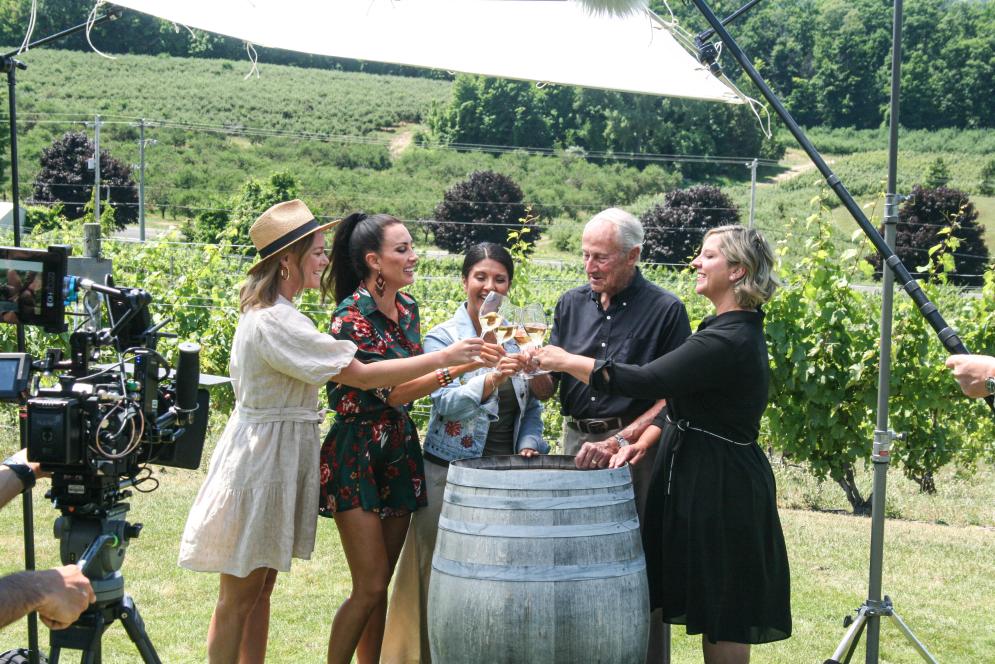 FOR IMMEDIATE RELEASE
July 15, 2022
Norwegian TV Crew Puts Northern Michigan Wines
On an International Stage
Traverse City, Mich. — A Norwegian based production company is in northern Michigan this week creating a show that highlights the wine and food of Traverse City. Called Wine First, two European sommeliers join a food writer to evaluate wines and find fresh local ingredients for a dish to pair with the wines.
Wine First will air on most Public Television stations in the United States later this year along with some international distribution. Now in their second season production, the show is making its first trip to the United States and uncovering previously undiscovered wine regions.
The show is hosted by Sommeliers Liora Levi, Maya Samuelson along with food enthusiast Yolanda Ano. They have targeted the wines of Chateau Chantal, Bry's Estate and Black Star Farms. The head chef at Grand Traverse Resort and Spa, Austin Minnich, was charged with finding the right food to pair with the wines selected by the hosts.
"This show recognizes and appreciates our region as an equal to some of the top European wine regions," said Marie-Chantal Dalese of Chateau Chantal. "Every indication from the hosts is that they were fully impressed not just with the wines, but also the natural beauty of the region."
The production is supported, in part, through a collaboration between Traverse City Tourism and Pure Michigan. "We jumped at the chance to put a spotlight on area wines with the backdrop of Traverse City's beauty," said Trevor Tkach (Tah-Koch), president of Traverse City Tourism. "Our wines are gaining so much acclaim that we know we can compete on a world stage."
The program is carried on over 90-percent of American Public Television stations and can be run over the next three years. The shows have originated from Portugal, Germany and Austria. The hosts are from Norway, Sweden and Argentina.
The production crew will be in the Traverse City region through Saturday. More information about the program is available at: https://vimeo.com/361161816
###
---
ABOUT TRAVERSE WINE COAST
Located on the 45th parallel of northern Michigan, the Traverse Wine Coast boasts two unique peninsulas that create optimal conditions for winemaking. The microclimates of the Leelanau and Old Mission Peninsulas have an environment that grapes love and so do people. Traverse Wine Coast is a collaborative agreement with more than 40 wineries dedicated to the promotion of the wine industry in the region.