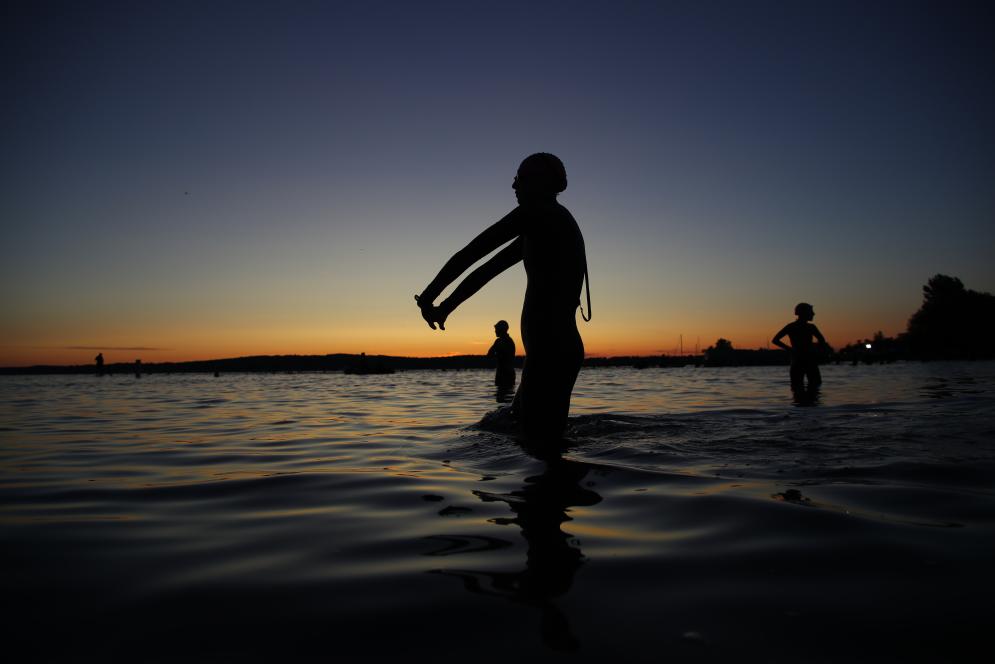 TRAVERSE CITY, MICHIGAN: In response to the health and safety issues posed by the COVID-19 pandemic, the 2020 IRONMAN 70.3 Traverse City Triathlon has been postponed to 2021. The event was originally scheduled to take place on August 30, 2020.
"Postponing is a difficult decision to make, but peoples' safety comes first," says Trevor Tkach, President/CEO of Traverse City Tourism, which partners with IRONMAN to bring the race to northern Michigan. "We're disappointed on many levels: on behalf of the athletes who have already trained so hard for this event, the community that has been proud to host such a world-class race, and the many people who are inspired by being able to cheer on the racers. Our team is dedicated to providing a great experience for all of them next year."
Although the greater Traverse City area is in Phase 5 of the MI Safe Start Plan, gathering sizes remain limited and social distancing guidelines require a six-foot distance between individuals outside the home. The 70.3 race brings 2,500 athletes and thousands more spectators to the region, numbers that won't align with the state's current COVID-19 regulations.
"With so much uncertainty regarding COVID-19 in the coming months, local public health appreciates the difficult and responsible decision the IRONMAN event organizers made in putting the health and safety of the athletes, staff, volunteers, and spectators first," says Wendy Hirschenberger, Health Officer of the Grand Traverse County Health Department.
A postponement date is currently slated for Sunday, August 29, 2021. Traverse City hosted its first IRONMAN 70.3 last year to positive reviews, ranking in the top 10 in several Athlete Choice Awards, including Would Recommend to a Friend (#1), Overall Swim Experience (#3), and Overall Host City Experience (#6). 
"The City of Traverse City was proud to host the first TC IRONMAN 70.3 in 2019," adds City Clerk Benjamin Marentette. "We worked in partnership with Traverse City Tourism and representatives of Ironman and concluded it is best to not hold the 2020 event in light of the coronavirus pandemic. We look forward to planning for the 2021 event, which brings world-class athletes from within our own community and around the globe."  
IRONMAN will be providing information for athletes on the 70.3 Traverse City website. 
Tkach notes that Traverse City continues to welcome those who were planning to race and spectators during 2020. "We are open for business and hope that those who were planning to be here in August will still come to enjoy the great fitness and outdoor experiences that our region offers."
---
 
ABOUT TRAVERSE CITY TOURISM
Traverse City Tourism is a nonprofit corporation that serves as the area's official destination marketing organization. Traverse City Tourism works to enhance, reinforce, and develop the northern Michigan brand for potential visitors through advertising, marketing, trade shows, publications, sales missions, media relations, and Visitor Center services. Its experienced and knowledgeable team members are motivated by pride for their community and a desire to advance its economic well-being without sacrificing the values that make it a pretty great place. For details on lodging, attractions, and area events, visit traversecity.com.
RELEASE DATE: 6/26/20