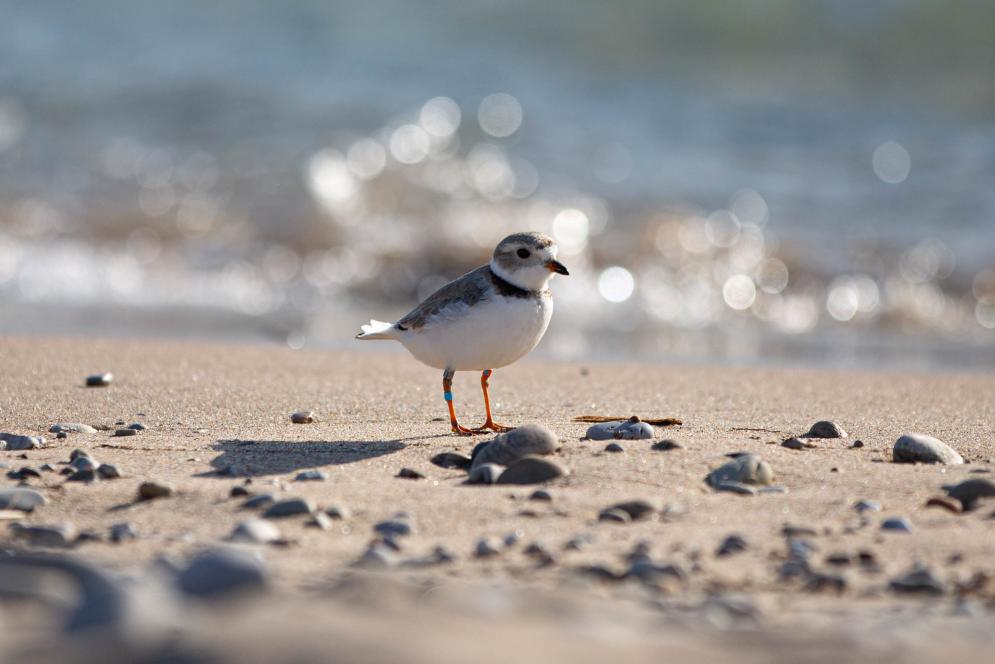 Traverse City, Mich. — She stands as a sentinel on the shores of Sleeping Bear Dunes National Lakeshore, armed with binoculars and a notepad. Alice Van Zoeren is a vigilant protector of the endangered Piping Plover, a tiny shorebird that was near extinction in the mid-1980s. Today, thanks to efforts of Van Zoeren and other guardians, the Piping Plover is on the way back.
In the mid-80s only about 17 nesting pairs were known in the Great Lakes. Today that number is around 75, halfway to the federal recovery goal of 150 pairs. Of those 75 pairs, nearly half of them call the Sleeping Bear Lakeshore their summer home.
"It's addictive," said Van Zoeren. "It's fascinating. You get to know the individual birds and not just their species." It is personal for Van Zoeren, she knows the birds by name and annually follows their growth. Van Zoeren has been watching over the Piping Plover population at the National Lakeshore for 17 years. She credits a huge group effort for their rebound including support from the National Park Service, Audubon Great Lakes, Great Lakes Restoration Initiative and the University of Minnesota.
Van Zoeren is joined by other monitors who identify nesting locations, mark them off to keep people and their pets away from the nest, and set up protective cages called "exclosures" that allow the Plovers to leave the nests but keeps predators away.
The tiny adult birds only weigh about the size of two AA batteries and protecting their nest is no small task. "The chicks can't fly for the first 25 days and that's when they are most vulnerable," said Dr. Sarah Saunders, a Quantitative Ecologist at the National Audubon Society. "The rule of thumb is to stay 100 feet from nesting birds. We need to give the birds space to nest and rest."
"Nesting is taking place now at Sleeping Bear Dunes National Lakeshore," said Trevor Tkach, President of Traverse City Tourism. "This is a critical time for all of us to exercise responsible tourism. It's when we need to respect and protect these vital resources." One of the biggest threats are people who get too close to the nest and dogs that are allowed off leash. That's when the adult birds can be chased away from the nest and the eggs or babies are left unprotected.
Audubon Great Lakes and National Park Service set guidelines to protect the Piping Plover.
Keep dogs on a leash when on trails or shoreline, where dogs are allowed.
Give birds 100 feet of space and stay clear from designated Piping Plover nesting areas.
Stay on marked trails.
Read, understand and take the Piping Plover Pledge. https://act.audubon.org/a/pledge-protect-great-lakes-piping-plovers
###