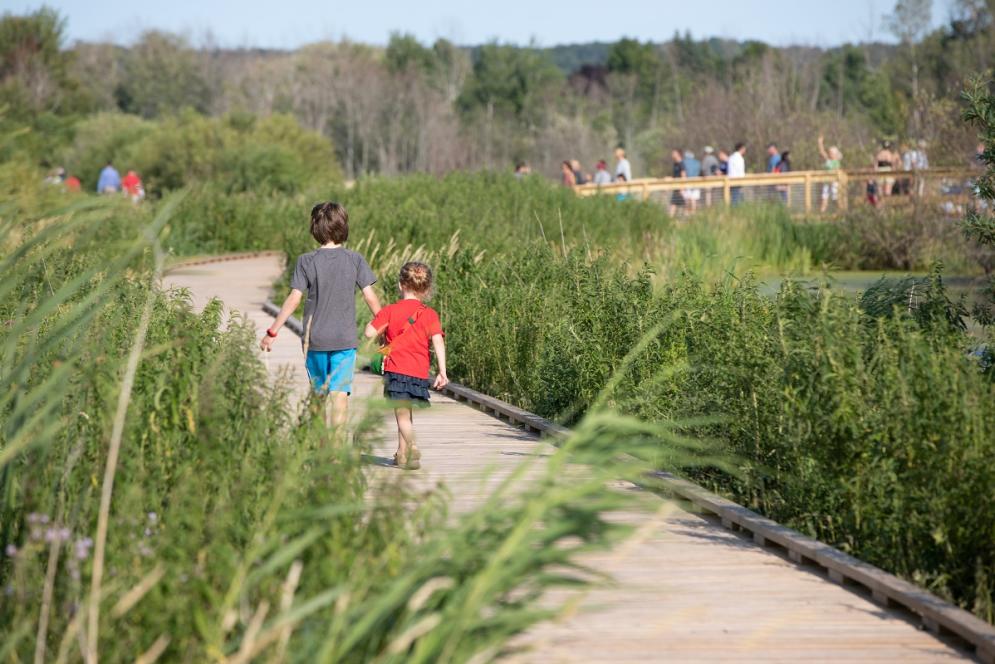 TRAVERSE CITY, MI – The Grand Traverse Regional Land Conservancy (GTRLC) stood in a statewide spotlight on February 19 at the Pure Michigan Governor's Conference on Tourism. The conservancy was honored with the Pure Award, which recognizes Michigan tourism entities that demonstrate innovation and best practices in natural, cultural, and/or heritage stewardship. 

GTRLC took home the award for their Campaign for Generations, a six-year, $71.4 million campaign that encompasses 29 protection and parkland sites across five northern Michigan counties.
"We are honored to have been selected for the 2020 Pure Award," says Jennifer Jay, GTRLC's Director of Communications and Engagement. "No matter what activities people enjoy in Pure Michigan—from mountain bike riding to birdwatching, from kayaking to cross country skiing—protecting the land base and our freshwater resources means these will be available now and for future generations to enjoy."
The campaign is designed to boost GTRLC's ability to steward protected lands well into the future, as the moniker "Campaign for Generations" would suggest. To date, the campaign has raised $70M of the $71.4M goal, fully funding 22 of the 29 slated projects.
"The Grand Traverse Regional Land Conservancy launched a big, bold effort to protect some of the finest remaining natural lands and farmlands in our region," says Jay. "So far, we've protected more than five thousand acres of land and over fifteen miles of shoreline. We're also incredibly proud to have built universally accessible trails in four preserves or natural areas, because having lifelong access to nature is important to our community's health and wellbeing."
Traverse City Tourism nominated GTRLC and the Campaign for Generations for the 2020 Pure Award. The nomination was inspired by GTRLC's commitment to sustainability and stewardship, which makes northern Michigan a beautiful place to live and work and also cements the area as a destination for ecotourism.
"The conservancy is an essential part of what makes the Grand Traverse region unique," says Trevor Tkach, President/CEO of Traverse City Tourism. "Protecting the diversity of our land is important work for the region, and we're thrilled to see GTRLC honored with this well-deserved award. Their sustainable land preservation efforts allow locals and travelers alike to explore the natural spaces of northern Michigan."
More information on the Pure Award can be found here. Past recipients include the Detroit Jazz Festival, Michigan Cares for Tourism, Headlands International Dark Sky Park, and the Grand Haven Salmon Festival.
About Grand Traverse Regional Land Conservancy
For nearly three decades, the Grand Traverse Regional Land Conservancy has protected and cared for the region's natural, scenic, farm and forest lands. With the support of individual donors, foundations, and volunteers, and the partnership of local, state, and federal agencies, they have protected nearly 44,000 acres of land and 140 miles of shoreline along the region's exceptional rivers, lakes, and streams. Fully accredited by the Land Trust Alliance, the Conservancy is a 501(c)3 non-profit organization whose service area includes Antrim, Benzie, Grand Traverse, Kalkaska, and Manistee Counties.
About Traverse City Tourism
Traverse City Tourism is a nonprofit corporation that serves as the area's official destination marketing organization. Traverse City Tourism works to enhance, reinforce, and develop the Traverse City brand by telling the Traverse City story to potential visitors through advertising, marketing, trade shows, publications, sales missions, media relations, and Visitor Center services. Its experienced and knowledgeable team members are motivated by pride for their community and a desire to advance its economic well-being without sacrificing the values that make it a pretty great place.