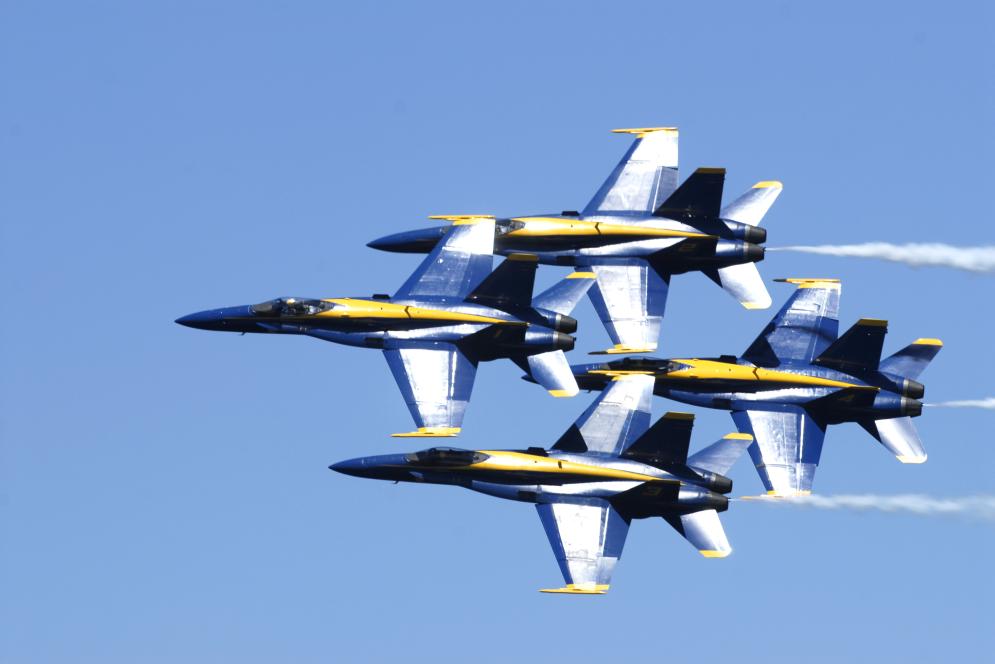 FOR IMMEDIATE RELEASE
June 3, 2022
 Traverse City Residents Recall
Flying with the Angels
Traverse City, Mich. — It may have been years since the experience, but three Traverse City residents vividly remember what it was like to leave the earth and take off with the Angels. Traverse City Tourism recently talked with three people who took a back seat and flew with the Navy Blue Angels as passengers. 
"I'm still on a high from the trip," said former Traverse City Record-Eagle photographer, John Russell. Russell flew with the Blue Angels in 2002 and was joined by former TV news anchor, Melissa Smith who flew in 2016, and Scott Herzberg, who was a representative of Northwestern Michigan College when he flew in 2014. 
All three passengers reminisced about their flights and gave a first-hand account of their once-in-a-lifetime opportunity in a video created for Traverse City Tourism and available at: https://youtu.be/c1dRQCL1xFk.
"I could see the Leelanau, and Old Mission Peninsula and I saw West Grand Traverse Bay and East Grand Traverse Bay, and I started to cry," said Smith. "I will never forget this because I said, this is my favorite place on earth, my home."
Prior to the precision air show, the Blue Angels will typically take up three people that are considered "key influencers" for a flight demonstration. Those are public relations flights that usually include people from the media. 
All three passengers flew for about 45-minutes, and when they were done were left with admiration and respect for both the pilots who intricately maneuver the planes, and the crew that keeps them finely tuned.
Although their flights were brief, all three were physically and mentally drained after the flight. "What surprised me the most was how difficult it was, physically demanding," said Herzberg. "I came down and I was euphoric, and my adrenaline was running. I came down from that natural high and was saying, alright it's nap time."
Most said it took about a day to recover from their flight. "The next morning, I got up and I hurt all over the place," said Russell. "My ankles hurt, my legs hurt, my toes hurt. Not just from the G-force, but the strain of holding on to the whole experience."
"I think we forget how special it is to have the Blue Angels regularly put on their show in Traverse City," said Traverse City Tourism President, Trevor Tkach (Tan-Koch). "These first-hand accounts of what it's like to fly with this amazing team gives us a greater appreciation of the air show."
The Blue Angels will perform as part of the National Cherry Festival Air Show, July 2 – 3 with show center off the Traverse City Open Space. 
###