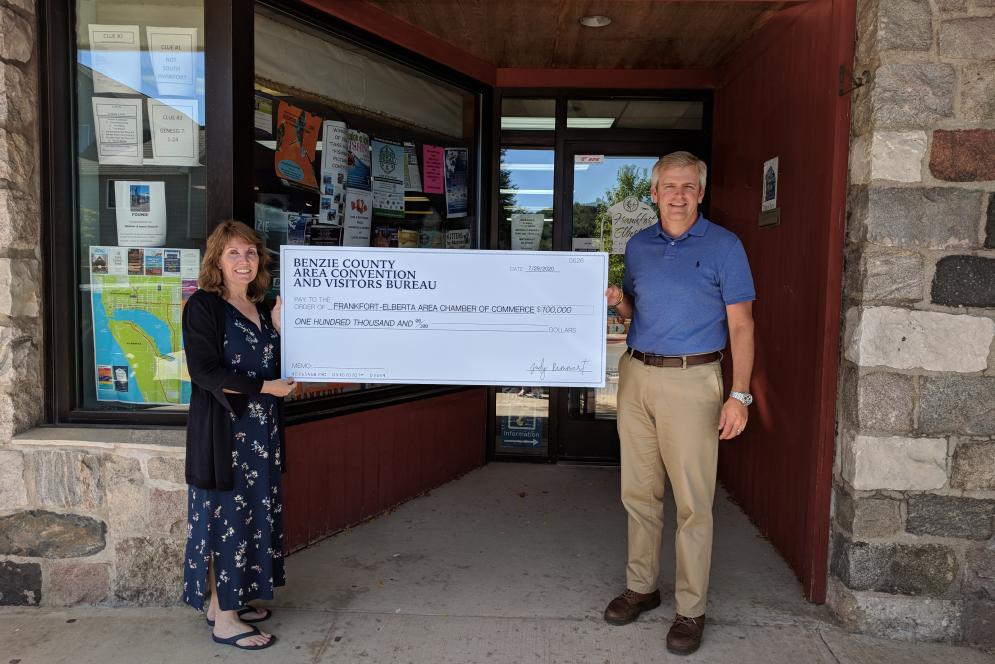 BENZIE COUNTY, MI—The Benzie County Area Convention and Visitors Bureau (BCACVB) has gifted $200,000 to the community to promote travel and tourism in Benzie County.
In March 2020, the lodging properties that comprised the BCACVB voted to partner with Traverse City Tourism to create a regional strategy for destination marketing. With Benzie properties now under the TC Tourism umbrella, the BCACVB Board released much of its remaining funds—collected through hotel room assessments—to two local entities.
$100,000 each were gifted to the Benzie County Chamber of Commerce and the Frankfort-Elberta Area Chamber of Commerce. According to the BCACVB Board, these funds are intended to promote travel, encourage local partnerships, and support the local economy.
"We're thrilled to put these tourism dollars back into Benzie County," says Judy Remmert, Owner of Hotel Frankfort and Chair of the BCACVB Board. "Doing so continues our mission to promote the travel and tourism business, as well as to support the communities that make Benzie such a great place to live, work, and visit."
By law, distributions must be given to organizations who share the CVB's mission and are recognized by the government as 501(c)(6) non-profit businesses. Remmert was pleased that both the Benzie County and Frankfort-Elberta Area Chambers of Commerce meet the criteria.
Andrew Johnson, President of the Frankfort-Elberta Chamber, says he is excited to put the dollars to work. "We plan to invest in enhancing our ability to digitally promote our community, specifically targeting those looking to visit during the fall, winter, and spring. We feel that growing these 'shoulder' seasons will strengthen our member businesses and the community as a whole."
The Benzie County Chamber of Commerce echoes the sentiment. "This funding will enhance our ability to support tourism and our business community, especially during these challenging times," the board said in a statement. "We greatly appreciate the investment and look forward to helping Benzie County continue to grow and thrive in the coming months and years."
Remaining BCACVB funds will be allocated toward a Benzie-specific campaign to be run by Traverse City Tourism for the 2021 travel year.
"Now, more than ever, our communities benefit from working together," says Remmert.
"Regional partnerships, like the one we've formed with Traverse City Tourism, lift up all of northern Michigan as we work to rebuild our economies. We look forward to supporting the businesses and attractions of Benzie County through the CVB distribution and targeted marketing efforts to come."